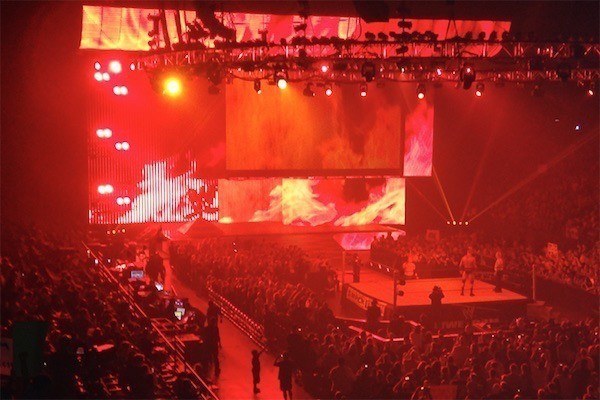 ---
SPOTLIGHTED PODCAST ALERT (YOUR ARTICLE BEGINS A FEW INCHES DOWN)...
---
WWE Raw taping report
November 30, 2015
Pittsburgh, Pa.
Report by Tony Donofrio, PWTorch specialist
Read Donofrio's in-person tweets @TonyDonofrio.
Pittsburgh crowds are not known to be loud, vociferous, and especially not rowdy (maybe with the exception of the 2014 Royal Rumble), but Monday's crowd was as quiet as I've ever seen. I've been to a good share of shows, especially in the past five years as the product has steadily declined.
There was a moment late in the show where a few kids around 10-years-old were even chanting "this is boring" (I must note, they were not led or prompted by others around them, particularly any adults that led them to this). Other kids just sat there with a look on their faces that screamed boredom. An argument could be made that the kids were just tired on a school night, but their looks screamed bored, not tired.
The only real act tonight that was able to consistently get the crowd to react was the one that was actually featured the most and that was The New Day. We saw them live three or four times and they were able to get more of a reaction from the crowd than any other wrestler or group there. Dean Ambrose was easily the most over babyface in the building with Roman Reigns getting close to a 50/50 reaction, maybe even 60/40 against from what I could tell.
I can't remember leaving a WWE show more disappointed or less entertained. The silver lining on this is that I was able to get decent tickets for free. After what I saw tonight, I'm overjoyed that I didn't pay to see this show.
I paid extra money to see NXT this past summer in Pittsburgh in a much smaller venue and it was one of the best shows I've ever been to. It's obvious that WWE has dug a huge hole on it's main roster programming that is going to take a very long time to dig out of.
Tony Donofrio is a Specialist for PWTorch covering a variety of topics and promotions. You can reach Tony at TonyDonofrio@icloud.com or follow him on Twitter @TonyDonofrio