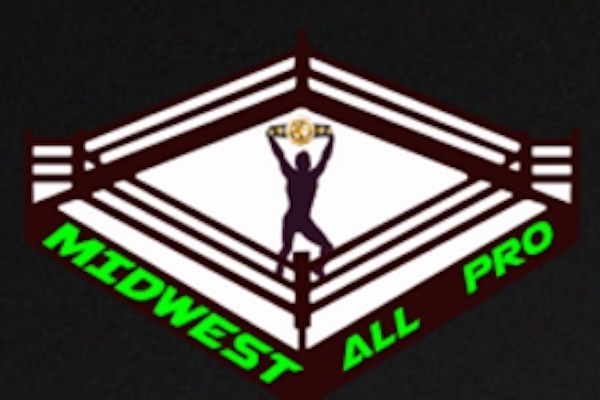 ---
SPOTLIGHTED PODCAST ALERT (YOUR ARTICLE BEGINS A FEW INCHES DOWN)...
---
Midwest All Pro Wrestling held their second event on Friday night, and right away you could tell the production improved. New lighting, and an added screen for the wrestler's entrance videos positively added to the experience. A very good vibe for an indy show. Also of note is that quite a few more tickets were sold than the last show, leading to more excitement from the crowd that was really hot the whole night.
Midwest All Pro Results
January 22, 2016
Sioux Falls, S.D.
Report by Andrew Soucek, PWTorch correspondent
Promotion owner Nick "Eugene" Dinsmore and his wife, the reigning Mrs. South Dakota, Stephanie Dinsmore, welcomed the crowd, and thanked them for coming. He laid out a future challenge for local meteorologist Brandon Spinner to a tuxedo match.
(1) "Retro Renegade" J.C. Slater beat Darin Corbin at 4:59. Slater was the face here against the red-headed Corbin. Corbin attacked from behind to start the match. He was on offense for the majority of the bout, often stopping to jaw with the crowd. A loud "Slater" chant broke out before his comeback which began when Corbin missed a splash. Slater came back with a pump-handle slam and picked up the pin.
(2) Isaac "Maru" Duncan beat Devin Thomas at 7:45. Thomas was the heel, with Maru as the hometown babyface. Maru patted down the ref to start the match in a comedy spot, before he exchanged holds with his opponent. Thomas played chicken for a bit before attacking from behind, and taking over control. A couple of headbutts got Maru back in the game. Some good back and forth action followed until Maru busted out some nice looking overhead suplexes and a running knee for the clean win. The crowd popped big for the hometown hero.
(3) Supafli & Josh Rice beat Joey Anderson & Shawn Nautilis at 8:49. Anderson and Nautilus were the heels, and larger than their opponents. They worked over the smaller Supafli who has a Luchador gimmick, and will sometimes punch his opponent in the butt. Anderson and Nautilus work well as a team, they hit some nice tag moves, and cheated a bit behind the ref's back. Eventually Rice took the hot tag and cleaned house. Some miscomunnication between the heels lead to the faces taking over and Supafli delivering a Frogsplash to capture the win.
(4) Nate Redwing beat Cold Stone Tim Boston at 1:07. Cold Stone is a happier, skinnier parody of Steve Austin, complete with The Rattlesnake's entrance music. Redwing is a monster heel who lacks The ability to smile. This wasn't going to end well. Boston tried a flurry of offense, but was no-sold. Redwing moves well for a big man, and landed a shoulder tackle followed by a press slam turned into a powerslam. Boston was down for the count. Total squash.
(5) Mikey Danger beat "Gorgeous" Alex Gretzky via pinfall at 9:50. Gretzky was immediately hailed with "Fat Dean Ambrose" chants from the crowd that he suffered through last time, because he kind of looks like a slightly larger version of The Lunatic Fringe. The crowd was really into that. Gretzky began posturing, and they exchanged holds. He was knocked out of the ring a couple of times, but eventually took over control, working over Danger for most of the match. It was arrogance that cost him the win, as Danger recovered and connected with an Impaler DDT type maneuver for the pin.
(6) "Anarchist" Arik Cannon beat "Sheik" Ariya Daivari at 13:56. Daivari was billed from Iran, and immediately riled up the crowd. He spoke in a foreign language (not sure which one!), leading to a loud "USA" chant. He drew the most heat of the night so far. Mostly a 50/50 match in terms of offense until an eye poke from Daivari put him in control for a few minutes. Cannon eventually made his comeback until he was laid out with a DDT. Daivari "Tuned up the Band" a la Shawn Michaels but was caught, and kicked in the face for his troubles. He later attempted Magic Carpet Ride with an actual carpet and hit it! Still, Cannon rolled him up for the win.
I've seen Ariya over the past few years, and the man has really improved. It's a bit of a wonder why he's not in ROH/TNA/NXT by now.
Intermission saw Eugene, Stephanie, Carlito, and Shayna Baszler take the ring for photo-ops. A video package featuring Nick Dinsmore's first two graduation students from his wrestling school aired on the screen.
(7) "The Highway Man" Jeremy James beat "Straight Edge Sociopath" Jesse Reed in 6:00. James was the face here, but the crowd was really into both men. Reed worked over the legs for a bit until James made his comeback. Reed hit a cross body block, which was reversed into a pin for a nice two count. The ending saw James block a pin attempt by sitting down and holding his opponent down for the win.
Post-match, Eugene came into the ring and gave both of his students a brief hug. The crowd applauded the efforts of both men. Nice debut for the students, and very cool moment to see a first time match from two young guys.
(8) Carlito beat "The Bulletproof Tiger" Jason Strife at 12:21. Carlito got a big pop from the crowd, and looked to be in great shape. A "dingleberry" chant caught on for Strife, who didn't seem to enjoy the new nickname. Carlito delivered an impressive dropkick and a neckbreaker. Strife used some underhanded tactics to gain control and took the fight to ringside. He kept on offense inside the ring until a missed second rope legdrop put Carlito back in business. At one point, Strife grabbed Carlito's apple, took a bite, but was then low-blowed from behind, causing him to spit in the face of the ref. This gave Carlito the opportunity to connect with his backstabber finisher.
Post-match, Stephanie interviewed Carlito. He said he didn't originally want to come to Sioux Falls, but was won over by Eugene and loved the trip. Aw shucks! The man still has a ton of charisma.
(9) Shayna Baszler beat "Ms. Natural" Heather Patera with special guest referee Eugene at 13:42. Patera was accompanied to ringside by Nate Redwing. Baszler came out to the ring for the pop of the night. She was accompanied by a large entourage. This was her first pro wrestling match in her hometown. A loud "Queen of Spades" chant broke out. Patera played chicken and stalled. After Baszler hit some offense, Patera rolled to ringside. Eugene began the count. Patera took control when she took advantage of a chase. Baszler had some brief offense with some kicks, but was laid out. The two fought outside the ring some more, and Redwing pushed Patera in to break the 10 count. Baszler was about to claim victory when Redwing yanked Eugene out of the ring. Eugene made the comeback and Baszler finished off her opponent with a Samoan Drop. A new loudest pop of the night.
Shayna cut a brief promo afterward talking about representing Sioux Falls and she put over Midwest All Pro.
Overall, a very good show. Despite the event running around three hours, the crowd was hot throughout. A great venue for wrestling, with a variety of talented wrestlers, and not a single bad match on the card. They'll be returning on April 9. Definitely check them out if you're in the area.