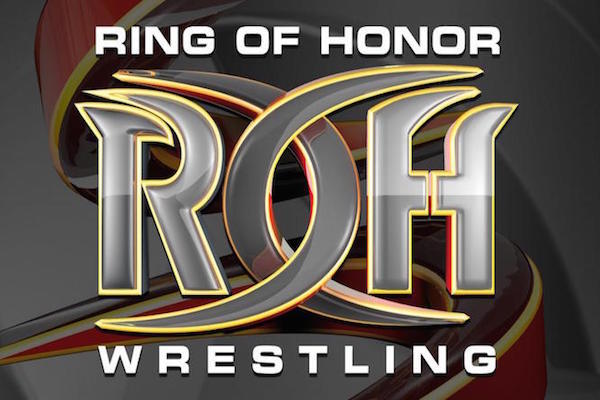 ---
SPOTLIGHTED PODCAST ALERT (YOUR ARTICLE BEGINS A FEW INCHES DOWN)...
---
ROH TV Report
Aired March 20, 2016 in syndication
Aired March 23, 2016 on Comet TV
Taped 2/27 in Las Vegas, Nev.
Report by Mike Metzger (@md0uble), PWTorch contributor
The ROH TV opening aired.
The camera panned the upper deck of Sam's Town Live in Las Vegas. The
shot made the arena look fairly large for an ROH venue.
Kevin Kelly and Mr. Wrestling III welcomed viewers of the show while
B. J. Whitmer made his entrance. Kelly talked about the breakup of The
Decade. He then announced tonight's main event of Michael Elgin &
Hiroshi Tanahashi vs. The Young Bucks.
Veda Scott's voice interrupted Bobby Cruise's ring announcements. Veda
said she merely wanted to introduce herself to the new TV champ. Scott
reminded fans that it was her responsibility to raise the profile of
her client Cedric Alexander and make sure he got everything he
deserved. She proposed a "slight change of plans" to Whitmer. Cedric
held up an envelope containing a certified check, according to Veda.
Veda outright offered the check in exchange for Whitmer giving his
title shot to Cedric.
Whitmer asked Veda if he looked like the type of person who could be
bought. "Yes" chant from the crowd. Whitmer [kind of] swerved everyone
and agreed that he was, indeed, willing to take a bribe. Kevin Kelly
announced that Ishii would defend the ROH TV Title against Cedric
Alexander after a…
[Commercial Break]
1 – ROH TV champion TOMOHIRO ISHII vs. B.J. WHITMER – ROH TV Title match
The bell rang and then both men tied up in the center. Cedric threw
some forearms at Ishii and then applied a headlock. Ishii fought back
with a shoulder tackle. Cedric tried one of his own, but Ishii came
right back with another one that took Cedric off his feet. Both men
then traded chops, with Ishii getting the upper-hand like he usually
does in this type of match.
Ishii chopped Cedric in the ropes several times, as an "Ishii" chant
broke out from the crowd. Veda grabbed Ishii's leg, though, which set
him up for a beautiful dropkick from Cedric. Alexander stomped Ishii
several times and then delivered some more chops. Cedric hit a snapmre
and then a basement dropkick, but Ishii kicked out of the pin attempt.
Cedric stomped Ishii and then applied a chin lock. Alexander held on
for about 30 seconds before letting go and just taunting Ishii on the
mat.
Another huge "Ishii" chant as the NJPW star got to his feet! Cedric
threw some fists, but Ishii completely no-sold them. Ishii threw one
big punch of his own, which sent Cedric into the corner. Ishii
exploded with chops and forearms in the corner, before hitting a
shoulder tackle that turned Cedric inside-out! Ishii hit a
brainbuster, but Cedric kicked out of the pin attempt. Ishii went for
a powerbomb, but Cedric reversed into a backdrop. Cedric charged into
the corner and flew back out with spin kick to Ishii.
Cedric followed up with a Michinoku Driver, but he still couldn't put
Ishii away. Cedric looked a bit frustrated before nailing a spin kick,
but Ishii ducked and then clobbered Cedric with a headbutt. Ishii went
for a sliding lariat, but Cedric reversed into a crucifix for two.
They traded blows until Ishii nailed Cedric with a huge lariat that
turned him inside-out again! Ishii then hit a running brainbuster for
the victory!
WINNER: Tomohiro Ishii via pinfall in 6:16 to retain the ROH TV Title.
ANALYSIS: Hot opener. This show definitely has more of a big show-feel
compared to recent TV tapings so far this year. I thought Ishii got to
showcase much more in this match than he did at the 14th Anniversary
PPV. Cedric held his end and got some shine toward the end. 1-0 NJPW
so far. (***)
[Commercial Break]
Addiction-Motor City Machine Guns confrontation
The Addiction were out next, as clips aired of the Motor City Machine
Gun reuniting at the 14th Anniversary PPV. For those who didn't see
it, Sabin turned on The Addiction when he broke up their post-match
attack on Shelley. Kaz said he and Daniels were sick to their stomachs
because of a betrayal. Huge "Motor City" chant from the crowd. Kaz
addressed Sabin as a "turd," and reminded Sabin that they brought him
back to ROH and made him relevant again. Kaz said that without the
Addiction, Sabin would be as broken and as decimated as Detroit's
economy.
Kaz said that The Motor City Machine Guns were back and still pointing
to their stupid hands. Kaz lambasted the crowd and said, "lions didn't
lose sleep over cries of the sheep." Kaz demanded an apology from
Sabin. Daniels immediately grabbed the mic and argued against an
apology. He said he could expect a betrayal from enemies, but not from
a friend like Sabin. Daniels dismissed Sabin's turn and said that
ROH's tag division began and ended with The Addiction. Daniels didn't
care what generation Sabin considered himself a part of. He referred
to himself and Kaz the "Generation killers' and promised to end their
reunion before it even began. Some indie rock blared through the
arena, and out came Sabin and Shelley!
Sabin had the mic first. He claimed to have come to the realization
that Daniels and Kaz were bitter, delusional d*uchebags. That's why he
was with Shelley, and not The Addiction anymore. Sabin accused The
Addiction of picking a fight, and then graciously accepted that
challenge.
The Machine Guns rushed the ring, but The Addiction high-tailed it out
of these. Daniels still had the mic, and denied Sabin and Shelley a
match. Daniels talked down to the MCMG, claiming that it was "the
adults" who decided when and where to fight. Daniels closed the promo
by saying that Sabin and Shelley were unworthy of The Addiction's
attention.
ANALYSIS: Hot promo. I've been dying for The Addiction to finally be
involved in a quality feud. They have been part of some of my favorite
ROH moments in the past year, but never got to have a full-fledged
program. This not only further established it, but it made The
Addiction-MCMG feel important. It doesn't hurt that the MCMG reunion
generated a lot of online buzz. Continues to feel like a big show so
far.
Backstage: ROH World Champion Jay Lethal and The House of Truth hyped
Lethal's match against Hiroshi Goto next week on ROH TV. Lethall joked
and said that Goto would go-to the hospital. Lethal claimed to be the
greatest, as the camera faded out.
[Commercial Break]
3 – THE BRISCOES (MARK & JAY BRISCOE) vs. RENO SCUM (ADAM CORNSTONE & LUSTER THE LEGEND)
Kelly hyped what had just happened between The Addiction and The Motor
City Machine Guns. Apparently, ROH matchmaker Nigel McGuinness signed a match between the two teams that will take place in two weeks. The
Briscoes and Reno Scum shook hands before the bell, as Mr. Wrestling
III inquired if the team was related to SCUM from a few years ago in
ROH. Mark and Cornstone started the match. Mark dominated him for a
little, before tagging Jay, who Cactus-clotheslined Cornstone out of
the ring, followed by a dive from from Mark!
Things settled down with a dropkick from Briscoe in the ring. He
tagged Mark who battled with Cornstone. Mark got the upperhand, but
Cornstone reversed a whip and Luster tagged in with a big splash.
Luster, who donned a Sheamus-like mohawk and beard, headbutted Mark on the mat and scored a two-count. Reno Scum celebrated to little
reaction from the crowd. They continued to dominate Mark with quick
tags in their corner. Luster applied a headlock until Mark battled
out. Mark was in enemy territory, but he started to fight his way out
against both opponents. Cornstone cut off the hot tag, though, and
Reno Scum took back control with a catapult/Death Valley Driver combo.
Luster rammed into Mark in the corner and tagged Cornstine. Luster
went for a charge, but Mark moved and Luster went shoulder-first into
the ring post!
Mark made the hot tag to Jay, and then he and Cornstone traded blows.
Briscoe came out on top with a DVD and a neckbreaker, which was good
for a two count. Mark came back in and hit Luster with some chops and
a uranage. Jay officially tagged Mark into the match before he charged
Cornstone in the corner. The Briscoes hit a neck breaker/powerbomb
combo and went for the cover, but Cornstone somehow kicked out at two!
Jay went for the Jay Driller, but Luster came back in and broke it up.
Reno Scum then hit a German suplex/foot stomp combo on Mark, but Jay
was able to break up the pin attempt with a foot stomp of his own! Jay
battled with Luster. He went for another Jay Driller, but Luster
battled out. Jay nailed him with a clothesline, though, and Mark was
right behind with a top-rope Froggy Bow on Cornstone for the victory!
WINNERS: The Briscoes via pinfall in 6:59.
ANALYSIS: Good match, although I felt Reno Scum had a tad too much
offense for their role in this one. Cornstone and Luster had a decent
look, although Luster does have to lose the Sheamus-look. The action
really picked up at the end with a couple of nice false finishes.
(**1/2)
Backstage: Dalton Castle, sans his "boys", talked about his "final
dance" with Silas Young next week on ROH TV. Dalton said "the boys"
weren't there because he didn't want them to see what he would do to
Young in their "Fight without Honor" next week.
[Commercial Break]
4 – THE YOUNG BUCKS (NICK & MATT JACKSON) vs. MICHAEL ELGIN & HIROSHI TANAHASHI
During entrances, Kevin Kelly spoke of The Young Bucks playing a role
in Kenny Omega's recent victory over Tanahashi for the vacant IWGP
Intercontinental Title. Afterward, Elgin broke up a Young Bucks
beat-down on Tanahashi. Huge "Young Bucks" chant, followed by
"Tanahashi" and "Big Mike" from the crowd before the bell. Nick and
Elgin started the match as "Too Sweet" chants broke out. Elgin called
for a Test of Strength. Nick hesitated, before offering a Wolfpac hand
gesture. He ended up raking Elgin's eyes with it, to the delight of
the crowd. Elgin responded with a shoulder tackle. Both men jockeyed
for position until Matt made a blind tag and the Bucks dropkicked
Elgin out of the ring. The Bucks then hit some of their signature
dives onto both Elgin and Tanahashi on the outside, as the show cut to
a break at the 1:44 point in the match.
[Commercial Break]
Back at 2:44, Elgin caught Matt in mid-air. Matt escaped, but
Tanashashi held him from the apron, which allowed "Big Mike" to hit a
bicycle kick that sent Matt to the floor. Nick was right there, but
Elgin cut him off with a roaring elbow! Tanahashi nailed Matt with a
European uppercut on the outside, before throwing him back into the
ring. Tanahashi tagged in and then he and Elgin hit a double-delayed
vertical suplex on Matt. They walked over to Nick and made the "s*ck
it" gesture, in stereo! "How dare they steal that," said MR. Wrestling
III on commentary.
Tanahashi softened up Matt for Elgin. "Big Mike" went for a solo
delayed-vertical on Nick. He held him up for a count of 13, before
Nick ran into the ring. Elgin casually lifted him up on his other
shoulder and hit a double-suplex on both Bucks! Elgin went for the
cover, but Matt kicked out. Tanahashi tagged back in and played to the
crowd. Tanahashi applied an abdominal stretch in the center, as a
battle chant broke out. Tanahashi played human air guitar on Matt,
until Matt finally broke free of the stretch. Matt crawled to his
corner, but Tanahashi broke it up with a crossface on the mat.
Tanahashi made the "s*ck it" gesture to Nick on the apron, while still
holding onto the crossface on Matt!
Matt eventually broke out of the hold. He left the ring and
superkicked Elgin on the outside, before rolling to the opposite
corner and tagging Nick! Nick came in with beautiful dropkicks to both
Elgin and Tanahashi. Nick and Tanahashi battled, until Nick hit him a
slingshot facebuster! Nick immediately transitioned into a moonsault
off the ring apron. Elgin caught him, but Nick reversed into a
delayed-DDT, as the show cut to a break at the 8:19 point in the
match!
[Commercial Break]
Back at 9:19, Nick hit a swanton on Tanahashi, which was good for a
two-count. Nick tagged Matt, as a "superkick" chant rang out. Matt
charged at Tanahashi in the corner, but ate an elbow. Tanahashi
followed right up with a cross body out of the corner. Tanahashi
tagged "Big Mike," who came in and nailed both Bucks with a series of
forearms. He charged at both of them in separate corners. He then
attempted a suplex on Matt, but Nick caught his brother. Elgin
recovered by catching Nick's superkick and throwing it into Matt's
face! Elgin then picked up both Bucks for a double-fallway slam! The
Bucks rolled to the outside to recover at the 11:00 mark.
Elgin hit a deadlift Falcon Arrow on Matt off the top rope. He made
the cover, but Matt somehow kicked out at two. Elgin went for a Buckle
Bomb, but Matt reversed with a hurricanrana/enziguri combo in the
corner! The Bucks hit a convoluted double-team move to Elgin, and then
a simpler double-superkick to Tanahashi. They hit a modified More Bang
for Your Buck on Elgin, but Tanahashi made a diving save at the last
moment! "This is awesome" chant, as The Bucks went for the full
version of More Bang for Your Buck on Elgin, but Tanahashi broke it
up.
Matt nailed Tanahashi with a superkick, but Tanahashi no-sold it and
came right back with a lariat! Elgin picked up Tanahashi on his
shoulders. He went to wheelbarrow Tanahashi onto Matt, but he moved
and The Bucks hit a series of double-superkicks on Elgin and
Tanahashi! The Bucks went for a Meltzer Driver, but Elgin broke it up
by catching Nick in mid-flip and then powerbombing him hard to the
mat! Tanahashi hit a Matt with a Slingblade, followed by another stiff
powerbomb from Elgin. Tanahashi then hit a big top-rope splash on Matt
for the victory!
WINNERS: Michael Elgin & Hiroshi Tanahashi via pinfall in 14:32.
ANALYSIS: Stellar match start-to-finish. It was filled with fun spots
and sequences. I really liked Kevin Kelly setting the stage at the
beginning. ROH has done a better job of integrating the NJPW stars
into its storylines, but the NJPW guys won again, if anyone's still
even bothering to keep track. (****)
Next week: Hirooki Goto challenges Jay Lethal for the ROH World Title,
and Dalton Castle battles Silas Young in a "Fight without Honor!"
FINAL REAX: I'm not sure how much input Christopher Daniels during
this taping, but this show definitely had a hotter feel than normal.
It's unfortunate that it took almost a full month to get to these
post-14th Anniversary episodes, as they might have generated more buzz
if they had aired sooner after the PPV. Perhaps that issue will be
fixed when the rumored rebrand of The Tennis Channel happens. The next
couple of weeks of TV feel stacked, but it still seems like forever
since an ROH guy has gone over a NJPW star on TV and PPV. Bigger
picture aside, this was a good episode and worth going out of your way
to see.