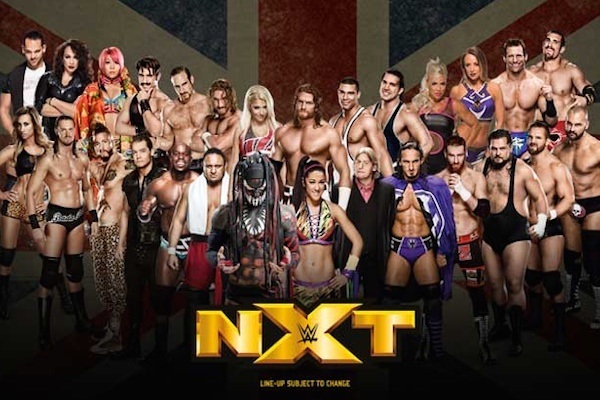 ---
SPOTLIGHTED PODCAST ALERT (YOUR ARTICLE BEGINS A FEW INCHES DOWN)...
---
Interest in sports cards is often driven by rookie cards. Topps's basic Bowman baseball product is one of the most eagerly anticipated products each year because of its deep checklist of prospect cards. Football cards always draw more interest when there's a strong rookie class, such as 2012 and 2014.
In February 2014, Topps produced what was in many ways the first WWE prospect insert set. Titled "NXT Prospects," the cards were inserted at a rate of one in every two hobby and retail packs of 2014 Topps WWE. There were 20 total cards in the NXT Prospects subset.
A premium version, identical to the original set but with a Topps Chrome finish, was included in the more expensive 2014 Topps WWE Chrome product at a rate of one in three packs.
Buying cards of prospects and rookies is always a gamble. For every Andrew Luck, there are a dozen guys like JaMarcus Russell and Johnny Manziel who flame out for one reason or another. The right investment (Mike Trout, Russell Wilson) can lead to big bucks for astute collectors, while sinking money into cards of other high-end prospects (Robert Griffin III, Darko Miličić, Brien Taylor) can be disastrous.
So how did Topps do in selecting the 20 wrestlers included in the NXT Prospects insert set? Of the 20 wrestlers, 14 are now on the main roster, three are still in NXT, two are wrestling elsewhere, and one is retired. In total, 18 of the 20 (90 percent) are still with WWE in some capacity. Here's a look at each wrestler included in the set.
(1) Adrian Neville. WWE dropped Neville's first name and called him up to the main roster last spring. Neville was likely headed into the Intercontinental Title ladder match at WrestleMania 32 before a leg injury derailed him. Assuming he recovers, he'll probably remain a solid mid-carder in WWE for several years.
(2) Alexander Rusev. When these cards were released in February 2014, Rusev had already appeared in the Royal Rumble and was headed to the main roster. He was a hot act for about a year before falling out of favor with management and being stuck in the ice cold League of Nations.
(3) Baron Corbin. The former college football star and NFL wash-out was seen as a Vince McMahon guy from the moment he walked into NXT.
After working NXT programs with guys like Rhyno, Samoa Joe, and Austin Aries, Corbin was fast-tracked to the main roster and won the Andre the Giant Memorial Battle Royal at WrestleMania 32.
Corbin will probably be given lots of chances because of his size, but he's still extremely green and may have been called up to the main roster too early.
(4) Bayley. Few wrestlers have the potential to change the wrestling business the way Bayley does. She's beloved by kids and adults alike, and has a loyal following of young female fans. Her autographs and memorabilia cards are absolutely the hottest with wrestling collectors right now. The biggest question, as with many NXT products, is whether Vince McMahon and company will know what to do with her once she makes the move to the main roster.
(5) Charlotte. Ric Flair's daughter was seen as athletic but green when these cards were made. A short time later, Natalya carried her through a match that changed fans's minds. Now she's a big star in WWE and will likely be featured for quite some time, both in the ring and making media appearances for the company.
(6) C.J. Parker. One of the few misses in this set. Parker never caught on with NXT fans, and can now be seen in multi-man undercard matches in New Japan as Juice Robinson. The former C.J. Parker is still very young, and could still make his mark somewhere in pro wrestling.
(7) Konnor O'Brian. Before NXT had tag teams like American Alpha, The Revival, and the Lucha Dragons, The Ascension was putting crowds to sleep. Things only got worse for Konnor and Viktor when they were brought up to the main roster in 2015 as Road Warrior imposters. Konnor is the bigger of the two and has the size McMahon likes, so there's still a chance he could be repackaged.
(8) Corey Graves. Because of injuries, Graves is now retired and serves as the hip young voice of NXT.
(9) Emma. Some fans have already forgotten that before Bayley, Charlotte, Becky Lynch, and Sasha Banks, Emma and Paige had very good matches in NXT. Unfortunately, when she made it to Raw, Emma was partnered with Santino Marella and immediately defined as a comedy act. She returned to NXT and was repackaged as a heel, before returning to the main roster just before WrestleMania.
(10) Enzo Amore. Enzo and partner Big Cass became huge fan favorites in NXT as a tag team that couldn't quite win the big one. They showed up on Raw the night after WrestleMania 32 to a huge reaction to feud with the Dudley Boyz. Enzo is a great talker and a student of pro wrestling, and could have a very long career with WWE.
(11) Jason Jordan. In 2014, Jordan was lost in a deep talent roster in NXT, and was completely unknown to a lot of fans who saw this card. Two years have made a huge difference, as Jordan is now in a white hot tag team with Chad Gable and seen as a real prospect.
(12) Leo Kruger. The South African mercenary became a Russell Brand knock-off at least five years too late, turned heel, and feuded with a guy in a rabbit costume, and then became a Social Outcast. Next.
(13) Mojo Rawley. Zack Ryder's Hype Bros. partner hasn't really found his footing in NXT. Right now, he's just a guy lost in a roster full of much more talented wrestlers.
(14) Paige. The early standout of the NXT women's division, Paige debuted on the main roster the after WrestleMania 30 and won the Diva's Title in her first match. She's been turned from face to heel and back again countless times since then, and has inexplicably lost Raw matches to wrestlers like Summer Rae. Nonetheless, she's a star on Total Divas and one of the most popular WWE wrestlers with collectors.
(15) Rick Viktor. Konnor's partner in The Ascension, he's the one with the bad hair and unimpressive physique. Next.
(16) Sami Zayn. The former El Generico is one of the most beloved wrestlers in NXT's brief history. He's already an upper-mid-carder on the main roster, feuding with Kevin Owens.
(17) Sasha Banks. Like Bayley, Sasha is something very special and could change the perception of WWE women's wrestling. She and Bayley had standout matches in 2015, and many fans agree that she was the star in the best match at WrestleMania 32. Sasha's best days are probably still ahead of her.
(18) Sylvester Lefort. After spinning his wheels in NXT for several years, LeFort signed with TNA in March 2016.
(19) Tyler Breeze. Poor Prince Pretty had the fastest fall from WWE grade in recent memory. He showed up last fall to feud with Dolph Ziggler, but it wasn't long before he was completely forgotten. Breeze is even lower on the WWE ladder than the Social Outcasts.
(20) Xavier Woods. The former Consequences Creed debuted with a thud as R-Truth's tag team partner in 2013. He was fed to Rusev and others in 2014, and then hooked up with Big E and Kofi Kingston as the miscast babyface New Day. But Woods's charisma shined through after a New Day heel turn, and thanks to a trumpet and a unicorn horn, he's now part of one of the hottest acts in wrestling.
PWTorch Collectibles Specialist Michael Moore can be reached at michaelmoorewriter@gmail.com. Follow him on Twitter @MMooreWriter.