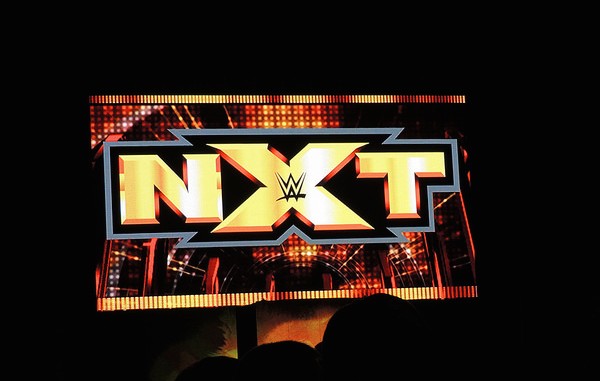 ---
SPOTLIGHTED PODCAST ALERT (YOUR ARTICLE BEGINS A FEW INCHES DOWN)...
---
WWE NXT Report
May 18, 2016
Taped at Full Sail University
Aired on WWE Network
Report by Justin James, PWTorch contributor
[Q1] Pre-credits package reminds us that Bayley is facing Nia Jax tonight.
Alexa Bliss is back with Blake and Murphy as they come out for tag team action against Austin Aries and a partner of his choice. And it is… Shinsuke Nakamura. While this is a cool match-up, it is a bit of a let down to see red-hot Nakamura used in the opening match with Aries, who isn't setting the world on fire in a weird tweener role. Bliss, Murphy, and Blake are obviously not happy to see Nakamura. The crowd is blowing the roof off for Nakamura.
1 – AUSTIN ARIES & SHINSUKE NAKAMURA vs. WESLEY BLAKE and BUDDY MURPHY (w/Alexa Bliss) – Tag Team match
Aries and Blake started, but Murphy decides to come in instead. Aries takes advantage of the confusion to hit a big dropkick for an immediate nearfall. Nakamura in, and he does his thing to Murphy. Nakamura and Aries double-team Murphy.
Distraction from Blake lets Murphy level Aries with a clothesline and get a two count. Jawbreaker lets Aries tag Nakamura. Knees, then a kick from Nakamura. Blake jumps off the apron to avoid Nakamura. Exploder suplex, and Aries wants to tag in, but Nakamura refuses. Kinshase for the win.
WINNERS: Shinsuke Nakamura & Austin Aries in 2:46. This is just a set-up for the post-match…
… Aries looks a bit annoyed at Nakamura. Meanwhile, Bliss is through with Blake and Murphy, and she storms out. She's better off without them. Blake stomps off, too, with a silent break-up with Murphy.
Cathy Kelley interviews Bayley. Bayley says that Jax uses her size to scare people, but Bayley isn't afraid and will beat Jax again to return to the title scene.
Video package on Asuka. It's a combination music video and clips from her matches, with a bit of voice-over. Good way to highlight Asuka as a threat without having her cut promos.
[Q2] Kelley interviews No Way Jose. He shows off his smile. People underestimate him, but he says "No Way Jose!" He's here to have fun, and to have a fiesta. He dances and Kelley laughs.
Nia Jax gets the Big Show camera shot walking the halls of FSU.
"Earlier today" with Carmella. She says she knows that Enzo Amore will be okay after his injury and Big Cass is doing great on the main roster. She is on NXT to become the NXT Women's champion.
In the arena, Carmella cuts a promo on her way to the ring. Revised presentation, with a jacket and some track pants and a hat. She is up against Peyton Royce.
2 – CARMELLA vs. PEYTON ROYCE
It looks like Carmella's track pants are only for the entrance. Royce with immediate advantage. Elbows and then a chinlock on Carmella. Schoolgirl gets two for Carmella. Crucifix into another cover for Carmella. Royce turns it around. A stiff-locking kick to the head gets her two.
Royce with a suplex, suplex, suplex, and a bridge for a nearfall. Royce paintbrushes Carmella, who fires up from the mat. Back and forth strikes. Carmella ducks a kick, then hits a Thesz Press, then another.
A superkick from Carmela drops Royce into the corner to take a bronco buster. Carmella with her inverted triangle, and Royce taps.
WINNER: Carmella in 3:33. Fine match to show Carmella as having a strong case to be next in line for a title shot.
Last Saturday in Portland, a big brawl between Finn Balor and Samoa Joe broke out. The locker room emptied to pull them apart.
[ J.J.'s Reax: These videos make NXT live events seem important and "anything can happen" as opposed to the "why bother?" of main roster house shows. ]
Clips air from a Facebook Live press conference with William Regal. He's amended the contract for the NXT Title re-match to protect the fans (that's some new logic there). The match is now a steel cage match, NXT's first. Joe and Balor have words for it. They both vow to end it for good.
[Q3] Backstage, Blake is yelling at Bliss, then Murphy comes in. Bliss tells them to shut up. She's done everything she can to help them win, and they keep losing. She's focused on herself, and she can't do it with them as boat anchors. She walks out, then Murphy and Blake glare at each other.
Tommasa Ciampa and Johnny Gargano get a good reception.
3 – TOMMASO CIAMPA & JOHNY GARGANO vs. ROB RYZIN & DANNY BURCH – Tag Team match
Gargano and Ryzin start with chain wrestling. On commentary, Corey Graves points out that Gargano gets cheered but not Ciampa. Armdrags finally give Gargano a definitive advantage. Knee to the middle lets Ryzin break free and tag in Burch.
Burch is grounded, too. Ciampa tags in, and they hit nice double-team moves. Burch fights out of the corner, but it doesn't last. Ciampa counters a suplex with one of his own, and finally gets a chant for himself. Ryzin from the apron lets Burch finally get the edge on Ciampa.
Ciampa gets cornered. A telegraphed double back body drop lets Ciampa make a comeback and tag in Gargano. Gargano fights off an illegal double team. Ryzin is legal, takes stereo knees to the face in the corner, then again mid-ring. It's good for a three count.
WINNERS: Ciampa & Gargano in 4:55. Good match to show Ciampa and Gargano as a team.
In Regal's office, he congratulates Enzo Amore and Big Cass on their main roster success, then he books American Alpha against The Revival for the NXT Tag Team Championship at the next Takeover.
Great reception for Bayley on her first match at FSU since Takeover.
4 – BAYLEY vs. NIA JAX
Lock-up and Jax just slams Bayley's face into the mat. Nice display of power. Jax easily powers out of a waistlock. Bayley tries a wristlock, but Jax pries out. Jax wants a bodyslam, but Bayley transitions into a hold but Jax tosses her off.
Bayley tries a headlock, but Jax fights her off with a slam which gets two. Bodyslam, then Jax chokes Bayley in the ropes drawing boos. Bayley jumps over Jax in the corner to deliver offense, but a big blow sends Bayley to the mat into another cover.
Bayley manages to slam Jax's face into the turnbuckle repeatedly, but Jax recovers and throws Bayley face-first into a turnbuckle to drop her. Bayley cannot sustain offense heading to break…
[ Break ]
Bayley fights out of a chinlock, but runs right into a shoulder breaker for two. Jax steps on Bayley's hand to take the guillotine out of the equation. Jax headbutts the left shoulder in the corner, then kicks Bayley on the mat.
[Q4] The crowd is trying to rally Bayley, but Jax puts her in a half nelson. Bearhug from Jax, which lets Bayley try the guillotine. Bayley with a sunset flip, but Jax blocks. Bayley goes nuts in the corner with her usual rally. Kicks to the legs and a dropkick finally send Jax down.
Bayley dodges a charge and Jax lands outside on the ramp. Bayley wants a dropkick through the ropes, but Jax catches her. She wants a powerbomb, but Bayley gets on the apron. Head scissors plants Jax's head on the ramp.
Bayley to the top for a cross-body fora pin attempt, but the kick-out sends Bayley flying. Bayley-to-belly is blocked, then a lazy spinebuster gets two. Jax with a spear, but Bayley dodges.
Bayley leaps up to get the guillotine, but she can't get her hands around the neck. Jax stands up, then flips Bayley up for a suplex, but Bayley escapes and hits a DDT for a nearfall.
Bayley can't get up and sells a knee injury. The ref checks on Bayley. The crowd support gets her back to her feet in the corner and she immediately gets squashed by Jax. Jax leg-drops the knee, then leg drops Bayley in the back of the head. Cover ends it.
WINNER: Nia Jax in 13:51. Not a great match by any means, but seeing Jax beat Bayley tells us which way the wind is blowing. Jax has come a long way, but this is a match-up that I just don't want to see go more than 10 minutes.
Final Reax: Surprising to see Jax win that main event and it makes me wonder who is facing Asuka at Takeover… If the Aries/Nakamura tag team leads to an Aries heel turn and a feud with Nakamura, I am all for it, especially if it leads to a match at Takeover. I really feel like they need to do something interesting with Aries and soon, as he is languishing in that Hideo Itami zone of "being over because of who he was before NXT, not because of who he is in NXT," which is a bad place to be long-term. Takeover is building nicely.