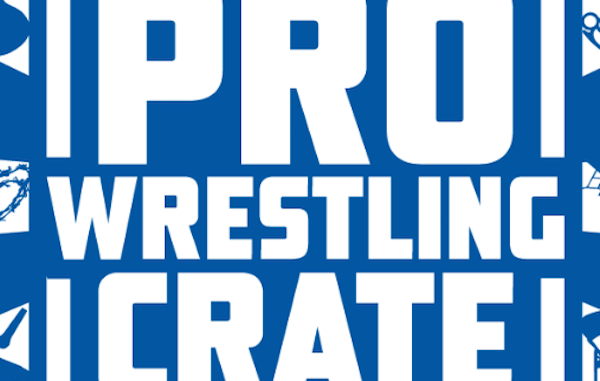 ---
SPOTLIGHTED PODCAST ALERT (YOUR ARTICLE BEGINS A FEW INCHES DOWN)...
---
The latest PWTorch.com monthly unboxing video for ProWrestlingCrate.com features an unboxing of the June 2016 crate.
This month, Pro Wrestling Crate went with the "Summer of Love" theme. Pro Wrestling Crate was founded by Jake & Derek from the limited edition wrestling t-shirt site TopRopeTuesday.com and Mick Foley.
The aim for each crate from PWCrate is to have a pro wrestling personality curate the crate, but they've been doing themed boxes more often than not lately. Each crate comes with a shirt, collectibles, and merchandise that you won't find anywhere else unless you subscribe to the monthly service.
This is the eighth box from PWCrate and it was a big hit for me. Given that Foley is involved in the production of these boxes, it wasn't a surprise that the "Summer of Love" theme produced several Dude Love related items.
The Dude Love t-shirt and sun glasses made for a great combination this month, as it gives people that bought the box an instant Dude Love outfit for the summer. I enjoyed the other items as well including the Dude Love playlist for Spotify and the fantastic Dude Love poster.
Each crate costs $29.95, which includes shipping. If you commit to longer than a monthly subscription, you can get a significant discount on each crate. It bottoms out at 14.95 per crate with a long-term subscription. One cool thing about Pro Wrestling Crate's service is there are no additional charges for customers that need a shirt 2XL and above.
As you will see in the unboxing video, Pro Wrestling Crate has by far the most professional looking box I've seen for a wrestling-themed subscription box. Each box is sealed with a sticker featuring the logo of the curator or the theme.
And now to the unboxing video!
There are several pro wrestling mystery boxes on the market now. Depending on what you're looking for if you want to subscribe to a mystery box, Pro Wrestling Crate will be very appealing depending on the theme or curator for a given month.
The June box will likely go down as one of the better boxes that PW Crate puts out this year given that it had a theme tied to an iconic Mick Foley character. Hopefully PW Crate doesn't burn through too many Mick Foley themes in the near future, as it looks like the theme for the next box will be tied to Cactus Jack. If you haven't tried PW Crate yet, I would definitely recommend subscribing for at least a month to give it a try with our discount code listed below.
You can purchase a subscription to PWCrate by visiting ProWrestlingCrate.com. You can also follow them on Twitter @PWCrate. Act fast, as the deadline to order the July crate is July 15. The next crate will have a "Truth or Consequences" theme according to the teaser on the website.
COUPON CODE: You can save 15 percent off your first purchase at ProWrestlingCrate.com by using the code "TORCH."
***
Email Sean at PWTorchSean@Gmail.com
Please click HERE and click "like" to join the Radican's Wrestling Community Facebook fan page.
Follow Sean on Twitter at Twitter.com/SeanRadican