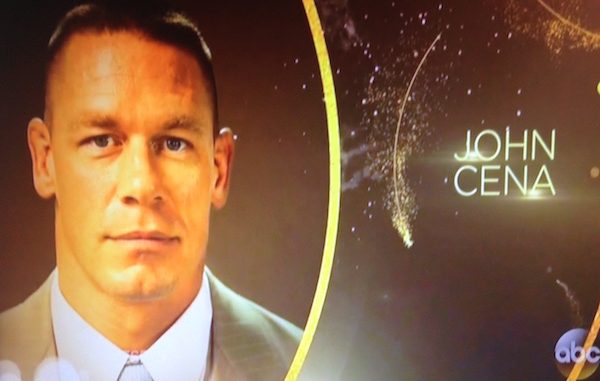 ---
SPOTLIGHTED PODCAST ALERT (YOUR ARTICLE BEGINS A FEW INCHES DOWN)...
---
"John Cena hosts The ESPYs" Live Blog
July 13, 2016
Aired on ABC
Los Angeles, Calif.
– John Cena's opening monologue of this year's ESPYs sports awards show focused on why exactly he's hosting the show. Cena joked about WWE being the "redheaded stepchild" of sports and entertainment. "I mean, it's rigged," he deadpanned.
Cena joked that you might recognize him from "Trainwreck," like the 2016 Summer Olympics, or WWE. So, Cena said ESPN booking him as host is crazy … or genius? Cena presented an argument that sports is more like WWE than anyone in sports wants to admit.
Cena noted the NBA story of Cleveland winning something. "That had to be scripted," he said. He also said LeBron James went from a good guy to a bad guy and back to a good guy again. So, the NBA did what they do in WWE – make a new bad guy. A picture of Kevin Durant in a Golden St. Warriors uniform flashed on the screen to a pop.
Then, the NFL had the Peyton Manning story riding off into the sunset after conquering his arch-nemesis Tom Brady. Plus, there's Odell Beckham, who already looks like a WWE star. Cena said he is one parrot away from being Koko B. Ware, whose picture flashed on the screen.
And, Cena said, there is Vince McMahon, who is a maniacal billionaire manipulating the system to his advantage. "That's way too crazy for real sports," Cena deadpanned before a photo of NFL commissioner Roger Goodell flashed on the screen.
So, Cena said, maybe ESPN did get the best guy for the night when sport meets entertainment.
Cena then went through some joke material, mainly about Cleveland. He said there were 1.3 million people at the Cleveland Cavs victory celebration. "And somehow there is not one good QB," he joked. He also joked about Kevin Love sitting with the big kids LeBron James and Kyrie Irving. "I expected to see you off in the corner. Alone. Screaming 'I'm open!'"
Cena pointed out Peyton Manning and Kobe Bryant in the crowd after retiring. He said both of their games were spectacular, and with virtually no passing, joking about Peyton having a terrible Super Bowl game in victory and Kobe never passing the ball in his final NBA game.
Cena then joked about the Los Angeles Lakers's new head coach, Luke Walton, also being their best player. Meanwhile, Phil Jackson is re-assembling the bad Bulls in New York.
Cena joked about Tim Duncan retiring as only Tim Duncan can – in the middle of the night during the off-season. He wrapped up his monologue with some dirty jokes that drew quizzical looks from the athletes shown on-camera.
Cena also pointed out Ric Flair in the crowd. He said the ESPYs is the one night of the year where Flair is actually sensibly dressed, joking about athletes dressing in crazy suits for the ESPYs.
– Two segments later, Cena introduced a video on Sgt. Elizabeth Marks, who received the Pat Tillman Award for Service Award.
– Two segments later, Cena did a comedy bit with comedian Hannibal Buress about what sports will look like in 20 years or so. The jokes included ads all over uniforms, the Washington Redskins's new team name, Dipping Dots actually being the ice cream of the future, and Jordan Spieth changing his name.
– Later, ESPN SportsCenter anchor Chris Berman introduced a pre-taped bit on Cena auditioning kids for his personal press conference accessory, just like real NBA athletes trying to distract from questions.
– Later, Cena returned to the stage for a quick joke about Tom Brady's "Deflategate" suspension being upheld.
– Later, Cena returned to the stage to revisit the origins of the ESPYs, where Jimmy Valvano gave his memorable "Never Give Up" speech while battling cancer. Cena brought out U.S. VP Joe Biden, whose son was treated for cancer in Houston. Biden recognized TNT announcer Craig Sager, who has also been treated for cancer in Houston.
– To end the show, Cena introduced a musical tribute to Muhammad Ali. This closed the show.
Overall, Cena had the most screen time at the start of the show, then appeared periodically throughout, serving as a back drop for the athletes and stories ESPN wanted to tell through the broadcast.
Tonight was indescribable. #ThankYou to all the @ESPYS staff for their hard work and allowing me to be a part of such a special occasion.

— John Cena (@JohnCena) July 14, 2016
***
Afterward, ESPN released a full list of winners and presenters…
This year's presenters included: Chris Berman (ESPN Sportscaster), Stephen Curry (Golden State Warriors), Skylar Diggins (Dallas Wings), Lisa Leslie (retired WNBA player), David Oyelowo (Queen of Katwe), Usher Raymond IV (Hands of Stone) Lindsey Vonn (American World Skier), Dwyane Wade (Chicago Bulls), and J.J. Watt (Houston Texans), among others.
In addition, top athletes and celebrities who attended the show included: Antonio Brown (Pittsburgh Steelers), Dez Bryant (Dallas Cowboys), Kobe Bryant (retired NBA player), Eric Hosmer (Kansas City Royals), Kerri Walsh Jennings (professional beach volleyball player), DeAndre Jordan (Los Angeles Clippers), Sydney Leroux (FC Kansas City), Kevin Love (Cleveland Cavaliers), Peyton Manning (retired NFL player), Von Miller (Denver Broncos), Danica Patrick (NASCAR driver), JR Smith (Cleveland Cavaliers), Abby Wambach (retired professional soccer player), and more.
COMPLETE LIST OF THE 2016 ESPYS WINNERS
Best Record-Breaking Performance: Stephen Curry
Best Breakthrough Athlete: Jake Arrieta
Best Play: Aaron Rodgers to Richard Rodgers
Best Team: Cleveland Cavaliers
Best Female Athlete: Breanna Stewart
Best Male Athlete: LeBron James
Best Championship Performance: LeBron James
Best Game: NBA Finals Game 7
Best NBA Player: LeBron James
Best MLB Player: Bryce Harper
Best Female Action Sports Athlete: Jamie Anderson
Best Male Action Sports Athlete: Ryan Dungey
Best Jockey: Mario Gutierrez
Best Bowler: Jason Belmonte
Best Female College Athlete: Breanna Stewart
Best Female Athlete with a Disability: Tatyana McFadden
Best Male Athlete with a Disability: Richard Browne
Best Upset: Holly Holm over Ronda Rousey
Best Coach: Tyronn Lue
Best International Athlete: Cristiano Ronaldo
Best Fighter: Conor McGregor
Best NFL Player: Cam Newton
Best NHL Player: Sidney Crosby
Best WNBA Player: Maya Moore
Best Male College Athlete: Buddy Hield
Best Driver: Kyle Busch
Best Male Golfer: Jordan Spieth
Best Female Golfer: Lydia Ko
Best Male Tennis Player: Novak Djokovic
Best Female Tennis Player: Serena Williams
Best MLS player: Sebastian Giovinco
SPECIAL AWARDS
Jimmy V Award for Perseverance: Craig Sager
Arthur Ashe Award for Courage: Zaevion Dobson
Pat Tillman Award for Service: Sergeant Elizabeth Marks
Best Moment: Cleveland wins first title in 52 years
Best Comeback Athlete: Eric Berry
Icon Award: Kobe Bryant, Peyton Manning, and Abby Wambach
About The ESPYS
The ESPYS gather top celebrities from sports and entertainment to commemorate the past year in sports by recognizing major sports achievements, reliving unforgettable moments and saluting the leading performers and performances. The 2016 ESPYS will recognize both sport-specific achievements, such as "Best MLB Player" and "Best WNBA Player," and best-in-sport winners, such as "Best Team" or "Best Female Athlete" that pit nominees from different sports against each other. The ESPYS support ESPN's ongoing commitment to The V Foundation for Cancer Research, launched by ESPN with the late Jim Valvano in 1993.