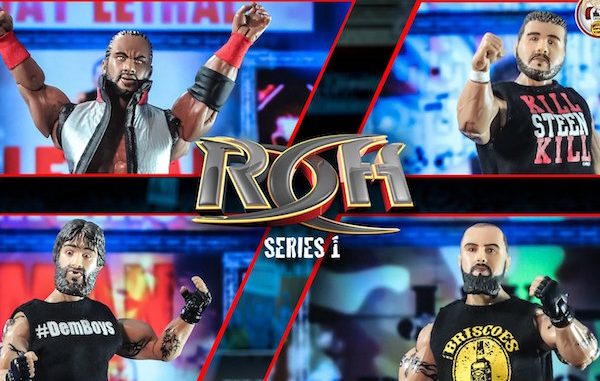 ---
SPOTLIGHTED PODCAST ALERT (YOUR ARTICLE BEGINS A FEW INCHES DOWN)...
---
By Michael Moore, PWTorch Collectibles specialist
Update on Figures Toy Co.
Collectors have been clamoring to get their hands on action figures from Figures Toy Co. ever since the independent toy manufacturer announced plans for a Ring of Honor line in mid-2015. Fans and collectors had to be patient, but that patience is finally paying off.
Figures Toy Co. beat Mattel to the punch with its new A.J. Styles figure from the Rising Stars of Wrestling Figures. The figure is now in stock and can be ordered from figurestoycompany.com and wrestlingsuperstore.com.
In addition, Figures Toy Co. has made several announcements recently about its ROH, Rising Stars, and Legends of Professional Wrestling action figure lines. Recent announcements have included ROH figures of Delirious and Bobby Fish and a third series of Legends figures, among others.
"Between the figures in production and the figures planned thanks to ongoing negotiations for our ROH, Legends and Rising Stars, over the next year-and-a-half there are no less than 50 new figures coming out, many of whom have never had a figure before," said Chris DePetrillo, chief marketing officer for Figures Toy Co.
DePetrillo noted that Rising Stars Series 1 (Brian Myers, Doc Gallows, and the Young Bucks) and Legends Series 1 (Jim Cornette, Justin Credible, Blue Meanie, and New Jack) are all expected to be available for purchase in November.
DePetrillo has heard some collectors voice concern over the $30 price point of each wrestling toy from Figures Toy Co. He said he hopes collectors will understand that Figures is a much smaller company than Mattel, and that their figures aren't mass produced. DePetrillo noted that production run on Figures Toy Co. figures "is in the very low thousands, say 2,000 per figure."
"I've seen a lot of people say, 'Why are you more expensive than Mattel?'" DePetrillo said. "What people have to understand is that to compare these to Mattel, or even older Jakks figures, isn't a fair comparison. … Our company has always geared towards the collectors market, and we are a much smaller company than Mattel. These won't be at mass retail. The best comparison I can make is to the online exclusive figures that typically fall in that $25-40 price range, and even those have a much bigger production run than we do."
New WWE Figures Available for Pre-Order
Not to be outdone, Mattel also has plenty of new WWE figures on the way, many of which can be preordered at ringsidecollectibles.com.
Elite Series 46 includes a new Finn Balor figure, along new figures of Harlem Heat (Booker T and Stevie Ray). Other figures in the series include John Cena, Rusev, and Sheamus. Elite Series 47 may be one of the most anticipated series in quite some time, featuring the first Elite figures of Asuka, A.J. Styles, and Tatanka. That series also includes new figures of Cesaro, Kevin Owens, and Big Bossman.
Basic Series 68.5 includes figures of Styles, Sting (Starrcade '97 look), Alexa Bliss, Seth Rollins, Chris Jericho, and The Rock. Battle Packs Series 44 includes the first figures of American Alpha, along with two-packs of Owens-Sami Zayn and the Usos.
Check out ringsidecollectibles.com for pictures and information on upcoming figures.
Reader Questions
"I have a Chris Benoit signed figure in the box and wanted to see if you knew its worth. I'm interested in selling it. It was given to me so I do not have a letter of authenticity." – Torch reader Kathleen King
If you're serious about selling the figure, I'd recommend getting it authenticated by PSA/DNA (PSACard.com/Fees/AutographCategory/wrestling). Without certification, you're probably looking at $75 or so, but realistically with certification, you may be looking at as much as $350.
To verify a Benoit signature, PSA/DNA charges $30, plus shipping costs. You can get the figure encapsulated for more, but that can get pretty pricy. I would look at buying a shell to protect the figure; you're probably just looking at a couple bucks for that from a site like ringsidecollectibles.com.
"I found a couple packs of WWE cards I had gotten a few years ago and I just opened them. One of the packs contained a Bruno Sammartino autograph. I just want to know how rare this is." – Torch reader Kevin Buckley.
That particular card is an autograph from 2013 Topps Best of WWE. It typically sells for around $25. It's noteworthy because it was the first WWE card of Bruno in nearly 20 years, after he was inducted into the WWE Hall of Fame in 2013. He has since signed for several more Topps WWE sets.
PWTorch Collectibles specialist Michael Moore can be reached at michaelmoorewriter@gmail.com. Follow him on Twitter @MMooreWriter.