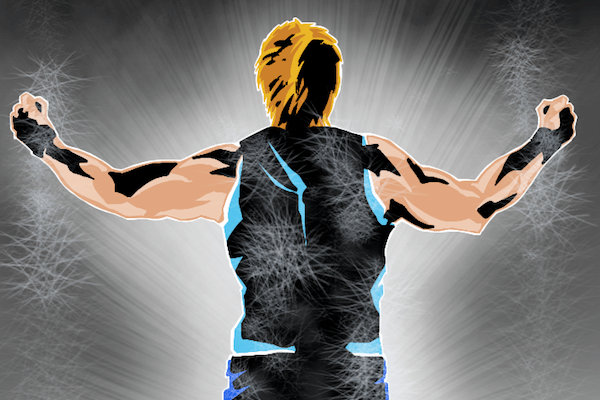 ---
SPOTLIGHTED PODCAST ALERT (YOUR ARTICLE BEGINS A FEW INCHES DOWN)...
---
RAW HITS
Seth Rollins Interview: I enjoyed the pre-taped interview with Seth Rollins. WWE has not done a good job of transitioning Rollins into a babyface role after Triple H returned and screwed Rollins by helping Kevin Owens become the new Universal Champion. This was the best week that WWE has had in this respect since Rollins' turn. He was very good in this interview. I liked how he found ways to juxtapose his career with Owens'. The line about how everyone has a Kevin Owens in their life, unfortunately his is the real Kevin Owens was great.
Main Event Hype: First of all, it was good to have the Women's Championship actually main event Raw and WWE did a great job of hyping it throughout the show. In addition to the announcers talking about it multiple times while emphasizing that it was the main event, they also had the solid backstage conversation between Sasha Banks and Bayley, a good interview with Charlotte, the confrontation between Charlotte, Dana Brooke and Bayley which gave a reason for Brooke's absence from ringside, plus the video package of their history right before the match. WWE should treat all of their main events like this.
Jeri-Ko – New Day: I loved this segment. This was the most fun I've had with a New Day segment in a long time. A large part of that is how great Chris Jericho and Kevin Owens are together, but New Day was better than they've been in awhile. Jeri-KO was so great to start. I love Jericho's list which is totally over with the crowd. The dynamic between them as Jericho tried to convince his best friend to agree to try to challenge New Day for the Tag Team Title was good. They have great chemistry. New Day was also very good. And they played off each other well with Jericho adding the New Day members to his list. I laughed so hard when Owens corrected his spelling of Kofi. This was fun and set up a big match for later in the show.
Gallows & Anderson Look Strong: WWE needs to rebuild Gallows & Anderson and having them do away with the goofy stuff lately and go more serious and show this type of intensity is the way to go. It was great to see them getting a strong squash victory over a team like Golden Truth. And they reinforced their new attitude and intensity by beating up Goldust after the match.
Kutcher and Masterson: I was not expecting to put the involvement of these celebrities on Raw in the Hit column, but they were much better than I expected. They were a bit goofy at times, but for the most part took things seriously. I mean, part of what they were involved in was comedy, so they were being funny, but in a way that fit in with their roles and storyline and not in a tongue-in-cheek type way that other celebrities often have when making guest appearances in WWE. Their interplay with Jericho backstage was good and I thought they did a very nice job on guest commentary during Jeri-KO vs. New Day. Kutcher in particular seemed to be pretty familiar with the product even if not an expert. They were into it and came across well and actually added to the show.
Jeri-KO vs. New Day: The match itself was also good. Just as they had good chemistry on the mic, Jericho, Owens, Xavier Woods and Big E also had good chemistry in the ring. It wasn't a great match with a few spots that were off, and had the Rollins distraction, but that made sense given the storyline. They don't want to muddy the waters of the Tag Team Title picture by having Jeri-KO go over here, but they needed to protect them and give Rollins a boost by having him cost them. So that all worked. It was also interesting how Rollins gave Owens a chance to come back to the ring afterwards to save his best friend from a Pedigree only to have Owens walk away. The follow up will be interesting.
Charlotte vs. Banks: This was a good Raw. Even the stuff I'm not commenting on like some squashes and the advancement of the Cesaro – Sheamus story were decent enough. I'm hopeful that next week when I'll be there live on my birthday to watch Raw in Oakland will be as good. Raw culminated in the main event Women's Championship match that as I mentioned above, was well hyped and built to throughout the show. This would have been better if Banks had not briefly held the Title a few months ago. They should have held it off for this point. She and Charlotte have probably had better matches against each other, but this one was still good. I could have done without the twisting moonsault to the outside by Charlotte. It was not needed and overly dangerous (which also describes multiple spots from some of their other matches in the past). It also didn't look like it connected very well. But other than that, the match was well booked and well executed. The finishing sequence was particularly strong with Banks showing amazing heart and stamina to ultimately win with the Banks Statement. Again, the moment wasn't big enough because of her previous Title win, but it was still a nice way to close out Raw.
RAW MISSES
Reigns, Lana, Rusev: While this was a good Raw, it did not get off to a good start with this opening segment with Roman Reigns coming out to address Rusev and the United States Championship situation. Reigns went back to his "the Guy" line which he had gone away from. Just stop with that crap. Lana was ok in her interruption, but the lines were heavy handed from both of them. The physicality at the end was working ok, but then why did Super Reigns have to get the better of Rusev at that point? I did not like how he came back at the end to hit a Super Man punch on the stage. I guess a Hell in a Cell match between the two makes some sense.
Kendrick vs. Perkins: The match itself was fine, but WWE needed to do more to build up Brian Kendrick while protecting T.J. Perkins for awhile before having Kendrick get this non-title victory. He should have gotten a few wins on Raw with his Captain's Hook submission hold to build that up as a legit finisher. And as the first and still very new Cruiser Weight Champion, Perkins shouldn't be losing any match so soon. I know there was a bit of heel tactics with a rake of the eye, but that wasn't much to give Perkins an out.
Act now and become my 64th Twitter follower @JonMezzera (pretty clever handle right?). Just be aware that I don't live tweet Raw, I don't tweet much about wrestling, and I don't tweet much at all.
For another view from the original Hitlist author, compare Jason Powell's views to mine by visiting prowrestling.NET's "Hitlist" section here.
---
Jon Mezzera is PWTorch.com's WWE Hits & Misses Specialist, providing his point of view for Raw and Smackdown each week. Email him at jmezz_torch@yahoo.com.