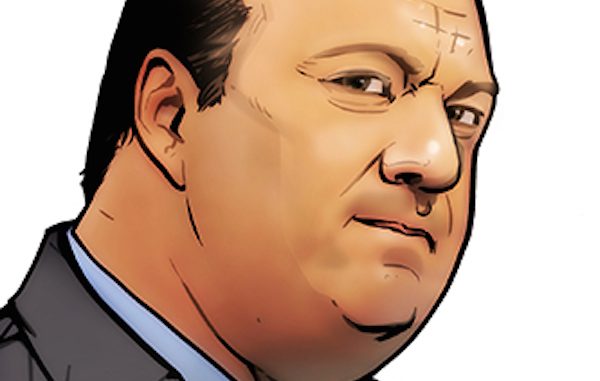 ---
SPOTLIGHTED PODCAST ALERT (YOUR ARTICLE BEGINS A FEW INCHES DOWN)...
---
RAW HITS
No Mic For Enzo & Cass: This was clever. I like the fact that for once, WWE actually explained why something odd in production happened (as opposed to explaining who is always inserting that Wyatt Family blip when they disappear). So, I was glad that Karl Anderson and Luke Gallows explained that they had paid off someone in production to cut off Enzo Amore and Big Cass's microphones. That was good. And while I'm not a fan of Enzo & Cass, it was cool how they still went ahead and did their spiel with the fans saying it along with them by heart even without the use of a mic. The match that followed was ok, but I didn't like the ending. I get that Gallows was trying to cheat, but I still don't like when the babyface team cheats to win with Cass kicking Anderson behind the ref's back.
Cesaro & Sheamus vs. New Day: This was a pretty good match. It told the story of Cesaro and Sheamus slowly getting on the same page as the match proceeded. It got particularly exciting towards the end including that very good springboard move where Kofi Kingston was launched towards Cesaro on the outside who countered with that big uppercut. The win for Sheamus and Cesaro after a Brogue Kick to Big E made sense to finally show them together and able to actually challenge New Day for the Tag Team Championship. The problem is that we just saw the match, so why do we want to see it again in less than a week?
Women's Title Contract Signing: This was a minor Hit for me. There was quite a bit of good mic work from Sasha Banks, Charlotte, and Mick Foley. Foley did a nice job of selling the seriousness of the Hell in a Cell structure going so far as to call it a living breathing soulless entity. Some of the back and forth between Sasha and Charlotte was good, but it felt too scripted at times. That's why you get Charlotte accidentally interrupting Sasha early at one point and then using the same exact words a moment later when she was actually supposed to interrupt her. That's a big sign saying "hey these lines are scripted and I can't deviate from them even to cover up a mistake." Part of my issue with this segment is that when you have Foley saying that he won't let them sign the contract until they convince him that they know what they are getting into, they should have done more to actually convince him of it. The ending was a bit weak. But it was good that they finally sold the idea that this match is serious.
Owens Beats Up Rollins: It was about time that Kevin Owens beat up Seth Rollins. The main event triple threat match was solidly booked. I like the fact that Owens and Chris Jericho stayed on the same page the entire time in double teaming Rollins. Owens didn't get upset when Jericho tried to get the pin. And I liked how Rollins got a pretty cheap and somewhat flukey win with the roll up on both opponents. Afterwards, Owens and Jericho beat up Rollins. I thought the show should have ended at that point with Owens getting the better of Rollins and standing tall with the Universal Title. Instead, Rollins who already got the win had to look stronger so he quickly recovered to attack Owens. So, I didn't like that at first. However, in the end Owens got the better of him and ended up hitting the power bomb onto the ring apron like he has to injure wrestlers in the past. So, that was a strong ending. It was finally getting a serious note to this feud, but it was not enough.
RAW MISSES
The List: I hate to use the term, but this felt like the week that The List jumped the shark. That isn't to say that I didn't enjoy some of The List this week. The initial announcement from Jericho that it had gone missing was amusing. But, it took up too much air time. It started with the overly long opening segment which had its moments, but also had too much bickering about what is and isn't on The List from Owens, Stephanie McMahon and Rollins, and was too childish. You had multiple backstage scenes like Stephanie trying to get it back from Rollins, and that terrible bit with Jericho looking through the locker room. And then it did seem a bit anticlimactic after all of that how he found it with Brawn Strowman. I said last week that WWE needed to turn away from the comedy for the build to Rollins vs. Owens at HIAC, but instead they ramped it up. They got serious at the very end, but that was too little too late at that point.
U.S. Title Hype: I wasn't a fan of these pre-taped promos from Rusev and Roman Reigns standing in front of a black background as the only way to hype the United States Championship match inside HIAC in less than a week. This did nothing to make me want to see a match that I really didn't want to see in the first place. I'm not sure what WWE could have done better, because the storyline has been so bad so far.
Arm Wrestling: Man, did the live crowd crap all over this segment and rightfully so. This was a terrible follow up to the terrible match last week when Dana Brooke blew the ending by not being able to get her feet on the rope for a cheating victory over Bayley. Arm wrestling? Really? This is not working to get Bayley over on the big stage. They rushed into the match last week, and had the wrong idea for the ending, then had that ending botched to make it even worse, and now they have this poor follow up with this boring segment. I guess it was good that she got the better of Brooke in the end. So that was at least something.
Kendrick Loses: I just don't understand having a #1 contender losing any match before getting that Title shot. It is particularly bad to have him lose on the final Raw before the PPV where the Title match will take place. Brian Kendrick doesn't look like a strong challenger for the Cruiserweight Title at this point. Is it reverse psychology? Kendrick lost here so he'll win on Sunday? If that's the case, then you are setting him up to look like a weak Champion. The match itself was good, but Rich Swan should have lost. I understand that if Kendrick had won, the segment later on with him asking TJ Perkins to let him win on Sunday would not have made sense. But, I didn't like that either. I appreciate WWE trying to do something different with Kendrick vs. Perkins, but I am not a fan of what they did this week.
Heyman and Lesnar: Wow, what a bomb that was. WWE clearly was wrong in how they were expecting the Minnesota fans to react to Brock Lesnar. They somehow didn't anticipate him getting a babyface reaction in his hometown. Considering that and the fact that he has mostly been booked as a face for awhile now (even when facing other faces like Dean Ambrose and Randy Orton), why would he get booed? Paul Heyman positioned him as the heel last week, but that's one week and this is in front of his hometown. So they had this entire promo from Heyman planned based on getting a loud pro-Goldberg chant that never came. Heyman did his best to try to get one going and it led to a Goldberg Sucks! chant instead. He tried to pretend like the fans were cheering for Goldberg to act like Lesnar was getting pissed off, but it didn't work. It was bizarre. After the last two weeks which were so good, this was a major step back.
Hell in a Cell: There was some good in the build to Hell in a Cell on this go home edition of Raw like the contract signing and the very end of the show. But when you throw in the goofy focus on The List, the loss of Kendrick, the lame pre-taped promos from Rusev and Reigns, and giving away the Tag Team Title match (albeit a non-title version), you get a pretty mediocre final hype for a PPV. The repetitive nature of the card doesn't help when we've seen these matches before, some of them many times. You can add the word "again" to most of the matches on the card. Tune in to Hell in a Cell to see Rollins vs. Owens again, Rusev vs. Reigns again, Charlotte vs. Banks again, Cesaro & Sheamus vs. The New Day again, Perkins vs. Kendrick again. I know this happens a lot at WWE PPVs, but it seems worse than usual this time. So you have to do something to make these matches feel more important than their predecessors and I'm not sure putting three of them inside HIAC is good enough. For one thing, that is overkill. For another, none of them feel like they belong inside HIAC yet. So you have to do more to say why I should tune in on Sunday to see matches that I've already seen, in some cases multiple times already, and WWE didn't do that.
FOR ANOTHER POINT OF VIEW, CHECK OUT JASON POWELL'S RAW HITLIST: Powell's WWE Raw Hit List: Mick Foley sells the danger of Hell in a Cell, Brock Lesnar and Paul Heyman, Kevin Owens finally gets heat rather than laughs, New Day vs. Sheamus and Cesaro
ALSO CHECK OUT LAST WEEK'S RAW HITS & MISSES: 10/17: Goldberg, Jericho & Owens, Charlotte-Sasha, Karl Anderson, Rusev-Reigns, Bayley
---
Jon Mezzera is PWTorch.com's WWE Hits & Misses Specialist, providing his point of view for Raw and Smackdown each week. Email him at jmezz_torch@yahoo.com. Act now and become my 68th Twitter follower @JonMezzera (pretty clever handle right?). Just be aware that I don't live tweet Raw, I don't tweet much about wrestling, and I don't tweet much at all.