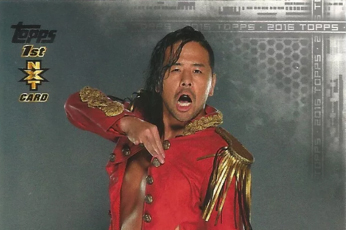 ---
SPOTLIGHTED PODCAST ALERT (YOUR ARTICLE BEGINS A FEW INCHES DOWN)...
---
One year ago, AJ Styles and Shinsuke Nakamura were preparing for what would be an epic match in the semi-main event of New Japan Pro Wrestling's Wrestle Kingdom 10. Today, the two men are arguably the centerpiece of Topps' latest WWE trading card offering.
Then, Now, Forever is Topps' fifth WWE trading card product of 2016, and serves as a second or update series, of sorts, to 2016 Topps WWE, which was released in May. The basic cards in 2016 Topps WWE were numbered 1-100, and 2016 Topps WWE Then, Now, Forever includes cards 101-200. Most of WWE's top stars were excluded from cards 1-100 and are included in this set.
As with most trading card products these days, autographs are the main draw to 2016 Topps WWE Then, Now, Forever. A total of 24 different wrestlers signed cards for this product, including Ambrose, Reigns, Seth Rollins, Ric Flair, Sting, Charlotte, Sasha Banks, Chris Jericho, Maryse and Samoa Joe, among others. There are also eight different Triple Autographs, with each card serial numbered to 11. There are some obvious groupings, such as the three Shield guys and The Club. There's also the occasional oddball, such as the triple signature of John Cena, Jericho and … R-Truth.
WWE Then, Now, Forever also includes signatures from a couple notable first time and infrequent signers. NJPW alum Karl Anderson and Luke Gallows both signed for this set. This marks the first certified autographed trading card of any kind for Anderson, and Gallows' first since 2010, when he provided the muscle for CM Punk's Straight Edge Society. The only other new signer in the set is Norman Smiley, of all people.
Topps WWE Then, Now, Forever also includes kiss cards, the obligatory T-shirt and mat relic cards, and medallion cards of wrestlers who wear masks or face paint. A full checklist is available at http://www.cardboardconnection.com/wrestling-card-sets/2016-topps-trading-cards.
AJ Styles: Then and Now
Styles' signature returns for the second time in a WWE trading card product. Over the summer, Topps included an on-card autograph of Styles in its high end 2016 Topps WWE Undisputed product. Styles' Then, Now, Forever autograph isn't quite as desirable, mostly because it comes from a lower end product and features a sticker auto instead of an on-card signature. However, there is still quite a bit of demand for Styles' newest autograph card. The basic autograph is numbered to 99, and sellers are currently asking anywhere from $39.99 to $149.99. Keep in mind, however, that this product is brand new; after a few sales have been recorded, the value of the basic version of Styles' Then, Now, Forever auto will probably settle into the $30-$40 range.
Styles has a plethora of signed trading cards from his TNA days. In 2004, the now-defunct Pacific Trading Cards included Styles' autograph in its lone TNA wrestling product. Then from 2008 to 2013, TRISTAR flooded the market with signed Styles TNA cards, almost all of which were sticker autographs. A couple years ago, some Styles TNA autographs could easily be found for $5.
The abundance of Styles' autographed TNA cards, however, doesn't appear to have hurt the value of his early WWE cards. Collectors are still willing to pay more for Styles' WWE cards, which makes sense: baseball card collectors usually prefer a Kris Bryant Cubs card to a minor league card, or an Ezekiel Elliott Dallas Cowboys' card to a draft picks card where logos have been Photoshopped out. When it comes to pro wrestling trading cards, Topps and WWE are the major leagues.
Nakamura's Surprising Signature
Nakamura's autograph appears in a WWE trading card set for the first time, and many collectors were pleasantly surprised when the card began surfacing online earlier this week. Since arriving in WWE, Nakamura has modified his signature to something that looks like the lowercase letters "sn" – which isn't surprising, given how WWE wrestlers like Roman Reigns, Dean Ambrose and Apollo Crews sign only their initials. Nakamura's Topps cards, however, feature his full Japanese signature. This appears to have boosted the value of the cards, as most sellers are asking $100-$200 for Nakamura's 2016 Topps WWE Then, Now, Forever autograph, depending on the color variation and serial numbering.
Nakamura appeared in NJPW trading card sets by Japanese manufacturer BBM from about 2001 to 2011. His BBM autographs from different years are all serial numbered to less than 100. More importantly, Nakamura's BBM certified autographs are signed on-card, which usually means big, crisp signatures. By comparison, Topps used sticker autographs for its Then, Now, Forever set, so Nakamura's autograph is squished into a much smaller space. Unlike Styles' TNA cards, which always had a very limited upside, Nakamura's signed BBM cards will probably hold their value, because the cards are so unique and feature such high quality, on-card autographs.
Nakamura's 2016 Topps WWE Then, Now, Forever card will be one to watch over the next year. As previously mentioned, most of Nakamura's signed WWE merchandise – such as 8x10s, posters and other promotional items – feature a disappointing "sn" autograph. If Nakamura switches to using that signature for future trading card releases, his relatively full signature in 2016 Topps WWE Then, Now, Forever will likely command a premium as his star continues to rise.
PWTorch Collectibles Specialist Michael Moore can be reached at michaelmoorewriter@gmail.com. Follow him on Twitter @MMooreWriter. 
NOW READ OUR PREVIOUS COLLECTIBLES COLUMN: Lesnar DVD promises an "autographed card" but delivers imprinted signature