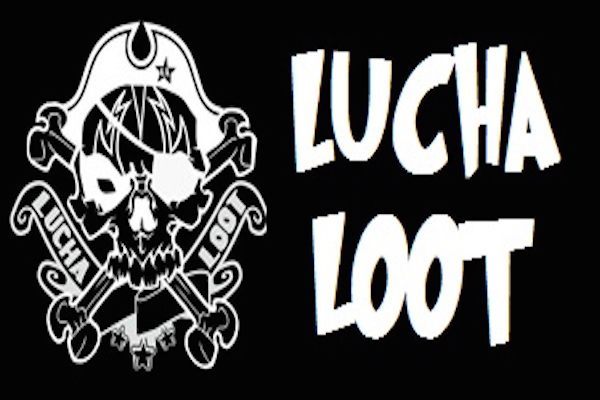 ---
SPOTLIGHTED PODCAST ALERT (YOUR ARTICLE BEGINS A FEW INCHES DOWN)...
---
The latest PWTorch.com monthly unboxing video features an unboxing of the September 2016 Lucha Loot Deluxe Booty Chest. Lucha Loot features 100% authentic lucha libre merchandise. There are two options when signing up. You can either purchase a Standard Chest or a Deluxe Booty Chest.
The Deluxe Booty Chest comes with extra items, but no matter which chest you order, you will a high quality mask, t-shirt, a copy of Rudo Can't Fail, and a signed 8×10. One of the items in your box will be an item that has never been released to the public previously.
If you are a fan of lucha libre, I would say Lucha Loot is a must for you. The people behind this monthly crate service at Masked Republic have a proven track record of delivering amazing crates. The shirt designs have been fantastic to date, especially if you subscribe to the Deluxe Booty Chest. I really enjoyed Lucha Loot's offering for September.
Right off the bat, you get a ton of value with a CMLL 83rd Anniversario Official T-Shirt direct from Mexico. As you'll see in the unboxing video, the shirt has a design based on the La Mascara vs. Dragon Lee Mask vs. Mask match from the show. I'm not familiar with Brazos, but I really thought the design for his mask was very cool. The last big ticket item in the box is a screener of the Viva La Lucha: Live in the 619 event, which aired on iPPV in August, but will never be sold as a DVD. This is a nice rare item for lucha libre collectors. It also serves as a fantastic follow up the Viva La Lucha: Live in the 619 items included in the August Deluxe Booty Chest. I really enjoyed the other items in the box, especially the sticker featuring Dragon Lee and La Mascara by famous lucha cartoonist Kcidis. Overall, there's a ton of value in this box. The shirt, mask, and DVD are amazing items for fan of lucha libre. I would say the shirt alone from the CMLL Anniversario show is worth the price of admission alone. And now to the unboxing video!
NEW CRATE OPTION: Lucha Loot is offering a new service this month called Lucha Loot Mini, which is a lucha mask of the month club.
 You can purchase a subscription to Lucha Loot by visiting LuchaLoot.com. Act fast, as the deadline to order the July Lucha Loot chest is November 15. Crates ship around the 21st each month. No items are ever repeated. This new monthly offering from Lucha Loot costs $10 per month plus shipping. The best part is that no masks are repeated. People that subscribe for long-term subscriptions will get an even better rate depending on the length of the subscription chosen.
Attention: Get 10% off your first Lucha Loot Chest by entering the code PWTORCH at LuchaLoot.com!
 ***
Email Sean at pwtorchsean@gmail.com
Please click <a href="http://www.facebook.com/SeanRadicanRWC">HERE</a> and click "like" to join the Radican's Wrestling Community Facebook fan page.
Follow Sean on Twitter at Twitter.com/SeanRadican