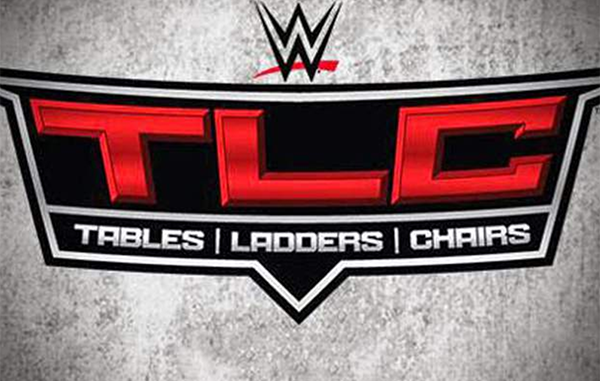 ---
SPOTLIGHTED PODCAST ALERT (YOUR ARTICLE BEGINS A FEW INCHES DOWN)...
---
KELLER'S TLC PPV REPORT
DECEMBER 4, 2016
LIVE FROM DALLAS, TEX.
AIRED LIVE ON WWE NETWORK
Hosts: Mauro Ranallo, JBL, David Otunga, Tom Phillips.
-A video package introduced the event.
-Mauro welcomed viewers as the camera panned the crowd. He called it the one time year WWE becomes a human smash up derby.
-During their walk to the ring, JBL compared Randy Orton & Bray Wyatt to Stan Hansen & Bruiser Brody and Undertaker & Kane. Is that foreshadowing Kane & Taker vs. Orton & Wyatt. When the lights came back up, there was a relatively small "Randy" chant. Then Slater and Rhyno came out, Slater sporting his "I Got Kids – I Need This Job" t-shirt.
-They went to the four announcers at the broadcast table, who then threw to other announce teams who got to introduce themselves to their audiences.
(1) HEATH SLATER & RHYNO vs. RANDY ORTON & BRAY WYATT (w/Luke Harper) – WWE Smackdown Tag Team Title match
Rhyno and Wyatt began. Orton quickly tagged in and got knocked down by Rhyno after a mid-ring collision. Otunga said Slater has an aloofness that might make him less likely to be intimidated by the Wyatt mystique. That's not really what aloof means. JBL corrected him, and said Slater is just stupid. Otunga said he was just trying to be nice. The heel duo took over on Slater at 2:00. Rhyno eventually hot-tagged in, went after Harper at ringside, re-entered the ring, and took an RKO out of nowhere for the loss.
After the match, as the Wyatt music played, Orton and Harper eyed each other in a brief moment of tension, but then Orton put his tag belt over Harper's shoulder. Harper held up both belts as Orton and Wyatt posed.
WINNERS: Orton & Wyatt in 6:00 to capture the WWE Tag Team Titles.
(Keller's Analysis: There sure wasn't much to that. It's clear in recent weeks Vince McMahon lost his infatuation with Slater and Rhyno and thus they lost all momentum. This was an anticlimactic conclusion to what had been a really fun storyline with Slater and Rhyno. With where they want Orton & Wyatt to likely go headed into 2017, no matter what it was the right decision to have them go over strong here. It was clear, though, nothing was done to try to protect Rhyno & Slater or preserve any sense they are in the league of Orton & Wyatt.)
-In a backstage interview, Ambrose said Ellsworth is probably just fine, "keeping his chin up," and watching TLC from his couch at home while the adults do what adults do. Dean said Styles is the guy who likes to take the easy way out and use the low-blow. Ambrose said Styles can't climb a ladder as he's pounding Styles's ribs with his forearm. He said it will be hard to win a ladder match, but he likes that because he's found success by working hard. "Horrible pain and suffering equals glory," said Dean. "As a good friend of mine said, it's going to be hard times." Ambrose was booed when he first appeared on the big screen.
-They went elsewhere backstage to Renee Young who interviewed Styles. Styles said Ambrose is right, it will be hard times, because he is familiar with ladder matches. He said the issue with Ambrose is not knocking him down but rather keeping him down. He listed all that he'll do to Ambrose to keep him down as he climbs the ladder to grab his WWE Championship.
(2) NIKKI BELLA vs. CARMELLA – No DQ match
Nikki charged after Carmella at the start of the match. Carmella got the better of her at ringside. When they returned the ring, Nikki tackled Carmella and they rolled to ringside. Carmella flung Nikki off the ring apron with a head scissors into the ringside steps. Nikki sold a leg injury. Carmella focused on Nikki's legs in the ring. Carmella ended up with a black eye. Carmella hung Nikki upside down in the corner of the ring, then grabbed a kendo stick from under the ring. She bashed Natalya with it for a while. Nikki escaped a subsequent head scissors submission by bashing Carmella with the kendo stick. Carmella postured at ringside, so Nikki kicked her. Nikki then rammed her back-first into the ring apron. Nikki then leaped off the ringside barrier and hit Carmella with a flying kick. Nikki rolled Carmella into the ring and began hitting her with the kendo stick. The director inexplicably cut to a crowd shot as Carmella was about to make another comeback by clipping Nikki's leg. Then they replayed two moves, but not the one they missed in the first place. Both were slow to get up. Carmella threw Nikki to the floor, then sold tailbone pain. The crowd chanted, "We Want Tables!" Instead, Nikki popped up with a fire extinguisher and sprayed Carmella in the face. She brought it into the ring and sprayed Carmella some more. As JBL laughed about how being sprayed with a fire extinguisher and cold and sucks away all the oxygen, Nikki finished Carmella with a Rack Attack. Mauro said after months of unprovoked attacks, Nikki has prevailed.
WINNER: Nikki Bella in 8:00. (*1/4)
(Keller's Analysis: Clunky, but intense in a way that fit the feud.)
-As Nikki walked to the back, she looked to be in pain. Carmella interrupted and said she didn't attack her at Survivor Series. She said it was her "little friend from Total Divas, Natalya." The announcers feigned shock.
-They went right from that revelation to a video package on Natalya cheerfully doing a Kay Jewelry commercial, helping a WWE fan pick out an engagement ring. The timing of airing that particular video was pretty tone-deaf.
-They went to the announcers who still acted like Natalya being accused of the was hard to believe which makes no sense because it's precisely in line with the character Natalya has been portraying lately. Ugh.
-In a backstage interview with Daniel Bryan, who admitted he is rooting for Ziggler to beat Miz because he thinks he'll be a better representative for Smackdown as Intercontinental Champion. He admitted that Miz has a certain star power, but Smackdown is the land of opportunity. Miz walked in and asked if everyone heard what he said. Bryan said he never liked him. Miz said he never liked him, either, and he wishes it was him in the ring instead of Ziggler he could be shoving off the ladder, but he'll enjoy disappointing Bryan by beating Ziggler.
-They showed several other announce teams.
(3) THE MIZ vs. DOLPH ZIGGLER – Intercontinental Title ladder match
Ziggler was wearing silver, red, and blue flag patterned wrestling pants for some reason. Otunga said Miz has the athletic ability of Justin Bieber. That made no sense and just felt like wedging a pop culture reference into commentary. After a brief intense and very good series of exchanges in the ring, Miz catapulted Ziggler over the top rope to the floor. Ziggler battled back and DDT'd Miz onto a ladder leaning on the ring apron at ringside. Miz avoiding getting is head crunched in the ladder. Miz used a drop toe hold to slam Ziggler face-first into the ladder. Miz entered the ring and stared up at the ladder. When Ziggler tried to slide a ladder into the ring over the second rope, Miz kicked the ladder into Ziggler. They fought over a ladder. Ziggler yanked the ladder which flung Miz shoulder-first into the ringpost. Ziggler threw Miz into a standing ladder at ringside. Back in the ring Miz bridged the ladder on the middle rope and set up a superoplex on Ziggler. Ziggler fought off Miz and shoved Miz who landed face-first on the ladder. Ziggler stood on the ladder and springboard elbow dropped Miz at 8:00.
At 10:00 Ziggler was the first to climb the ladder and get near the IC belt hanging above. Miz tipped the ladder over. The director kept cutting to reaction shots of kids in the crowd reacting t moves. Miz leaned a ladder against Ziggler and dropkicked the ladder. Ziggler shoved the ladder at Miz as he charged a second time. Ziggler set up the giant ladder mid-ring. He climbed. Miz got up and raced Ziggler to the top and he punched Ziggler. They exchanged blows up there. Ziggler knocked Miz down. Miz yanked Ziggler's leg and then yanked it around the ladder. He twisted Ziggler's leg around the ladder, then tipped the ladder over. Miz lifted Ziggler and then dropped his legs over the ladder as it leaned on the top rope. Miz rammed Ziggler's knee onto the ladder as it was flat on the mat. Then he put his leg inside the ladder and rammed Ziggler's leg with it. Miz then pulled Ziggler's right leg up through the ladder and applied the figure-four leg lock. Ziggler banged the ladder in pain. Otunga said his leg would be destroyed after this. Miz let go, stomped on the ladder, and then set up a Skull Crushing Finale set-up. Ziggler elbowed out of it, then went for a superkick, but his leg gave out. Miz then gave Ziggler a Skull Crushing Finale face-first onto the ladder at 17:00.
Miz set up the giant ladder mid-ring and methodically climbed. He grabbed the belt, but the ladder tipped out from under him. He couldn't unsnap the ladder. Ziggler then got up and shoved the ladder into Miz. Miz leg go and dropped to the mat. Miz sold a serious right knee injury. The ref checked on him as he rolled to the floor. Ziggler was slow to get up, too. Mauro said, "Two broken bodies." Ziggler began to climb the ladder, struggling and straining with each step. The IC belt continued to swing above Ziggler as he reached for it. Miz entered the ring and grabbed Ziggler. He slingshot powerbombed Miz onto the ladder bridged in the corner of the ring.
They both eventually climbed side-by-side ladders and met at the top. They exchanged punches and headbutts. Ziggler knocked Miz down and then climbed the ladders again. Miz got up and climbed the ladder again and kicked Ziggler in the crotch twice. Ziggler dropped to the mat. Miz reached up and pulled down the belt to win. Mauro said that caps off one of the top feuds of 2016. As Miz celebrated with Maryse, Miz said on the mic that he was dedicating his win to Bryan. JBL dared anyone to say Miz isn't the greatest IC Champion of all time. He said there is nothing greater than shutting up your haters.
WINNER: Miz in 23:00 to retain the Intercontinental Title. (***1/2)
(Keller's Analysis: Very good ladder match. They took some chances, but not an excessive number, so each big spot counted. There were a number of creative exchanges and sequences that worked within the story of the match and seemed like potential finishes.)
-A commercial aired for the Tribute to the Troops special airing next week on USA Network. They showed footage from past Tribute specials.
-They showed the exterior of American Airlines Center. After noting the official theme song for TLC, they went to a video package on Baron Corbin vs. Kalisto.
(4) BARON CORBIN vs. KALISTO – Chairs match
JBL said this match is simple physics, and Corbin will treat Kalisto like a mosquito and squish him. Kalisto got in an early spot, but Corbin dominated most of the early action. He wrapped his shirt around Kalisto's neck and yanked him around ringside and into the ringside barrier. JBL said a cat will play with a mouse as long as he wants, but it's always just a matter of time. Corbin set up six chairs, but Kalisto blocked Corbin and then leaped off the top rope and drove Corbin onto all six chairs. That was good for a near fall. Nice spot. When Kalisto dove through the ropes at Corbin, Corbin caught him and turned him into a side slam at ringside. Back in the ring Corbin scored a near fall. Corbin mounted Kalisto and aggressively pounded him, then stood up and kicked some chairs in frustration.
Corbin chased after Kalisto at ringside with chairs, but Kalisto kept avoiding them. Kalisto then hit Corbin with three kicks and then running head scissors off the ringside barricade. Kalisto threw a chair at Corbin, then gave him a running dropkick, sending Corbin into the ringside barrier. Kalisto flipped off the top rope, but Corbin lifted his knees. Both were slow to get up. Kalisto leaped off the top rope at Corbin, but Corbin lifted a chair and drove it into his face mid-air. JBL said the mosquito just got swatted. Corbin gave Kalisto the End of Days onto a pile of chairs for the win.
Afterward, Corbin tore the top off the announce table and stared down Mauro and then yelled at him. He said what happened to Kalisto will happen to whomever gets in his way. The ref tended to Kalisto who was still knocked out on his back. JBL said all other Superstars should be afraid.
WINNER: Corbin. (**1/2)
(Keller's Analysis: Good match. They did a good job explaining the offense that Kalisto managed to get in the context of the chair stipulations. Corbin was heelish and acted like a bully effectively. The offense looked legit, yet they didn't take crazy chances or resort to stiff direct chair shots to the head.)
-In a backstage interview with Natalya, she denied what Carmella accused her of. Natalya said she was there to wish Lynch luck and said nobody represents the Smackdown Women's Division better. She called Carmella's accusations absurd. She called her a liar.
-They cut to the announcers at ringside who threw to a video package on the Becky Lynch-Alexa Bliss rivalry.
(5) BECKY LYNCH vs. ALEXA BLISS – Smackdown Women's Title match – Table match
Bliss dominated the majority of the action. Becky made a comeback and almost suplexed Bliss through a table, but Bliss battled back and powerbombed Lynch off the ring apron and through a table set up at ringside to win. A surprising outcome and almost out of nowhere finish.
WINNER: Bliss to capture the WWE Smackdown Women's Championship in 16:00. (**1/2)
(Keller's Analysis: They never seemed to get the crowd fully invested in cheering Lynch or even reacting like you'd have expected. The effort was there, although it felt a bit methodical at times instead of grueling, which was their intent, I assume.)
-After the match, Lynch rejected an attempt to be interviewed at ringside. She said she didn't appreciate it and needed time to absorb what happened. She said she let herself down and it doesn't feel good. Really good, effective, concise post-match promo with the loser dealing with the agony of defeat.
-They showed the WWE fan proposing to his girlfriend as part of the sponsored ad by a jewelry chain.
-They went to the announcers at ringside. They hyped that John Cena will host Saturday Night Live next Saturday. JBL said he loves SNL and called it an institution. Phillips said The Rock has hosted and now Cena. It's noteworthy that Phillips did NOT mention that Hulk Hogan has hosted (with Mr. T) when he was a top star in the WWF.
(6) A.J. STYLES vs. DEAN AMBROSE – WWE World Champion – TLC match
Ring intros began at 9:08 central, so either we're getting a very long main event or another PPV that ends well short of three hours, which is just fine. They brawled in the ring, with Ambrose going after Styles aggressively. They fought to ringside and up the aisle. Ambrose ended up suplexing Styles on the ramp. Then he pulled a trash bag out of a trash can and then put the trash can on Styles's head. Then he elbowed the trash can and Styles fell over. Otunga said it's part of Ambrose's mind games. Ambrose dragged Styles back to ringside threw him over the ringside barrier. He pounded his chest and got a mix of cheers and boos. Ambrose then leaped off the ring barrier, but Styles met him mid-air with a dropkick. Both were slow to get up. Styles checked for loose teeth. Ambrose charged at Styles with a chair and knocked him off the ring barrier.
Back in the ring Ambrose climbed a ladder. Styles re-entered the ring and climbed the ladder and knocked Ambrose off. He then bodyslammed Ambrose onto the ladder at 8:00. Some fans chanted "A.J." and he waved them off. JBL noted that Styles indicated he doesn't want or need fan support. Ambrose catapulted Styles over the top of a ladder leaning on the top rope. Ambrose then lifted and threw the ladder at Styles at ringside. He looked up at the belt and calculated how to get to it. He rolled to the floor to find another ladder. Instead, Ambrose grabbed a table and set it up mid-ring. Styles bashed Ambrose with a chair. They set up a big spot where Ambrose slammed Styles onto a group of chairs mid-ring, similar to what Kalisto did to Corbin earlier.
At 14:30 Styles suplexed Ambrose through a table leaning in the corner. The table snapped in half. Styles was slow to get up. Ambrose tried to battle back, but Styles countered with a high dropkick. Ambrose then fired back with a clothesline, and Styles flip-bumped hard to the mat. They cut to crowd responses like this was "America's Funniest Home Video." WWE is obsessed with that right now, and it's too much.
Ambrose set up Styles for a superplex off the second rope onto a table at ringside. Styles fought out of it. He went for a Phenomenal Forearm, but Ambrose moved. Ambrose went for Dirty Deeds, but Styles blocked it. Ambrose backdropped Styles over the top rope to the floor. Ambrose played to the crowd to a mixed response, then did his running dive through the ropes. Styles went head-first into the edge of the announcer table. Ambrose threw Styles onto one table, while he removed the cover and monitors on all of them. Ambrose dragged Styles onto the middle table, then grabbed a ladder from another side of the ring. Ambrose placed the table upright on an announce table, then beat up Styles a little more to justify why Styles was still lying there. Ambrose then climbed the ladder and leaped off of it and landed a flying elbow. The table collapsed out from under Styles. JBL said the human body is not designed to go through that. "Mamma Mia!" exclaimed Mauro. A "Holy sh—" chant broke out. Then a "This is awesome!" chant.
Ambrose climbed the ladder. Styles got up and nailed Ambrose with a springboard Phenomenal Forearm to knock Ambrose off the ladder. Both were down and slow to get up. They both climbed the ladder slowly and punched each other on top. Then they both fell to the mat. Styles set up a Styles Clash, but Ambrose countered and did an airplane spin until he rammed Styles into the ladder. Ambrose climbed the ladder slowly. Styles yanked him down and then powerbombed him over the top rope. Ambrose countered and flung Styles over the top rope, too. Ambrose awkwardly regained his footing at ringside at 24:00.
Styles made it to the ring apron and then he moonsaulted onto Ambrose and turned it into a reverse DDT all in one motion. Styles set up a table at ringside. He placed Ambrose on it. He struggled climb the ringside steps. Then he springboard launched himself onto Ambrose at ringside with a 450 splash that broke the table. They cut to another crowd reaction. Then came a "This is awesome!" chant. They showed more isolated shots of fans reacting. Styles climbed the ladder. JBL said nothing will stop him now because he's finally done enough. Out walked James Ellsworth in a neck brace at 27:00.
Styles jumped to ringside and forearmed Ellsworth. JBL said Ellsworth deserves whatever is about to happen to him. Styles then set up a Styles Clash on the steps again, but Ambrose jumped in and DDT'd Styles on the stair base. Ambrose then climbed excitedly into the ring, set up the ladder, and climbed. Mauro said he was about to become a two-time WWE Champion, which meant he wasn't. Styles entered and met Ambrose on top of the ladder. Ambrose knocked Styles down. Styles bumped to the floor. Ellsworth, though, tipped the ladder over and knocked Ambrose all the way over the top rope and through two tables at ringside. The announcers wondered what just happened. Otunga suggested Ellsworth might be confused.
As Styles got up, Ellsworth cheered on Styles. JBL said it's erratic behavior. Styles climbed the ladder and grabbed the belt to win.
WINNER: Styles at 31:10 to retain the WWE World Hvt. Title. (****1/4)
(Keller's Analysis: Excellent TLC match. Epic in length. The Ellsworth finish is a major angle in the context of this storyline, but it could also be seen as tainting a great battle between Styles and Ambrose. The finish was asinine, though, because Styles was about to win before Ellsworth walked out, so it made no sense that Ellsworth helped Styles win later. If Ellsworth wanted Styles to win, he should have walked out when Ambrose was about to win.)
TALKING SMACK opened with Daniel Bryan totally stunned. He said everyone stepped up and delivered tonight… James Ellsworth said he did what he did because he has defeated A.J. Styles several times already and has a guaranteed title opportunity, so he wanted to face someone he thinks he can beat…
Join PWTorch columnists Pat McNeill and Greg Parks RIGHT NOW on the PWTorch Livecast. STREAM IT HERE or call 515-605-9345.
UP NEXT – PWTorch Livecast PPV Post-Show at 10:30 p.m. ET (12-4-16): Pat McNeill & Greg Parks discuss WWE TLC PPV