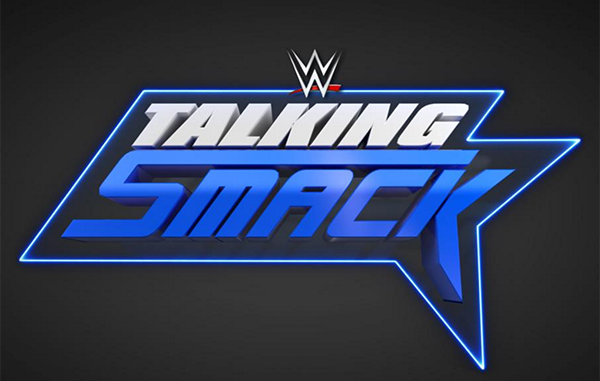 ---
SPOTLIGHTED PODCAST ALERT (YOUR ARTICLE BEGINS A FEW INCHES DOWN)...
---
WWE TALKING SMACK REPORT
DECEMBER 6, 2016
AIRED ON WWE NETWORK
Guests: Wyatt Family
The show opens into darkness with The Wyatt's standing dimly lit behind the interview table. Bray said when he and his brothers came here, they set out to change the world and to bring down machine make it beg for mercy. It is no longer about red and blue, it's about grey skys and Wyatts. "We run the yard now," he said. "The Tag Team Titles have made us immortal." He said since Orton joined they have been stronger than ever. "We've all come to the realization that it's much better to rule in hell than serve in heaven," he said.
Randy Orton spoke next. "I use to be legend killer, the Apex Predator, the Viper," he said. "Now as a Wyatt, I'm more dangerous than I've ever been."
Luke Harper creeped up to the camera and said: "We told you give is what we want or we take it. Now send anyone you want just don't send no one you want back… Run!"
Intro
Daniel Bryan and Renee Young wonder what happened. "We got Wyatted," Bryan said. Bryan asks Renee to cut him slack, he had a rough day because of the James Ellsworth situation and he had to cancel the main event due to A.J.'s injury. Renee asked what was Ellsworth's problem. Bryan said it was incompetence. Renee suggested it was a false sense of confidence. Bryan agreed.
Renee said it's interesting to see the change in Ellsworth. He started humble, but now has such a  sense of self. Bryan says he's delusional. Renee said some of this stems from Bryan for supporting Ellsworth and always saying "Go get em buddy." Bryan says he says that to everybody, even Renee. She said he never says that. Then Bryan and Renee banter about vegan sandwiches.
Renee asked if Bryan said "Go get em buddy" to Dean tonight. Bryan said. "No, he woulda punched me in the face. Dean was in a mood to hurt somebody." Renee asked why Bryan put on an Intercontinental Title match. Bryan said it was to make up for not having a WWE World Title match, and because The Miz was prodding Dean. And he already kinda dislikes The Miz anyways. Renee asked how badly Bryan wants to get that title off of The Miz. Bryan said he doesn't care if The Miz is champion as long as the fans have a great show.
Bryan said the Intercontinental Title is a big part of that and that the IC Title is more elevated than the U.S. Title on Raw. Then added he thinks The Miz is a big part of that. Bryan takes credit for pushing The Miz and Baron Corbin to be elevated since the draft. Renee asked Bryan how he felt about The Miz standing behind Maryse tonight. Bryan went way off topic with a story about his house being robbed and his wife Brie wanting to kick his face in.
Guest: Carmella
Carmella sat down to the interview table telling Bryan that he never said "Go get em buddy" to her. Bryan says he's not in the women's locker room. Renee said Carmella had choice words for Nikki and Natalya. Carmella said, "I don't play games, I win them." Carmella went on to say Natalya can win an Oscar for her performance, she can't stand her lying. Renee asks for the scoop on what happened with Natalya and Nikki. Carmella said after Survivor Series, she and  Natalya went to the hotel. Natalya said Nikki forgot her hat in catering and knew she would have to go back and get it. She saw her opportunity and took it. Carmella said, "Why would I sneak attack her. I attack her every week and own up to it? I wish it was me." Renee asked Carmella  why she thinks Natalya is lying. Carmella said it was because she's jealous that Nikki is steeling her thunder and got the Total Bellas spin off. "Mark my words, I promise you, Natalya did it," she said.
Renee said she thinks the Women's Division is out of control. Natalya and Nikki turning on each other. Bryan said he was disappointed because he wants to just see pure competition.
Renee switched to Alexa and Becky. She asked Bryan how proud he is for Alexa Bliss. Bryan said he was very proud of her. He said she is the one who's taking opportunity and making the most of it. "When we drafted her from NXT, nobody knew her" he said. "Alexa has really proved her worth." Renee asked about the TLC PPV tables match. Bryan said its 'very dangerous, but they put on a hell of a show.
Renee said: "Speaking of shows, A.J. Styles put on a heck of a show… his butt was showing. Bryan said A.J. does a springboard 450 splash through a table or Dean Ambrose jumping off a ladder on a table through a table. and all you talk about is A.J.'s butt. Renee said she thought it was notable to bring up, Bryan said, "What do you want me to say? 'Hey, sweet butt man!' Then pat him on the butt and say 'Go get em, buddy'?' I'm tired of you talking about A.J.'s butt."
Guests: Rhyno and Heath Slater
Heath Slater and Rhyno walked onto the set. Bryan asked how they are doing? Slater replied he had seen better days. Renee asked what was reaction to losing the titles. "You work hard to get somewhere, you get there, and you try to defend it the best you can, but they had a bad day and the Wyatts are dangerous. Slater added, "You win some and you lose some." Rhyno said that was a big something to lose.
Slater put over the Wyatts as being dangerous. He said they gave it their all, but their all was just not good enough. Renee asked what do you do now. Slater suggested they keep climbing that ladder. He asked Rhyno his thoughts. Rhyno said he didn't know he was going to be the only one out there in the ring. "We had a shot tonight to win the Tag Team Titles back tonight," he said. Bryan tried to add his input. Rhyno told Bryan not to jump in. Slater asked Rhyno if they are really going to talk about this now. When Slater pointed out that while he took the fall tonight, he was the one who won the tag titles for them in the first place, Rhyno clarified the situation. "I gored him and you went for the cover," he said, clearly upset. Rhyno walks off the set. Slater said he had to try to work this out with Rhyno, so he apologized and cut the interview short and left.
Renee signed off.
---
NOW CHECK OUT  SPECIAL EDITION OF TALKING SMACK: 12/4 WWE Talking Smack Recap – Post-TLC PPV: Renee & Bryan interview Ellsworth, Miz, Corbin, Bliss who talk about their matches