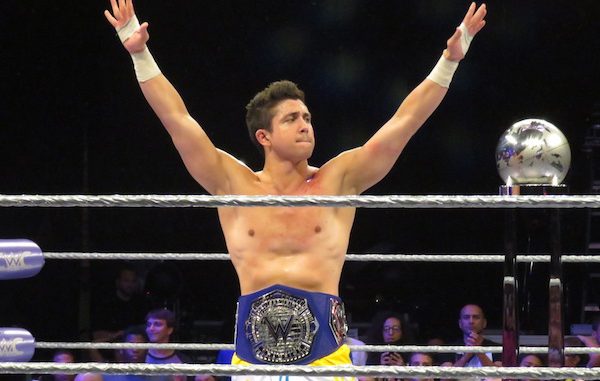 ---
SPOTLIGHTED PODCAST ALERT (YOUR ARTICLE BEGINS A FEW INCHES DOWN)...
---
In a week in WWE where we saw the fallout from Smackdown Live's TLC pay-per-view and advancements in the Universal Title picture on Raw, let's take a look at some of the best and worst performances from both brand's performers.
RAW ALL-STAR: CHARLOTTE
Just one week removed from losing her Raw Woman's Championship, Charlotte was faced with having to address her father's actions in congratulating Sasha Banks in their hometown. While we got a sense that her invitation to Ric was one of deception, the execution of the former champion berating her father once again felt very real.
Finishing with a stiff slap to the face served as a perfect exclamation point on an excellent closing segment of Raw. Charlotte has embraced her heel persona better than any talent on the red brand's roster, garnering the most true heat from the fans every time she steps into the ring.
In an era where talented heels are often cheered more than booed it is refreshing to see how much negative emotion she can draw out of every live audience. Punishing Sasha Banks in quick fashion was a nice touch to end the show which left fans thinking less about Charlotte losing the title and more so wondering how quickly she may be able to regain it.
RAW UNDER PERFORMER: T.J. PERKINS
It seems like ages ago when T.J. Perkins won the Cruiserweight Classic and was on top of the newest division in WWE. Since then he has been presented like an over-the-top babyface who comes off as heavily scripted in his promo work. Since debuting on Raw, we have not really seen anything in regards to character development and his matches have been very cookie-cutter.
This week against Rich Swann, T.J. had an opportunity to show a bit of an edge and portray a person that truly wants to regain his championship. Instead, we got much of the same with a signature dab during his entrance and a high spot or two that we have now seen week in and week out which we all are staring to become numb to.
Perkins has performed quite a bit under a hood before the CWC and he is starting to be exposed as very one-dimensional. His match with Swann on Monday was another glaring reminder of that.
SMACKDOWN LIVE ALL-STAR: ALEXA BLISS
Following in the footsteps of our Raw all-star, Alexa Bliss has quickly turned into one of the best heels on the roster, male or female. While she may not be at a point of performing countless five-star matches, her attention to detail and full buy-in to her heel character is something to be admired.
We, as fans, place so much importance on a wrestler's first in-ring promo after a major title victory and Alexa knocked it out of the park with a confident delivery while keeping it short and sweet. She did back down when Becky confronted her but that is exactly what is expected of a heel champion.
The cherry on top of this entire title victory was the dedication to her character and articulation of what she stood for on the post-TLC Talking Smack. Tears of joy were flowing and her smile was from ear to ear while speaking about what this win meant to her, but the change of facial expressions, inflection, and delivery once Becky's name was brought up was incredible to watch.
However long this title reign lasts, she sure did look legitimate standing on the second rope with the fireworks blazing in the background.
SMACKDOWN NOTABLE ALL-STAR MENTION: DEAN AMBROSE
The humorous side of Dean has run its course and it was great to see The Lunatic Fringe show a more serious side on Tuesday. Sure, when it is time for a big match on a PPV, Ambrose comes off as one of the most focussed wrestlers on the roster, but for the most part his TV time is dedicated to comedy which has only heightened with the emergence of James Ellsworth.
Dean marching down the ramp in anger and delivering Dirty Deeds to Ellsworth was a throw back to Steve Austin cutting to the chase and taking care of business. It was extremely refreshing to see, and his match with Miz was a very good one.
SMACKDOWN UNDER PERFORMERS: HEATH SLATER & RHYNO
Taking a bit of a kayfabe approach to this one, it has not been a great month for the unlikely pairing of Rhyno and Heath Slater culminating in two decisive losses in three days and a massive disagreement on Talking Smack. The story of these two was much more interesting in the chase and any momentum they had picked up seemed to start declining as soon as they won the Smackdown Tag Team Titles.
Creatively, these two have been mostly stagnant with many of their matches coming on Main Event, with the occasional backstage segment or babyface save on Smackdown. In defeat, Beauty and The Man Beast did not really do much to stand out and, now that they have lost their championships, it seems like this team is just about finished.
It was fun while it lasted, but neither performer has a ton of character depth which hindered their ability to keep the momentum moving. Plus, how is Slater supposed to pay for all of these upgrades to his double-wide now? Hard to see where either go from here aside for a mid-card feud with one another.
---
(Michael Souza will present his "All-Stars & Underachievers" every Thursday at PWTorch.com as part of our new slate of Specialists columns.)