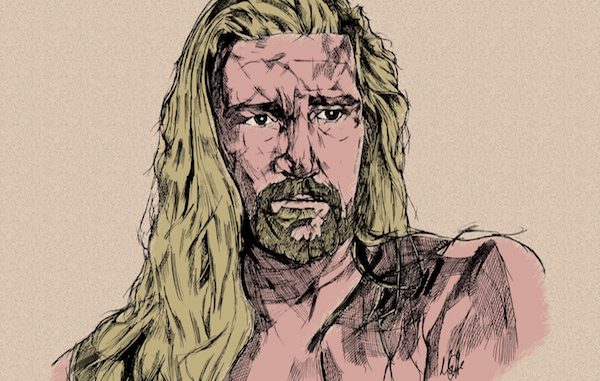 ---
SPOTLIGHTED PODCAST ALERT (YOUR ARTICLE BEGINS A FEW INCHES DOWN)...
---
-CORRECTION: An earlier report said that highly respected indy wrestler Chris Hero has re-signed with WWE. Today he is disputing the reports that it's a done deal, but we had heard that he had gone in for medical testing with WWE early last week. He had been cut a few years back largely due to issue with his conditioning and aesthetics. He could land in NXT as a central focus of the main event scene. He turns 37 in two weeks and is the type of established veteran who can fill in the gap in terms of star power, veteran leadership, ring generalship, and mentoring younger wrestlers that will be left by the departures of Samoa Joe and Shinsuke Nakamura.
-Jerry Lawler, who has been removed from WWE TV with the cancellation of the full length Raw pre-show on WWE Network, told "Cerrito Live" he was told he has the WWE Hall of Fame gig for life. Check out the full interview HERE.
-Lacey Von Erich, the daughter of Kerry Von Erich, tells TMZ she was forbidden by her family to date wrestlers because too may wrestlers are addicted to drugs and die of suicide. Watch her comments HERE.
NOW CHECK OUT THE PREVIOUS NEWS UPDATE: Report: Shane McMahon made a power play to take over Creative in 2012, Steph and Hunter freaked out (w/Keller's Analysis)
---
Please send any news tips and results to: pwtorch@gmail.com. For instance, let us know if you hear a pro wrestling reference on a popular talk show, see a pro wrestling related Tweet or Instagram from celebrity, hear an ad for matches advertised for an upcoming WWE event, or anything else pro wrestling related that'd be of interest to our readers. 
If you attend a live event, please send results. We don't set up correspondents ahead of time and count on readers like you to send an email with a report on live events you attend – not just WWE, but also ROH, NXT, international groups. and anything else.