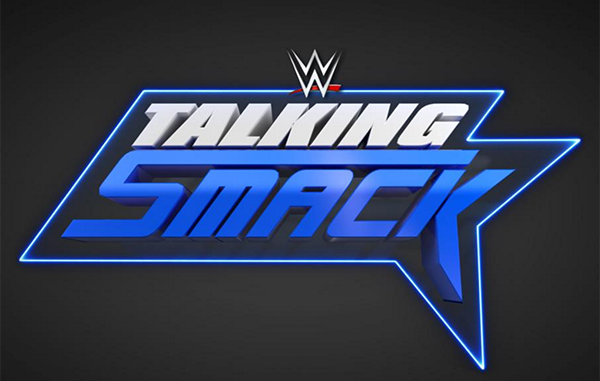 ---
SPOTLIGHTED PODCAST ALERT (YOUR ARTICLE BEGINS A FEW INCHES DOWN)...
---
WWE TALKING SMACK REVIEW
DECEMBER 13, 2016
AIRED ON WWE NETWORK
REPORT BY BRANDON BEAUCHAMP, PWTORCH CONTRIBUTOR
INTRO
Renee Young and "Everybody's favorite GM" Daniel Bryan welcome us to Talking Smack. Bryan talks about how she noticed the big fist crashing through the opening and how Smackdown is really into fisting. No, I didn't make that up. Renee notes that the WWE warehouse still keeps the fist from the original Smackdown set on hand amongst the other memorable props of the past.
Renee switches gears to Dolph Ziggler becoming the new #1 Contender for the WWE World Championship. Renee asks Bryan, "Did you see that coming?" He had an opportunity. Bryan said that they had four great guys in there including The Miz and that The Miz can't say they don't give opportunities. Renee added how weird it was The Miz helped Ziggler.
Renee asks, "Now that Ziggler is #1 Contender, how big of a deal is this?" Bryan said, "It's huge! It will be interesting to see how this develops." Bryan then referenced how Ziggler's previous reign as Intercontinental Champion was short lived. Renee asked Bryan how he see's Ziggler and WWE World Champion A.J. Styles matching up. Bryan again said it will be interesting. Renee asked, "What about poor James Ellsworth?" referring to his recent illness.
Guest 1: WWE World Champion A.J. Styles
"Boo hoo" Said A.J. Styles as he walked onto the set with a smug grin. He added that Ellsworth is sick with "chinfluenza." Bryan asks why A.J. makes fun of Ellsworth's chin. A.J. said, "Because it's funny." Bryan said that it's really bullying and we're an anti-bullying company. A.J. said, "That's funny cause you called me fat earlier today." A.J. and Bryan then argue about contraceptives.
Renee interjects with Ziggler becoming #1 Contender, asking A.J. how he feels about how it all went down. A.J. said he's a fan of WWE and that was a great match. A.J. specifically mentions Luke Harper, saying Harper was intimidating but not smart enough to pull it off. Bryan asked if Harper is who A.J. needs protection from. A.J. says no one. He says he could take 'em all on, but not against four guys at once.
Renee asks if Elsworth now loses his title shot because he was sick. Bryan said that he would still get a title match, but it will be rescheduled. Bryan mentions how many times Ellsworth has beaten A.J. A.J. argued every win was because dean interrupted every time and Bryan and Shane McMahon do nothing about it. Bryan admits he doesn't do anything about it saying "how could we? He's so dang cute." A.J. asked who was cute Dean Ambrose? Bryan said no Ellsworth but Renee says that about Dean. Renee blushed and denied the allegation.
Renee asked if A.J. was happy Dean is out of the way. A.J. said he was tired of beating him and he has had enough title shots, that it was somebody else's turn like Dolph Ziggler. Bryan asks AJ about Luke Harper. AJ puts him over as a big guy who can move and we don't know a lot about him. Renee and Bryan both sang Harper's praises saying they would love to see Harper vs AJ.
Bryan said Harper looked incredible. A.J. said he's not smart enough to be #1 contender.
A.J. was asked to predict what would happen between him and Dolph. A.J. said, "I'm going to beat Dolph and you can bet on it. He's good but not phenomenal." Bryan asks how long it will take to beat him. Renee asks A.J. how he feels health wise. A.J. said he's ready to go. Renee asks if his ankle is still hurt or if he has been cleared by medical team. A.J. tries to dodge the question. Bryan tells A.J. thanks and you're always a phenomenal guest. A.J. asked if that meant Bryan wanted him to leave? Bryan said no. A.J. said, "If you want me to leave, I'll leave. This is a boring show anyway."
Renee moves to women asking who attacked Nikki at Survivor Series. Bryan said he doesn't know but feels Carmella is more truthful than Nattie. Renee said you don't know her, referring to Carmella. Bryan argues Carmella is always up front about attacking Nikki and wouldn't make sense to attack Nikki from behind.
Bryan said maybe a Raw women attacked her.  Renee asked, "Why do you think Nattie is less truthfull?" Bryan said she's afraid of repercussions – in the form of a forearm from Nikki to the face.
Guest 2: The Usos
The Usos are welcomed to the set. Renee said she hasn't seen them in a while. She asked what was going on. Jey Uso puts his ankle up on the desk to reveal an ankle injury. He kept it there. Jimmy Uso said there's always one that holds it together. You have Shawn and Marty, Jeff and Matt, and Michael and Tito. Jey took exception to the Tito line, suggesting Jimmy can be Janet. Jimmy said he would take her too. Jimmy brought up a possible Zach Ryder injury and made his pitch to make the Usos the new #1 Contenders. Jey asked if Bryan honestly believes the Hype Bros. can beat Randy Orton and Bray Wyatt. The Usos called every team in the tag team division a joke. Jimmy said he would wrap up that ankle and go, promising to be healthy enough to compete. Jimmy said, "We'll be ready. I'm Shawn this is Marty. Michael and Tito. Mario and luigi." Renee asks if they have a Wario (Super Mario Villain). Jimmy said, "No, but we got a princess."
The Usos continue to push for #1 Contendership if the Hype Bros are out injured. Bryan said they should beat another team to get a shot and listed off several tag teams opponents and The Usos said they've ran through them all. Renee said that it's not Talking Smack without a little song and dance. Jimmy and Bryan pop and lock. Bryan thanks Shawn and Marty. Renee tries to dance and everyone makes fun of how awful she was describing her arm as a broken chicken wing.
Renee and Bryan said they enjoy having the Usos on the show. They said they bring a good energy. Renee then switches gears to talk about visiting the troops. Bryan said he got to drive a boat with the Coast Guard. He attended a Navy ceremonial guard which does ceremonies for fallen soldiers. He says how amazing it was to meet these people. Renee says she was able to see attack dogs and see Jason Jordan get tasered and went on a helicopter ride over Washington D.C. Renee plugs the Tribute to the Troops.
Guest 3: Smackdown Women's Champion
Renee and Bryan welcome Alexa Bliss. Renee asks how she's doing. Alexa replied she was really really sore. "How's knee?" Renee asks. Alexa said hasn't seen trainer very concerned about it. Renee asked what happened. Alexa said she doesn't know she landed weird when she got out of the ring and didn't know she was counted out. Bryan questions why she hasn't been to the trainer yet. He said, "I thought I could elevate it herself and see how it feels." Bryan calls Alexa out on pretending to limp. Alexa said that questions her integrity and she prides herself on it. Alexa added that adrenalin kicked in and she couldn't feel the injury.
Renee asked, "Don't you have to take care of yourself as leader of the locker room?" Alexa said  Absolutely I will face anyone for my title." She then said she respected Shane's decision  granting Becky her rematch. But now she just needs to focus on herself and her injury. "I am locker leader and I have to be looked up to." Alexa added.  Renee asked how has the reception been from the other women in the locker room to her being new Champion. Alexa said "great" and then winces in pain. Alexa excuses herself to go find ice.
Renee asks what Bryan does in this situation. Bryan said there's a lot of drama on Smackdown Live between all the people getting sick and hurt, not hurt, and not wanting to defend titles. Renee asks if Bryan thinks they are making excuses. Bryan said he does. We got one last hard sell for the Tribute to the Troops special.
NOW CHECK OUT LAST WEEK'S TALKING SMACK REPORT: 12/6 WWE Talking Smack Recap: Renee & Bryan interview Rhyno and Slater, Wyatt Family, Carmella, talk about A.J.'s butt