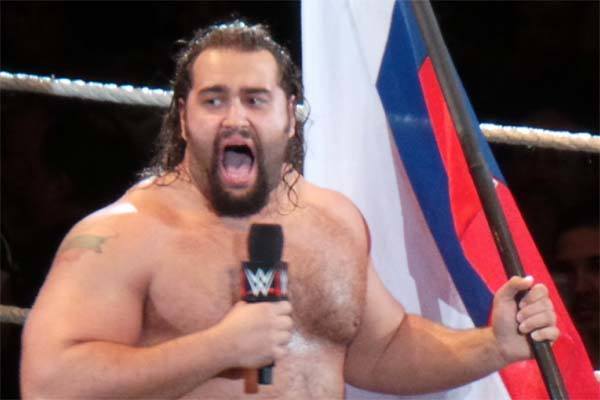 ---
SPOTLIGHTED PODCAST ALERT (YOUR ARTICLE BEGINS A FEW INCHES DOWN)...
---
RAW HITS
New Day's First Title Defense: This first of two triple threat Tag Team Championship matches was good. The opening promo from New Day was ok, but not particularly good. At least the match that followed was enjoyable to watch. It went nearly 12 minutes and was well booked and executed given the format. I'm not a fan of triple threat tag team matches. In a triple threat singles match, all three wrestlers are in the ring at the same time. Why isn't the same for a tag match? Shouldn't one member of each team be in the ring at the same time? I would like that more than this goofiness where only two teams are legal at a time and they get too cutesy at times with someone tagging himself into the match. So, I would like to see different rules to these matches, but this was good given those rules. I also liked that New Day won by cleverly taking advantage of those rules, not blatantly cheating like they usually do. Of course with it happening so early, it was obvious that they would have to have another match later.
Jack Gallagher: The match between Ariya Daivari and Lince Dorado was nothing I cared about, so I was fine with it being interrupted by the Extraordinary Gentleman Jack Gallagher. The way he interrupted by announcing his intentions to interfere was awesome. I laughed out loud. It was great that he excused his behavior because Daivari is a scoundrel. If he keeps saying that, it could catch on. The brief "scoundrel!" chant that followed is possibly a sign of things to come. I've enjoyed Gallagher since his addition to the Cruiser Weight division.
Zayn – Foley: I have not been a fan of the angle involving Sami Zayn wanting a match against Braun Strowman with Mick Foley refusing to give it to him. Foley's character has largely been poorly written the last month or so. This week was better, so I am giving it a Hit. The performance from Zayn was great. The tease of him forcing a trade to Smackdown worked well. It is a real world sports situation so it makes sense to bring it into a fake sport. The ultimate scene in the ring where Zayn showed so much fire that Foley revealed that it was just a plan to make Zayn show that fire was solid. The performances were good. I laughed that what put Zayn over the top was the fact that he was being traded to Smackdown for Eva Marie. This was one of the few cases on this show where WWE had a strong sell for one of the matches at Road Block: End of the Road (which is one of the worst names for a PPV in wrestling history).
New Day's Second Title Defense: The same problems listed above about the rules of these matches applies here. And the fact that it was still a good match despite those rules also applies. This was a good main event. It did nothing for selling the PPV on Sunday (more later), but in a bubble it was an entertaining triple threat Tag Team Title Raw main event. There was good wrestling action throughout. There were some very convincing near falls. Xavier Woods who is often not in New Day's matches got a chance to shine here. And once again, they were a smart tag team in taking advantage of the rules instead of cheating to win in order to break the record. The finishing sequence was very strong with Seth Rollins pushing Kevin Owens into Chris Jericho to break up the pin attempt, then hitting Jericho with a Pedigree, only to have Big E pull him out of the ring to allow Woods to get the pin.
RAW MISSES
The Rollins Report: This did nothing for me. None of the mic work from Seth Rollins was inspired. None if it made me want to see him get his hands on Triple H one day or Chris Jericho on Sunday. Instead of focusing on his own WWE Universal Championship defense at the PPV, Kevin Owens was only concerned about winning the Tag Team Titles. This was not a good way to put focus on a PPV on the go home show. They muddied up two of the top matches on the show during Raw this week. This segment was a big part of that.
Lana, Rusev, and Big Cass: I hate this angle. In order to get heat on themselves despite arguably being the babyfaces in this situation, Lana and Rusev had to resort to cheap anti-USA sentiments more than once here. It is lazy writing to cover up for bad writing. I still side with them over Enzo Amore. Big Cass was defending his little buddy who shouldn't be defended. Rusev didn't even jump Enzo from behind last week. This is a mess. The physicality at the end was ok, I guess. The announcing was bad because the situation makes no sense, so you have the heel Corey Graves sounding reasonable and the babyface Byran Saxton sounding like a fool. Even at the end, Saxton sounded over the top in suggesting Rusev was running away.
PPV Hype: Very little on this show made me want to tune in on Sunday. As I said above, they did a poor job focusing on either Owens vs. Reigns or Rollins vs. Jericho. The other huge match at the PPV is Charlotte vs. Sasha Banks in a 30 minute Iron Man match for the Women's Championship. Where was the hype for this history making match? They had one video on their history which was good. It is the type of video that will work well on the PPV pre-show and even right before the match itself. It was good to have it on Raw. But it was not sufficient. This is a case where we had to get mic time from both Charlotte and Banks. There was so much time devoted to New Day which I understand since it happened to be the day that they were set to tie Demolition's record. But, New Day doesn't have a match at the PPV as far as I know. This was bad for a go home show.
---
NOW CHECK OUT THE PREVIOUS HITS & MISSES COLUMN: RAW HITS & MISSES 12/5: Enzo-Lana, Gallagher's debut, Seth brings up Triple H, Reigns vs. Jericho, Charlotte-Ric
OR CHECK OUT JASON POWELL'S HITLIST ON THIS SAME SHOW: Powell's WWE Raw Hit List: New Day attempt to make history, Mick Foley and Sami Zayn, Rusev, Lana, and Big Cass, Jack Gallagher proves he is an Extraordinary Gentlemen
---
Jon Mezzera is PWTorch.com's WWE Hits & Misses Specialist, providing his point of view for Raw and Smackdown each week. Email him at jmezz_torch@yahoo.com. Act now and become my 68th Twitter follower@JonMezzera (pretty clever handle right?). Just be aware that I don't live tweet Raw, I don't tweet much about wrestling, and I don't tweet much at all.