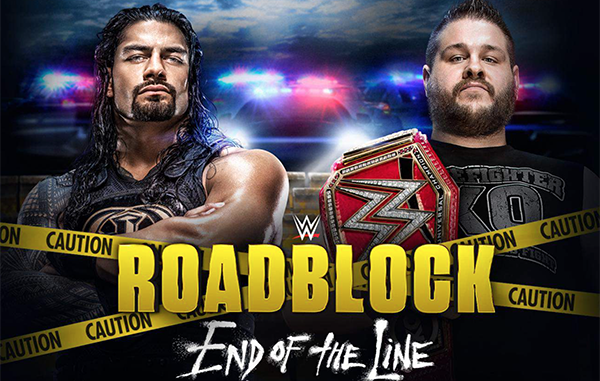 ---
SPOTLIGHTED PODCAST ALERT (YOUR ARTICLE BEGINS A FEW INCHES DOWN)...
---
WWE ROADBLOCK: END OF THE LINE
DECEMBER 18, 2016
PITTSBURGH, PA.
REPORT BY WADE KELLER, PWTORCH EDITOR
KICKOFF SHOW
-As usual, the pre-show included various video packages and panel discussion with Renee Young, Booker T, and Sirius satellite and podcast host Sam Roberts. Bayley and T.J. Perkins joined them for separate panel interviews. Renee gushed about TJP's Instagram page and said he gets marriage proposals all the time.
-A video package aired on the impressive looking press conference announcing the new WWE UK Championship Tournament with a big gathering of media and a stage full of wrestlers. They aired soundbites with few wrestlers in the division. Triple H hosted the presser. He introduced Nigel McGuinness, who was look thrilled to be part of this initiative.
-Tom Phillips hosted a sit-down "Social Media Lounge" interview with Sami Zayn who said Braun Strowman should be figuring out he's going to handle him, not the other way around, because he's going to bring it and has nothing to close given how much people think he's the underdog. He said this is the most important match of his career and then cut off the interview. The panel said they had never seen that side of him before.
-Lana came out and introduced Rusev. A fan held up a sign that said, "Rusev fixed the election." Big Cass and Enzo came out. Enzo had a look on his face like he just heard Booker T bury him on the panel discussion, saying he would have done exactly what Rusev did if someone tried to pull that with his wife, plus he would've called the cops. "You've got a lot of nerve, Lana," he said. He explained that the joke was on him, "because I should have asked for my money up front. The way I see it, you both owe me money." He said they have a weird fetish. Rusev held the ropes open and called Enzo into the ring. Enzo said it was dumb decision to marry that hack Russian, Lana. He said a worse decision was leaving him lying in the hall way because he got up.
(A) BIG CASS (w/Enzo) vs. RUSEV
Cass dominated early. They cut to a very early commercial break. Rusev rolled to the floor after a corner splash. Cass went for a big boot as Rusev stood on the ring apron. Rusev jumped back to the floor. Cass pursued him. Rusev tried to bail out into the crowd. They brawled among fans. Lana came up behind Enzo. Enzo turned around quickly. Lana pretended she hurt her angle. Rusev attacked Enzo from behind. When Cass came to Enzo's aid, Rusev rolled into the ring to beat the count. The ref counted out Cass. The announcers said Rusev outsmarted Cass.
WINNER: Rusev via countout.
-When Renee asked if Rusev should be proud, Booker said, "A win is a win." Ugh. Sam Roberts said the lesson is big people with little friends have trouble winning matches when they're preoccupied with protecting their little friends.
(Keller's Analysis: Booker T's comments should not be allowed to continue, whether it's him or someone feeding him lines. You cannot have a beloved legendary wrestler playing a likable babyface character on air defending and rationalizing heels cheating as "doing what it takes to win," and contending that all that matters is if you win, not how. If I'm a heel, I'm upset that Booker is totally undercutting my attempt to get heat with the audience. If I'm a babyface, I'm upset that Booker is totally undercutting the heels ability to get heat because if heels don't have heat for cheating tactics, then babyfaces have more trouble getting over because they're the dumb saps who aren't smart enough to cheat to win.)
Renee plugged WWE Network and said sign up takes just two minutes. Roberts said WWE Network is such a good value, he'd trade his first born for it, and his wife is pregnant.
Roberts said "to us fans," the Chris Jericho and Kevin Owens friendship is "our Ross and Rachel." I used the analogy "Ross and Joey" this week on the PWTorch Livecast, which I think is probably the "Friends" analogy everyone involved would prefer.
---
How did C.M. Punk's UFC opponent, Mickey Gall, do last night in his first UFC fight since beating Punk decisively in the first round? MMATORCH HAS DETAILS RIGHT HERE.
GROCKE'S LIVE UFC ON FOX 22 REPORT 12/17: VanZant vs. Waterson, Northcutt vs. Gall, Faber vs. Pickett, Perry vs. Jouban
---
MAIN SHOW
-A video package set the stage. Michael Cole introduced the show as the camera panned the crowd and the theme music played.
(1) THE NEW DAY vs. CESARO & SHEAMUS – WWE Raw Tag Team Title match
The New Day came out. Big E pretended he thought the name of the PPV was "Cock Block" and cited how everyone has faced the situation when the best friend of a girl your with interfered. Kofi Kingston explained it was called "Road Block." Xavier sang. They danced. Then out came Cesaro & Sheamus.
When Cesaro went for a Neutralizer, Big E blocked it. Cesaro came back with a flying uppercut. He signaled for the Swing, but Kofi intervened. Sheamus dove toward Kfoi, but hit Cesaro. Xavier from ringside then kicked Cesaro. Big E hit the Big Ending and got a near fall. Big E got wide-eyed with surprise. They cut to a crowd reaction of fans responding with shock. Byron said it was yet another instance of New Day using the "third man advantage" to win a match.
Cesaro took Kofi off the top rope with a huracanrana. Sheamus gave Big E a Brogue Kick at ringside as Cesaro gave him the Giant Swing. He followed with a sharpshooter mid-ring. Kofi tapped out, but the ref didn't see it because he was scolding Xavier for standing on the ring apron. Cesaro then countered Kofi and hit the Neutralizer (which looked nearly as potentially dangerous as a botched Styles Clash during the execution), but Big E interfered to break up the three count at the very last second. The crowd chanted "This is awesome!" Cesaro dove onto Xavier at ringside. Sheamus then signaled for the Brogue Kick. Xavier shoved Kofi out of the way and at the Brogue. Kofi landed the S.O.S. for a believable near fall.
Sheamus reached to hot-tag Cesaro, but Cesaro pulled his hand away. Kofi thought Cesaro tagged in and schoolboyed him. However, Sheamus was still legal and dove onto Kofi and scored the pin. That was damn clever of Cesaro and Sheamus. Graves said they outsmarted New Day.
Afterward, New Day entered the ring and handed the belts to Cesaro and Sheamus. Cesaro and New Day hugged. Sheamus grabbed the belts and stood on the second rope and raised the belts to celebrate. Cesaro went into the crowd and celebrated among fans in the first few rows. They cheered Cesaro raising his arms and booed Sheamus when he raised his.
WINNERS: Cesaro & Sheamus to capture the WWE Tag Team Titles in 10:00.  (***)
(Keller's Analysis: Good match with a handful of convincing near falls. I'm still not sure what they're doing with New Day using the so-called "third-man advantage," but it sure made Cesaro & Sheamus the babyfaces here. The worst part of this title change is that it happened right after New Day set the record, so it just felt a little too convenient. I wish the announcers openly speculated whether New Day let their guard down a bit after setting the record, leaving them vulnerable. At least they'd create a storyline reason for the all-too-convenient timing of the title change.)
---
Jim Ross joined Wade Keller on last Thursday's PWTorch Livecast for an hour discussing hot topics in pro wrestling including what he think it would take for Shawn Michaels to come back for a match against, perhaps, A.J. Styles. STREAM / DOWNLOAD HERE
PWTorch Livecast Interview Thursday (12-15-16): Jim Ross joins Wade Keller
Want insight into Total Nonstop Deletion? Check out Friday's PWTorch Livecast as Bruce Mitchell & Travis Bryant were joined by Brad Stutts, the Scribe for Broken Matt, as he talks about the "making of" the episode and discussing all of the cameos and outlandishness. STREAM / DOWNLOAD HERE
PWTorch Livecast Prime Time Friday (12-16-16): Bruce Mitchell & Travis Bryant welcome Brad Stutts, Scribe of Broken Matt Hardy, to talk Total Nonstop Deletion
---
-A woman who never gets the professional courtesy of being identified by WWE (Charly Caruso) interviewed Kevin Owens. She asked about how he says he's the longest-reigning WWE Universal Champion, so does New Day losing portend him also losing. He insulted her and called her question dumb. He said he doesn't care about New Day. He said he is the best wrestler. When she asked if his strained relationship with Chris Jericho will affect him and his chances of winning considering how instrumental Jericho has been in his victories, he stared her down and then, after several awkward seconds, asked, "Who do you think you are?" He began to answer her, but then asked, "Are you even listening to me?" He called off the interview, then saw Jericho off to the side. Owens tried to explain what happened on Raw last week. Jericho didn't like Owens even touching him. Owens said he wants to make things up to him for the last few weeks, so he got him a gift. He opened a box and showed him a holiday scarf. Jericho threw it down and walked away. Owens looked worried.
-A commercial aired for the Royal Rumble.
-A video package aired on the Sami Zayn-Mick Foley-Braun Strowman saga.
(2) SAMI ZAYN vs. BRAUN STROWMAN – Zayn must last ten minutes
They put a countdown clock on the screen. Cole said 30 seconds in that Sami had to "survive nine-and-a-half more minutes." Strowman began beating up Sami early. He tossed Sami far across the ring, then looked down at him with his eyes bugged out. When Sami rolled to the floor, Braun went and got him. At 2:40 Sami ducked a charging Braun and pulled down the top rope. Braun flipped to the floor, but when Sami dove at him, Braun caught him and dropped him over the edge of the ring apron. Cole asked Graves how does someone stop Braun. Graves said it can't be done.
Braun battered Sami for a few more minutes. Foley walked out to ringside holding a white towel. Braun threw Sami to the floor. Braun told Foley he could save his career by throwing in the towel. Sami said he could keep fighting. "You can end this," said Braun. Sami grabbed the towel and threw it into the crowd. He looked at Foley and said, "Not like that!" Braun beat up Sami from behind. Sami told Foley he could have stopped it, but now he's going to end it.
They put a countdown clock on the screen. Cole said 30 seconds in that Sami had to "survive nine-and-a-half more minutes." Strowman began beating up Sami early. He tossed Sami far across the ring, then looked down at him with his eyes bugged out. When Sami rolled to the floor, Braun went and got him. At 2:40 Sami ducked a charging Braun and pulled down the top rope. Braun flipped to the floor, but when Sami dove at him, Braun caught him and dropped him over the edge of the ring apron. Cole asked Graves how does someone stop Braun. Graves said it can't be done. Braun charged at Sami, but Sami moved and Braun went face-first into the ringpost hard. Braun charged again, but Sami ducked and Braun destroyed the time keeper's area like the finish to a game of Jenga. With one minute left, Sami lay in the ring as Strowman got his senses and returned to the ring himself. Sami avoided a charging Braun, who went shoulder-first into the corner. Sami dove off the top rope and hit a flying body press for a two count. Braun powered out and sent Sami to the floor. sami returned and gave Braun a Helluva Kick. As he set up a second one, the bell rang. Sami collapsed.
WINNER: Sami Zayn via technicality because he survived ten minutes. (*1/2)
(Keller's Analysis: Ten minutes wasn't really long enough nor was the beating so severe that it justified fans feeling much drama when Foley teased throwing in the towel. If the angle were done in a territory back in the 1980s, they'd have take more latitude with blood and brutality to build the notion Sami was in serious trouble of his career ending. Foley just seemed overly protective here. Sami rallying at the end when the bell rang was probably the right finish out of a few lousy conclusions to this gimmick match.)
-Saxton threw to a video package on the UK Championship tournament that also aired during the Kickoff Show featuring Triple H proudly announcing the new division and its intent to become a weekly show on WWE Network next year.
-In a jarring conflict of how we're supposed to perceive Triple H, a video package aired on Seth Rollins calling out Triple H and facing Chris Jericho next.
(3) CHRIS JERICHO vs. SETH ROLLINS
Pretty lackluster pace without much crowd heat at all as they methodically worked a basic match. The fans just didn't have a real investment in seeing either of these two lose. When Seth went for a Pedigree several minutes in, Seth avoided it and went for the Walls. Seth escaped, but Jericho hit an enzuigiri. Seth shoved Jericho over the top rope as he set up a Lionsault. Seth then did a running dive through the ropes and knocked Jericho over. Back in the ring Jericho managed to apply the Walls of Jericho mid-ring. Seth cried out in pain. He finally crawled over to grab the bottom rope for a small cheer. Seth missed a frog splash a minute later when Jericho moved. Jericho then landed the Lionsault for a two count.
Seth caught Jericho with a Falcon Arrow for a near fall. Seth escaped another Walls. Owens came out to help Jericho. Seth nailed him with a forearm. Jericho yelled at him to stay off his business. Seth then surprised Jericho with a running knee and a Pedigree.
WINNER: Rollins in 17:00. (**1/4)
(Keller's Analysis: Average match with a predictable finish. The crowd just wasn't invested in either wrestler losing or winner, so they cheered a bit for some of the higher points of the action, but mostly were resting for a match where they had a real rooting interest.)
-A generic WrestleMania video aired.
-Cole announced that Raw would feature a Cass vs. Rusev rematch on Monday night.
(4) RICH SWANN vs. T.J. PERKINS vs. BRIAN KENDRICK – Cruiserweight Title shot
Austin Aries joined the announce team. Kendrick was knocked to ringside early with a "potential injury" so Swann and Perkins battled. He re-entered, but they knocked him out again. Perkins applied a knee-bar. Swann crawled over to the bottom rope. Perkins didn't have to break because it is no DQ rules in a Triple Threat match (which is stupid). Perkins broke anyway (which made him look stupid). Swann began to fight back with punches. Kendrick returned. Perkins and Swann double superkicked Kendrick. Swann then superkicked Perkins to get the anti-climactic win. Swann then broke into his smile.
WINNER: Swann to retain the Cruiserweight Title in 6:00. (*1/2)
(Keller's Analysis: That cartoonish overbearing wide-mouthed smile Swann breaks into feels forced and phony at this point. Show a wider range of genuine emotions instead of seeming like he's just there to pose for a poster with his signature facial expression all the time. The match, like most Cruiserweight Division matches in WWE, was watchable but not as good as it needs to be.)
-Afterward, Neville's ring entrance aired. The announcers talked about Swann and Neville being friends. Neville then attacked Swann. Perkins made the save. Neville knocked him out of the ring. Graves said he loves this side of Neville. Cole wondered why he was doing that. He attacked Swann at ringside, throwing him hard into the barricade. Fans chanted "Thank you, Neville." A portion of the crowd is not enamored with the top two babyface personalties in the Cruiserweight Division. Neville made heelish facial expressions reminiscent of a vintage heel Triple H.
(Keller's Analysis: The Cruiserweight Division is the right place for Neville. Being a heel is the right for Neville, who is so vanilla as a babyface. This can ignite the division with a star athlete who can raise the level of in-ring work. He immediately leapfrogs Kendrick as a centerpiece heel who very likely will end Swann's reign.)
-Owens pounded on the door of Jericho's locker room. He said best friends forgive each other no matter what. When Jericho didn't answer his pounding on the door, Owens said, "I guess we aren't best friends anymore." He said it hurts his feelings. He got all mopey and hung his head in sadness.
-They went to the announcers on camera. Saxton said it appears official that the friendship has concluded. Saxton seemed genuinely sad.
(Keller's Analysis: Is that the emotion he's supposed to be conveying. Owens is the heel World Champion who was just a complete asshole to Charly in his interview earlier and is facing the top babyface later on this very show, and babyface announcer Saxton seems to genuinely be saddened and affected by the seeming end to this friendship. WTF? Why? This company is just so tone-deaf sometimes. Shouldn't Saxton act like he doesn't care because they're both rude punks who disrespect everyone besides themselves, so we shouldn't be surprised their egos couldn't get along? Nobody in WWE thinks of this stuff anymore, and it's damaging the product in ways they don't even recognize.)
---
TONIGHT RIGHT AFTER ROADBLOCK, LISTEN LIVE AS PAT MCNEILL & GREG PARKS TAKE YUUR CALLS & REACT TO ROADBLOCK: LISTEN/DOWNLOAD. Call the show at 515-605-9345 or email questions and reactions to pwtorchlivecast@gmail.com.
UP NEXT – PWTorch Livecast PPV Post-Show at 10:30 p.m. ET (12-18-16): Pat McNeill & Greg Parks discuss WWE Roadblock
---
-A video package aired on the Charlotte vs. Sasha Banks rivalry.
(5) SASHA BANKS vs. CHARLOTTE – Women's Title – 30 minute Iron Man Match
The challenge for wrestlers in this match is pro wrestling shifts from "Overtime in an NHL game" type of stakes to "Inning one in a baseball game" type of stakes. The edge is taking off near falls because they're just a point scored, not a finish. The announcers called the first ten minutes like it was a golf tournament in the early holes. The crowd treated it like a tennis match. A few oohs and ahh and some applause after allies, but no sense of anything really being at stake.
Ten minutes in, they cut to a guy in the crowd making a cartoonish shocked face. It showed up on the big screen and the crowd laughed. It totally took away from the match and shows that they're just encouraging fans to become clowns to try to get their two seconds of fame.
Charlotte kicked Sasha off the ring apron and Sasha went head-first into the ringside steps. At 18:00 Banks kicked out of a Natural Selection. She set up a moonsault, but Sasha stood and knocked he off balance. Charlotte finally scored the first fall with 10:42 left after she gave her a Natural Selection by leaping off the top rope for extra impact.
FALL: Charlotte scored first pin to go up 1-0.
Charlotte went for a second pin right away, but Sasha kicked out. Charlotte began trash-talking and slapping Sasha, giving off a sense of feeling better about herself and her position in the fight. Out of nowhere, Sasha surprise Charlotte with a small package for a pin to even the score.
FALL: Sasha scored a pin to even the score 1-1.
Charlotte went right back on offense. Sasha avoided a moonsault and applied a Bank Statement mid-ring. Charlotte reached for the bottom rope, but Sasha rolled her back to the middle. Charlotte tapped out.
FALL: Sasha submitted Charlotte to take the lead 2-1.
Charlotte turned it up and went after Sasha's leg aggressively. She went for a figure-eight, but Sasha fought out of it. Charlotte wrapped Sasha's leg around the ringpost with four minutes left. Charlotte applied the figure-four. Sasha reversed it. Charlotte un-reversed it. Sasha cried out in agony as she looked up at the clock with 35 seconds left. She again reached for the bottom rope. When Charlotte bridged to turn it into a Figure Eight, the crowd counted down 5-4-3 at which point Sasha tapped out.
FALL: Charlotte submitted Sasha to even the score 2-2.
The announcers acted like this had never happened before and referee Chad Patton had a big decision to make in terms of how to handle this. The ref explained to the announcers that they'd head to overtime, first fall wins. Cole said normally in a draw, the champion retains. The ref checked on Sasha's leg to be sure she was capable of continuing. Eventually the ref called for the bell. Charlotte went right after Banks, but Banks cradled Charlotte for a leverage near fall. Sasha scored another near fall with a small package a minute later. No countdown clock, so this was essentially a regular match now. Or as Cole called it, "sudden death overtime."
Sasha gave Charlotte a backbreaker, but clutched her knee afterward in pain. She had a bloodied nose at this point. She moved in and applied the Bank Statement mid-ring. Charlotte grabbed Banks's bad leg and tried to torque it. She shifted into a figure-four. Charlotte began to bridge as Sasha nearly reached the bottom rope. Charlotte then bridged. Banks tapped. They immediately cut to a sad girl in the crowd.
WINNER: Charlotte in 35:00 to retain the WWE Women's Championship. (***1/4)
(Keller's Analysis: Good match, for sure, but not without some issues. The Iron Man stip worked against it for the first 20 minutes or so. The overtime was well played and the recall of how important the bridging by Charlotte was right before regulation added drama to the actual finish in overtime.)
-The announcers on camera hyped the Royal Rumble. Then they hyped "Raw Talk." We'll have a detailed report on that later tonight here at PWTorch.com.
-A video package aired on Owens vs. Reigns.
(6) KEVIN OWENS vs. ROMAN REIGNS – WWE Universal Title match
Reigns came out to massive boos, according to in-arena accounts, but his music was really loud and the TV sound was turned down. He mouthed off to fans heckling him as he entered the ring. Owens bailed out as soon as the bell rang. He did it a second time, so Reigns pursued him.  Owens took over a few minutes later at ringside, landing a senton off the steps on Reigns lying on the mat at ringside. He scored a two count after rolling Reigns into the ring. Owens settled into his Obligatory Mid-Match Chinlock. He landed a neckbreaker and then a flip splash for a two count afterward. Owens settled back into another chinlock, then entertained fans with some trash-talking of Reigns, saying he'll stay there all night.
Reigns sowed signs of life with a flying clothesline. He hulked up a bit and threw a series of forearms at Owens in the corner. Owens staggered, but caught a charging Reigns with a forearm. Reigns nailed him with a forearm. Owens blocked a Samoan Drop and landed a German suplex. Reigns hit a Samoan Drop. Reigns went for a Samoan Drop. Owens countered into a DDT for a near fall. Owens mocked Reigns and then landed a cannonball for a two count. A "Ro… man sucks!" chant broke out to the beat of "New… Day Sucks!" Reigns set Owens on the top rope and breathed deeply and then went for a superplex. Owens resisted and punched Reigns in the ribs. He elbowed Reigns on the head to knocked him down. Reigns then hit Owens with a Superman Punch. Boos and silence. Owens then gave Reigns a cradle suplex off the top rope for a near fall. Zero pop – and I mean zero – for the "big babyface kick out." Did Vince go deaf years ago and it's been kept secret from everyone?
Owens then landed a top rope cannonball right onto Reigns's lifted knees. Owens cried out in pain. Reigns set up the spear. The crowd erupted into boos. Owens rolled to the floor. Reigns gave Owens a Drive-by. Owens rolled into and right out of the ring. He avoided another Drive-by, then superkicked Reigns. Owens kicked Reigns onto the announce desk. Owens then leaped off of the barricade with a frog splash. The table didn't give. Owens went for it again. This time the table collapsed flat. They cut to a girl jumping up and down and holding her hands to her face like she was in a "Home Alone" sequel. Owens entered the ring. The ref reached nine before Reigns leaped dramatically into the ring to beat the count at the last possible split-second. Owens landed a frog splash. Reigns kicked out. No pop.
Reigns caught Owens mid-air and powerbombed him for a near fall. Both were slow to get up. Owens hit a Pop-up Powerbomb a minute later but Reigns put his leg over the bottom rope. Owens went to grab his title belt. The ref admonished him. Owens swung it. Reigns speared Owens and the belt fell to the mat. Chris Jericho then ran to the ring. He slid into the ring and assessed the situation. He looked down at Reigns, then turned to Owens and gave Owens a Code Breaker. The ref DQ'd Reigns. Cole gullibly exclaimed, "So much for the friendship."
WINNER: Reigns via DQ. (**3/4)
-Jericho threw the belt at Owens, smiled, and raised his arms. Graves said, "They fooled us all." They laughed and hugged as Reigns fumed at ringside.
(Keller's Analysis: It's tough to give a good review to a match where the crowd reacted the opposite of all TV time invested in both characters and the intent of the promoter, but fundamentally they told a good story and executed the match well if the babyface was actually, you know, liked by the fans.)
-As Owens and Jericho were leaving together, Seth Rollins walked out. Reigns speared Owens. Jericho ran into the ring. Seth met him there and gave him a Pedigree. No pop. Boy, Seth was a lot more popular back in May before WWE storytelling damaged him and ruined his character. Seth tore the announce table apart. Reigns said, "Time to break furniture." Reigns then powerbombed Jericho onto the table. Cole declared, "Shield style!" Seth yelled, "That's how we do it!" It's too late. The Shield nostalgia is not greater than the resentment of Reigns. Owens limped toward the back, but Seth caught up with him. Reigns and Seth powerbombed Owens off the stage and onto the Raw announce desk. Reigns's music played as Seth and Roman looked down at Owens.
(Keller's Analysis: Booker T told us during the Kickoff Show that "a win is a win," so does that means Reigns shouldn't be upset because he won why DQ, or that fans shouldn't sympathize with Reigns because Owens and Jericho did what they had to do to make sure the Universal Title stayed "in the family"? It's why Booker's comments are so damaging and asinine. Yet month after month, year after year, he continues to say things that completely undermine the narrative that WWE is still building around, as clumsily as they do, which is fans should be upset with heels for cheating instead of fighting a clean fight so we an all find out who the best wrestler really is.)