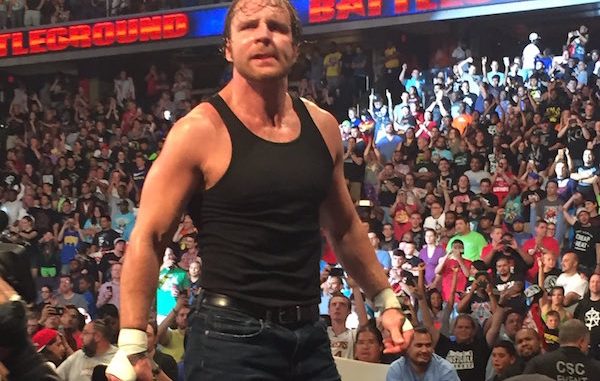 ---
SPOTLIGHTED PODCAST ALERT (YOUR ARTICLE BEGINS A FEW INCHES DOWN)...
---
SMACKDOWN PREVIEW
DECEMBER 20, 2016
DETROIT, MICH. AT JOE LOUIS ARENA
By Joey Galicia (@RamJam89), PWTorch Specialist
"YEAH, YEAH, YEAHHHHH"
Luke Harper is quite good at this whole wrestling thing. Last week he inserted himself into the bickering of Miz, Dolph, and Ambrose and was added to the no. 1 contenders match making it a Fatal Four-Way elimination. Harper proved he not only belonged, but that he can make an IMPACT, laying out his opponents with big boots, superkicks, powerbombs, and his discus clothesline. He would eventually be eliminated by the Lunatic Fringe after a Dirty Deeds, setting up tonight's big showdown (: Dean vs. Luke. These two have batted heads before, so the match should be great fun. This time Luke will not only have Bray in his corner, but the Apex Predator. Too bad his fellow Shield-mates are getting EATEN by Braun Strowman on Raw otherwise they could have helped.
"Show-off gets another chance after proving he's bad at having more chances"
Dolph Ziggler won the aforementioned #1 contenders match, and he'll get his chance at wearing gold again if he can defeat A.J. next week in Chicago. Since the brand split, Dolph has certainly been better utilized and proven that he can still produce exciting/entertaining bouts with whomever he faces. The question is, will Dolph be able to step up in the big time? History has proven he won't, but in the last week of 2016 (worst year ever) anything can happen. Hopefully A.J.'s ankle will be all healed up by then too.
"I have merch now!"
Alexa Bliss is the Smackdown Women's Champion, which is still awesome to say out loud. Not only that, but she is a smart, using her champion's advantage to hold onto her belt in her rematch against the Lass Kicker. Becky is out for blood and knows that Bliss doesn't want to face her in a straight-up rasslin match but a countout victory should get the red-head another shot. Look for Shane McMahon and Daniel Bryan (you know, general managers who actually do their job) to give Becky that chance. Either way, it's not gonna be easy since Alexa did whatever it took to become the blue-brand champ, so imagine what she'll do to retain it.
"HOW IS THIS MATCH NOT HEADLINING WRESTLEMANIA?"
Poor Zack Ryder. He single-handedly wins a title opportunity for The Hype Bros against the Wyatts and then goes down to a knee injury. I know it's not his fault, but I blame Mojo. Either way new contenders for the tag belts must be made. According to the WWE preview, there will be a triple-threat between the last three members of the battle royal from SD last week. In case you missed it, that means we are getting: Konnor of the Ascension vs. Heath Slater vs. Tyler Breeze. (I can't believe they are just giving this match away on a Smackdown) Konnor did look quite powerful last week and I wonder if the Ascension may actually get the rub, but Tyler and Fandango could certainly be an exciting prospect as well. Imagine Bray cutting a cryptic promo and then the fashion police write him a ticket for SUCH A TERRIBLE WARDROBE. BOOK IT AND WATCH THE MONEY CHA-CHING IN. Or Heath wins and we get a rematch it doesn't really matter. No one is going to stop the Wyatts right now.
"And…uh….also"
Will The Miz remind Dolph that if it weren't for him he wouldn't have even won last week? Will Ambrose be looking to keep himself in the IC Title scene? How about Baron Corbin and Apollo Crews? Crews got a victory over Miz at tribute of the troops so maybe he gets another chance at the never ending title run? Or does he face against Corbin who has been hot as of late and is looking to put a belt next to his Andre the Giant trophy?
So many questions to be answered but because it's SD they will all get answered because SD rules and Raw drools. You watching? Ryan Philippe will be there too.
---
NOW CHECK OUT LAST WEEK'S ARTICLE: SMACKDOWN PRIMER: What to expect tonight based on what happened last week with Ellsworth, Styles, Orton, Bray, Becky, Nikki