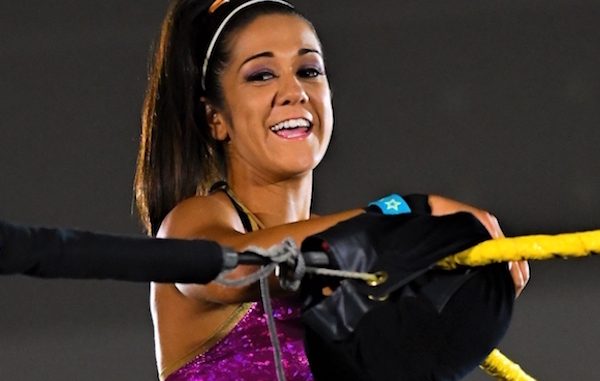 ---
SPOTLIGHTED PODCAST ALERT (YOUR ARTICLE BEGINS A FEW INCHES DOWN)...
---
In a week that saw the final WWE pay-per-view of 2016 put in the books, both Raw and Smackdown put together some very good programming. New feuds were formed and others progressed on both shows, so let's take a closer look at who stood out and who missed the mark.
RAW
RAW ALL STARS: CHARLOTTE & BAYLEY
So much can be said about how far Charlotte has come in such a short period of time. She has stepped out from behind the shadow of her father and has solidified herself as one of the top wrestlers on either roster (male or female) after winning her most important feud to date with Sasha Banks. Her overly confident and smug promo on Monday was delivered masterfully, provoking the crowd to dislike her even more. She always does the little things well and the addition of her smirk and shoulder shrug when she gets the live audience hook, line, and sinker is a beautiful thing to watch. Now it is time for her to move on. Enter: Bayley. Since the former NXT Woman's Champion was promoted she has not found any consistent momentum. Her promo work on Monday showed a new side of her character, one that got her over in NXT and something she desperately needed to convey on television. Until this point, Bayley has been simply happy to be here, portrayed as a fan-girl living out her dream in a WWE ring. On Monday, however, we got a much more confident young lady who was poised to make a run at the Raw Woman's Championship. She made valid points about her record against Charlotte and led us to believe she has a fighting chance against Charlotte. The match that followed was well performed by both and her win (even if both shoulders were not down) enhanced the beliefs that Bayley has in herself. This program has the potential to be something special with the chemistry these women have in the ring and their ability to deliver heartfelt promos that do not feel scripted. Buckle up, this is going to be good.
RAW NOTABLE ALL STAR: NEVILLE
If you look back at the mediocrity and predictability of Roadblock: End of the Line, what stood out most was the injection of Neville into the Cruiserweight Division. With hindsight being 20/20, leaving him off television for the last few months certainly helped his return as he showed a much more sinister side. It is no secret that the Cruiserweight Division has foundered since its debut on Raw. Fans have been longing for storylines to invest in and an established wrestler to take the reigns and make this into something worth watching. Neville's involvement on Sunday and his scathing promo on Monday did just that. Neville spoke with conviction and made the necessary changes to his body language, cadence, and ring work to make you believe that he is out for blood at any cost. In addition, 205 Live is now a show more people will be watching to see the impact he continues to make.
RAW UNDER PERFORMERS: GALLOWS & ANDERSON
The team of Luke Gallows & Karl Anderson personify the belief within WWE that what you have done in other promotions means nothing to Vince McMahon. These two dominated New Japan's tag division and held the IWGP Tag Titles on multiple occasions. When news broke that the Bullet Club members were coming to WWE, there was so much intrigue as to how they would be booked and the impact they would make. It is safe to say the respective answers to those questions would be poorly and almost none. On Monday, Gallows & Anderson were paired up with the rarely used Shining Stars in a decisive loss to the two best teams on Raw. Sure, the creative team has not done them many favors with the programs they have been involved with but they also have not done anything to stand out from the pack. Their match progression is usually standard for a mid-card heel team and it has been made very clear that aside from calling everyone a nerd and referencing Anderson's hot Asian wife, comedy is not their strong suit. Just the visual of seeing them on the same side of the ring as Epico and Primo was a hard one to take in and has left us wondering if there is any chance of a turn-around. Nonetheless, Gallows and Anderson are now stuck without anyone to work with on a consistent basis which makes it hard to imagine them getting any significant TV time leading up to WrestleMania.
SMACKDOWN
SMACKDOWN ALL-STAR: BARON CORBIN
The weekly Talking Smack promo machine finally got an opportunity to insert himself into meaningful, main-event storyline and he delivered. He convincingly ran down Dolph Ziggler (which is becoming a regular segment on Smackdown) and was dominant in the match that followed. Corbin is such a throwback and it is refreshing to see a heel that actually lives and breathes his character. Aside from a few photos with Corey Graves, which doesn't actually deviate from his character much, Corbin gives us every reason to believe that he is exactly the person we see on television. The slow and methodical build of Corbin has been a successful one. Rather than thrusting him right into the title picture after his Andre the Giant Battle Royal win, the WWE has allowed him to build his resume with strong and decisive victories while establishing his character. Always seems to work better that way, doesn't it? See: Ryback, Tensai, etc. for further evidence. While it is unlikely that Corbin wins the title next Tuesday, his performance warranted a level of respect and confirmed to us that he belongs in this spot. AJ's commentary most certainly helped with that.
SMACKDOWN UNDER PERFORMER: JAMES ELLSWORTH
The James Ellsworth bandwagon seems to have emptied out as quickly as it filled up. Only a few weeks removed from Ellsworth getting positive crowd reactions that were equal to some of the bigger stars on the show, its clear that the fans have realized that this was just a novelty act with a short shelf life. Sure, no one believed this chinless independent wrestler was going to beat the best competitor on the planet for the WWE Championship, but he failed to get in one offensive maneuver in and was pinned almost immediately. Being portrayed as a lovable loser babyface or even a nasty heel (if he would have been turned) could have kept Ellsworth relevant for a little longer but WWE chose to keep him fighting as a fan favorite even after he turned on Dean Ambrose. This has left him stranded in the middle with not nearly enough charisma to sway the fans one way or another. Further, the boos we heard this week did not sound like they were coming from a place of real heat like what we see with Charlotte or The Miz. On Tuesday, the fans collectively made their voices heard and tried to let WWE know that Ellsworth has run his course. Maybe this odd pairing with Carmella could be a nice mid-card spot but his loss to AJ felt like the end of what was a short and entertaining run.
Happy Holidays everyone!
---
NOW CHECK OUT LAST WEEK'S ARTICLE: ALL-STARS & UNDERACHIEVERS: Who shined and who under performed on Raw and Smackdown this week?