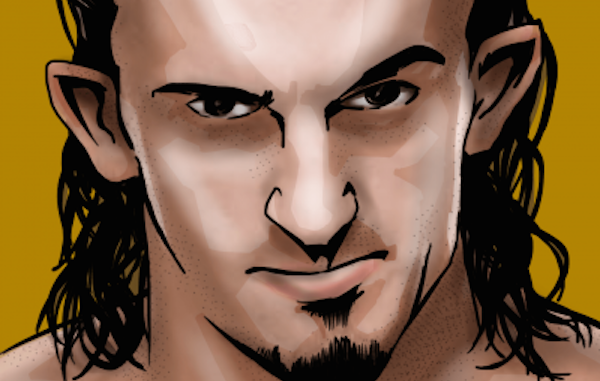 ---
SPOTLIGHTED PODCAST ALERT (YOUR ARTICLE BEGINS A FEW INCHES DOWN)...
---
RAW PREVIEW
DECEMBER 26, 2016
CHICAGO, ILL. AT ALLSTATE ARENA
REPORT BY JOEY GALICIA (@RamJam89), PWTORCH CONTRIBUTOR
"RAWWWWWRRRRRRRR"
It seems silly to say the word fear when discussing WWE prospects, but in the last two weeks there are two individuals who seem determined to make us tremble in our sleep. Neville, who returned at Roadblock and made the Cruiserweight division his own personal stomping ground, and of course Braun Strowman, who is likely wanted for murder in 50 states and all other places he's been. Last week Braun PROMISED General Manager Foley that if he didn't deliver Sami Zayn there would be consequences. Good old Saint Mickelous did nothing naturally (WOW HE'S LIKE SO GOOD AT HIS JOB SARCASM) and let the monster man tear through a portion of his roster, including Seth Rollins and Roman Reigns. If the all powerful Roman can get decimated to this magnitude by Braun, what chance does anyone have? I'm not sure where this is going but we're talking about Strowman in the main event scene and I'm totally okay with that.
"Devils come from the sky above"
The other man we fear has taken more steps towards stardom in two weeks then the previous year he was on the roster. Neville's performance on the most recent 205 was masterful, perfectly combining his unique in-ring agility with Daniel-Day Lewis esque levels of character work. He annihilated the two biggest babyfaces (supposedly) on the cruiserweight roster and his construction and cockiness will most definitely continue tonight. Whoever the unfortunate one is to get placed in his path (I'm looking at you Lince Dorado) will surely need a whole hell of a lot of Advil come Tuesday morning.
"Rise above hate aka get put in a cage just for being a friend"
Seriously Mick Foley is just a terrible person. After Kevin Owens again retained his Universal Title at Roadblock, Foley enforced his authority by putting KO in yet another title match against Roman Reigns at the Rumble. To make matters worse, Foley added the "hanging shark cage above the ring" to lock away Y2J and ensure he does not interfere in the bout even though Jericho begged him not to since he is afraid of heights. With their friendship at an all time high, what will JeriKO have to go through tonight to overcome that dastardly villain of a general manager? (Seriously, it's called a best friend, Mick; maybe you should get one.)
"Won't you be my girl"
Bayley is finally in the title scene that she deserved to be in since she debuted. Let's bask in that. Also, she clearly is the New York Giants to Charlotte's Dallas Cowboys (this season at least) because no matter how dominant the Queen has been this year, Bayley has defeated her a number of times including last week in a controversial finish. However, if there is one thing we know that the Women's Champ can do is respond. While I expect this match to get added any day to the RR, I also expect some type of beatdown by Queen B, if not tonight then soon.
"Respect vs. Rooster"
Cesaro is not only awesome with gold on his shoulder, but he also wishes to uphold the tradition of honoring greatness. Swiss-Supes praised The New Day for their incredible record breaking accomplishment and even pulled his best Bayley impression by hugging the former champs after their loss. His tag-team partner Sheamus did not. In fact, he tried his hardest to mock the dynamic trio last week, until he eventually stuck his giant Irish foot in his giant Irish mouth. Thank goodness The Club (the best) and the Shining Stars (kill me) came out to stir more controversy. This led to a mini-reunion for New Day and Cesheamus for the evening, but will the former champs look to invoke their rematch clause tonight or possibly at RR? If not, then which team will be the next to face the two foreign guys who just can't get along?
"The Beast vs. The Best 2"
Sasha Banks was prepared to do the right thing. Last week The Boss came out to congratulate Charlotte for besting her yet again on a PPV for the Women's belt and the WWE universe was ready to finally hammer a nail shut on this feud (at least for now). Nia Jax was in no mood, storming to the scene and tossing Sasha around like a child's play thing. While some thought Emma would be the one to challenge Ms. Banks… it was actually the future Mrs. Strowman (that is not a real thing but seriously what would those kids look like?) Nia who would be the next foe of the Boss. This should be fun. Speaking of Emma (aka Emmalina) will she ever grace us with her presence?
"Other stuff"
The tension between Noam Dar and Cedric Alexander is heating up and poor Alicia Fox is right in the middle. Each man has a win over the other, so sooner or later we're going to get a rubber match. That is if these two can survive Adrianne Neville's murder spree.
Cass, Rusev, Enzo, and Lana: I'm not sure what to expect or what's going on but something will probably happen so expect fireworks, big boots, accolades, and the skywalker-skytalker to thicken the plot.
Night one of WWE in Chicago. Will you be watching?
---
NOW CHECK OUT LAST WEEK'S "RAW PRIMER": RAW PRIMER: What to expect tonight based on what happened at Roadblock including New Day rematch, will Sasha show up, what's next for Charlotte