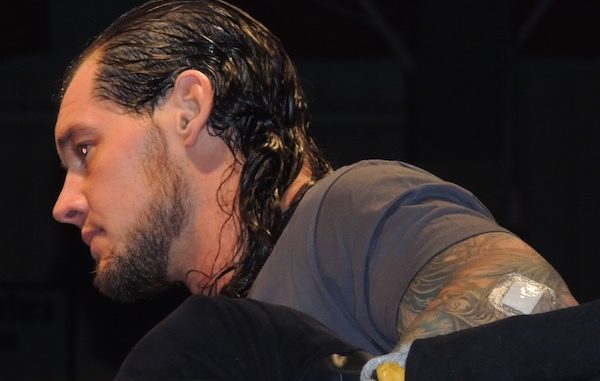 ---
SPOTLIGHTED PODCAST ALERT (YOUR ARTICLE BEGINS A FEW INCHES DOWN)...
---
SMACKDOWN PREVIEW
DECEMBER 27, 2016
CHICAGO, ILL. AT ALLSTATE ARENA
By Joey Galicia (@RamJam98), PWTorch Specialist
"Your attitude may need adjusting"
Do I have a hangover from Christmas or am I really excited for John Cena to return tonight at Allstate? Johnny boy has been busy with projects away from WWE such as filming American Grit, hosting Saturday Night Live, and snagging a lead role in a movie with Ike Barenholtz. In his absence, he's left the blue brand to be run by the Phenomenal A.J. Styles. Knowing Cena's history, he may insert himself right back into the title scene. However, don't forget about Dean Ambrose, who has been trading promo's with John back on forth on Talking Smack, and could be the possible opponent for the Cenation at 33. There is also the option of him having a dream match versus the Undertaker, who has been seen backstage, onstage, above stage, and every where else you can imagine because he's a wizard sorcerer. No matter what happens, I expect the former face that runs the place to  amp up the Chicago crowd because he hasn't been seen since he ate the pin at No Mercy.
"ALL THE GOLD…ALL THE GLORY"
Smackdown is treating us with three title matches tonight, and all three look to be like a great deal of fun.
The main event: A.J. Styles vs. Dolph Ziggler vs. Baron Corbin for the WWE Heavyweight Championship. This marks the first time The Lone Wolf will compete for a title and it's only right that it's for the company's biggest prize considering how well he's been performing on TV and PPV as of late. Ziggler, on the other hand, has been in multiple title matches since the brand split, facing Ambrose in a high-profile match at Summerslam, and  of course his Feud of the Year with Miz and the IC belt. Ziggy has unfortunately not won many of those bouts, and I think even he sees his opportunities running out. A.J., on the other hand, is flying high after finally conquering that little twerp James Ellsworth and getting him stretchered away (my hero). Last week he stood tall to close the show when he layed out his opponents with a steel chair.  I think it's safe to say that the real winners of this one will be the crowd, because this match has all the ingredients for MOTN.
"FATAL"
The stronger-than-ever Wyatt family will be defending their tag team titles in a four-corners elimination match against former champs Rhyno & Heath Slater, American Alpha, and those superkick-partying Usos. Original contenders were suppose to be the Hype Bros, but Ryder injured his leg winning the opportunity for his team (because Mojo Rawley is useless) and may be out for up to six monhs! Multi-man tag matches are either really fantastic or a complete mess. I expect this one to be the former.
"Luchador Lass-Kicker"
Last week Becky Lynch showed off her chameleon like abilities by defeating Alexa Bliss under the disguise of a luchador. While EVERYONE was fooled (sarcasm, but either way it was awesome – suspend your disbelief, haters). Bliss was unhappy going into the match because she knew she'd have to defend the title tonight after her attempts at faking a leg injury were not taken seriously by GM Daniel Bryan. Becky seems to have the same focus that Alexa had when they went at it at TLC. That's a big reason (IMO) that this feud has worked so well. It really seems like a fight and that these two generally dislike one another, and it seems it's more about gameplan and strategy than flash and entertainment. If there's a belt that could change hands tonight, my call is this one.
"Defending titles is a Miztery"
The one belt that will not be on the line (as of now at least) is Miz's Intercontinental. He defeated Apollo Crews, last week but ate a vicious slap from Renee Young after making some statements regarding her relationship with the Lunatic Fringe. Will Miz be looking for revenge? Will Maryse call out Renee? Will this miraculous title run ever come to an end? NO. IT WILL NOT. MIZ IS KING.
Speaking of Fringe Lunatics what will Ambrose hope to achieve tonight at Allstate? He could continue to pursue Miz as he has been since TLC, but he may also be ready to beef with former enemies The Wyatts, who left Dean unconscious after he defeated Luke Harper. Miz did come in after and take a cheap shot, so maybe Dean just gets a hot-dog cart, some brass knuckles, and goes after everybody.
"I DID IT YOU, BITCH."
I've watched Natalya's promo about a 1000 times. Her character, which has barely been hanging on for so long, was reborn last week like a phoenix from the ashes or whatever that reference is. It's promos like that which make these in-between filler feuds feel special, and the payoff to her clash with Nikki Bella will be worth the wait.
Yours truly will be attending the ruckus Chicago crowd for Smackdown tonight. (Hopefully no "C.M. Punk" chants since Stephanie shut those the f— down last night). Hope you tune in to watch, because this episode of TV has drama and high stakes written all over it.
---
NOW CHECK OUT LAST WEEK'S ARTICLE: SMACKDOWN PRIMER: What to expect tonight based on what happened last week with Harper, Ambrose, Ziggler, The Miz, Bliss