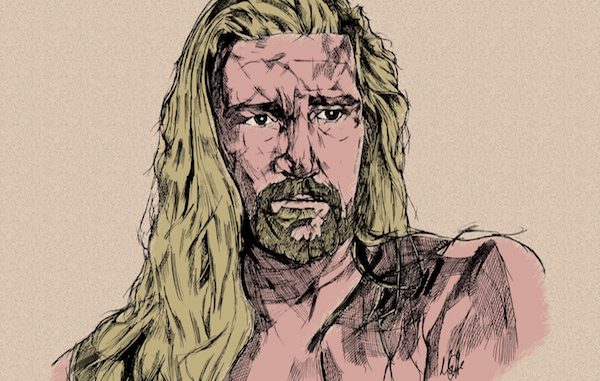 ---
SPOTLIGHTED PODCAST ALERT (YOUR ARTICLE BEGINS A FEW INCHES DOWN)...
---
PWTorch was issued the following release by The Kevin Gill Show…
Episode 109 of Kevin Gill Show is out now on Podcast Arena, Audio Boom and iTunes! Always recorded in person because Skype can't capture the HYPE!
Chris Hero returns to talk independent wrestling, changes in the industry, Kevin Owens, CM Punk, Battle Of Los Angeles, Sami Zayn, WWE, NXT, Beyond The Mat, developing talent, Super Dragon, perfecting your craft, tape trading, Wrestling Retribution Project, Vader, Will Ospreay, Jeff Cobb, Timothy Thatcher, Pro Wrestling Guerrilla, Wrestlemania, John Morrison, Pentagon Jr, the Last Battle of Atlanta, Kassius Ohno, Jake Roberts and what's next for Chris Hero! Plus an all new #AskKG !
Quotes From Chris Hero:
On wrestling's growth – Art constantly evolves, and pro wrestling is very much an art to me. It's just a mixture of every art you can imagine. It's constantly moving, constantly growing, constantly changing in different directions. The product you see now, the performers, the events, the promotions, the fans, we were all inspired by years previous. That's why the envelope gets pushed.
On his future – I could rest on my laurels, have given a greatest hits tour of the best of Chris Hero, and do a little bit of this and that. There's no challenge in that. I want to come up with new things and still have them (the audience) eating out of the palm of my hand.
On fans and working stiff – Some people don't understand that you can't tell if it's stiff unless you're in there. Because some things have happened to me in matches that look dangerous and unsafe, and I've felt like a new born baby. And there's other things that look routine and really fuck you up.
The influence of PWG – It's not just a stylistic influence because of the matches. It's not just an organisational influence because of how the shows are structured. One thing that a lot of people don't realise is wrestling fans watch the PWG shows and they see how much god damn fun the fans are having. It inspires the crowds of other shows to just lose your mind.
On his time in FCW and NXT – My cup of coffee there was twenty one months total. A lot of awesome moments and it helped shape who I am today and the wrestler that I am today.
On changing landscape of wrestling – The landscape of wrestling has changed, and it's change from the WWE down. There were some very revolutionary figures that went through between Daniel Bryan and CM Punk. Those guys were two revolutionary guys who kicked the door open and they made people go "Oh, these guys can make it". And then that opened the door for a Sami Zayn, a Kevin Owens.
On developing talent – It is incredibly hard. Especially because before you had WWF, WCW, ECW, and then a bunch of former territories. So that is where you can sharpen your sword, all these different places. Once it turned into OVW, yes you can learn a lot but there are different crowds, different interests, so as time went on it became harder and harder for everybody to figure out how to manipulate all the different crowds. The developmental system in the way it was made it hard for guys to learn how to become stars in front of multiple types of crowds.
On different styles in wrestling – It used to be that you had guys that did German Suplexes, and then you had guys that did dives. You had guys that had personalities, and then you had guys that were technicians. Now you have guys that are power wrestlers that can high fly, with a good character and they're good technicians. Everybody is trying to be the complete package.
On Jeff Cobb – He does not realise how good he is, or how good he has the potential to be. So it's just a matter of working toward that and to be yourself. He's such a nice guy, so polite, he doesn't want to over extend himself. He's got to just hold himself in high regard and he's going to be incredible. He's going to be even way better than he is now.
On his history with CM Punk – Our very first match, because we were idiots and didn't know how to read a crowd and we were just doing stuff that we thought was fun, and curtain to curtain we went like 50 minutes. Eventually we had a good match that was about 30. We had a tables and ladders match that tore up a building and that was around 50 minutes. Then we had a 60 minute draw. And eventually the legendary one: the two out of there falls, ninety minute time limit match.
Chris Hero returns for PART TWO of this in depth conversation next week to kick off the new year! Thanks for all the love and support. It means a lot. HAPPY NEW YEAR!
https://itunes.apple.com/us/podcast/the-kevin-gill-show/id788371911?mt=2
@OGKevinGill on twitter!
www.KevinGillShow
http://facebook.com/KevinGillShow