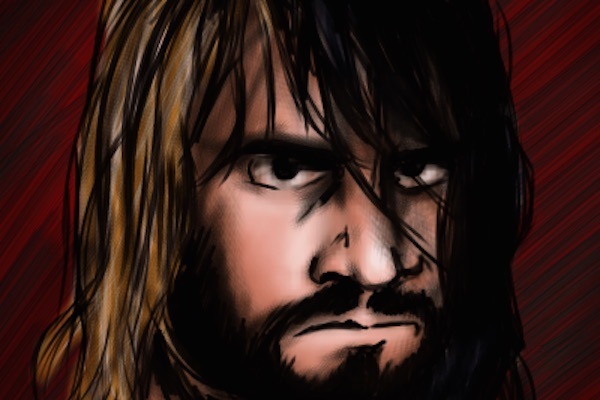 ---
SPOTLIGHTED PODCAST ALERT (YOUR ARTICLE BEGINS A FEW INCHES DOWN)...
---
Happy New Year everyone!
With no new matches airing on Impact this week, TNA gets a pass here at Best/Worst of the week, which means we're going into overdrive on WWE! No worries, though, they had quite a few things to complain about (believe it or not), and a bit to celebrate as well, so let's close out the year with a look back at the week that was in McMahon Land.
And hey, if you weren't overly thrilled with the past seven days, just remember that any episode of Raw near New Year's Eve that doesn't feature a full-grown Hornswoggle being born to a senior citizen is a good way to end the year.
WORST
5. This Line
"I don't know what you got in his purse. His snowballs… or the whole yule log, but you gotta give it back to him." – Seth Rollins on Raw to Stephanie McMahon.
No self-respecting grown man who is trying to get other grown men to think he's cool would say that line. John Cena may have returned this week to action on SmackDown, but Seth Rollins seems to be performing his leftover material from 2007 lately on Raw.
4. The Hero We Needed
We were spared from The Shining Stars vs. Bo Dallas & Darren Young on Raw due to the brave actions of Braun Strowman. Without him, we would have sat through three to seven minutes of a really boring match. The live audience responded in kind to that heroic gesture, and greeted him with "thank you Strowman!" That's hopefully not the reaction that Vince McMahon was looking for, but really, what else was he expecting?
WWE seems to have developed a weird habit in 2016 of purposefully presenting bad TV, in the hopes that the person who ruins the segment will be cheered. It's near the top of the Roman Reigns playbook, except he's a face so we're supposed to be appreciative of him "saving" us. What was the logic behind Strowman? Really, though, maybe it's just best not to deliver bad TV in the first place.
3. Charlotte vs. Bayley and Kevin vs. Roman
It was just a few weeks ago that I harped on Roman and Kevin Owens facing off on Raw to set up a pay-per-view match, but this week WWE has done it again, because they could think of absolutely nothing else to deliver on their behemoth three hour show. So basically, we get a match for free, then have to pay for it, then get it for free, then have to pay for it again. It's madness! There are other ways to build rivalries! One of the absolute biggest matches the company can deliver means almost nothing due to how often we keep seeing it.
Things are no better for the women on the show, as mathematically, there is no way to keep Bayley and Charlotte apart. There are simply not enough competitors on Raw for that, so the two had to battle two weeks in a row on TV. This will then lead to another match at Royal Rumble, and then probably some other version of the two at WrestleMania. Throw in a handful of tag matches they've competed against each other in recently, and now the two biggest women's feuds the Raw brand can muster up in the foreseeable future (Charlotte vs. Sasha, Charlotte vs. Bayley) are already played out.
2. Asuka vs. Nia Jax
NXT could have just run a "best of" episode to close out their year, but instead they gave us footage from their show is Osaka, Japan in early Dec. That was certainly nice of them! While it was a cool to see Asuka competing in her home country, her match should have been left off the broadcast.
Besides Jax botching multiple spots to various embarrassing degrees (she missed a freaking punch!), she shouldn't be seen losing on TV yet. We saw her foolishly tap out to Becky Lynch at Survivor Series, and now Asuka defeated her cleanly in a match that went on way, way too long. So uh…shouldn't they trade places or something on the brands? It's best not to open up questions like that, and it's best to not overexpose monster heel acts. Just imagine watching Braun and Seth go 16 minutes on Raw, and see how well that would have gone!
1. The Dusty Bear
Every now and then, it would just be pleasant to have a nice moment in wrestling that we could all share. Bayley giving Goldust a Dusty Bayley Bear was a bit of a touching thing to witness. But wrestling being wrestling meant that bear was not long for this world. Gallows and Anderson decided to rip the head off the thing, and for what? A forgettable midcard tag match to get over two guys that have effectively been buried ever since they debuted?
I'm not personally offended by the decapitation of the polka dot bear, but if you're going to do something emotionally disturbing like that (imagine someone ripping up a doll of one of your dead relatives!), then it should at least mean something. In any other TV show that would have been a huge deal! That incident should spark a personal angle filled with revenge; Goldust should be on a storyline warpath to avenge his father. But that's not the direction we're heading in. WWE doesn't care about Goldust. There just isn't anything good about to come out of this, so it would have been best not to do it at all.
BEST
5. Gallagher Continues To Impress
Jack Gallagher is one of the few faces on the WWE roster who isn't incredibly lame, which is an odd thing to say due to the nature of his goofy gimmick. That means it's only a matter of time before McMahon screws this up and makes us all resent his character's existence. Damn, my 2017 optimism is already gone!
Anyway, this week Jack shined with his duel challenge to Ariya Daivari on Raw. While the segment itself on 205 Live wasn't one for the ages, it was on the higher end of what WWE produces for those type of silly skits. The Englishman is somehow becoming the lovable scamp that hardcore and casual fans can get behind, like a Daniel Bryan-type. Now, it's way too early to imagine that he'll achieve success anywhere near that level, but he's certainly been a valuable member to the roster so far, and seems to have a big upside. Don't screw this up creative!
4. Steph/Punk
The worst noise in all of wrestling is hearing Stephanie McMahon's theme song opening up a night of Raw. Now with that said, she had a pretty solid dig at C.M. Punk in his hometown of Chicago with this line: "If you guys could keep that up for about two minutes and 15 seconds you'd last one second longer than Punk did." Ouch. Well played. That line immediately quieted the crowd, as there was really no good way to argue with her factual point.
3. American Alpha Wins Gold
Personally, I would have built American Alpha up for a few more months before having them win the tag titles. We really don't know much about them, so WrestleMania seems like it would have been a better place for them to become champs, and even that feels too soon. But winning the gold sure beats Gable and Jordan pushed as a largely irrelevant act, which they have been through most of their run on SmackDown. It's also nice to have a few surprises in wrestling, as it seemed rather unlikely that there would be a title switch in the eight-man tag. It makes future matches where a title seems like a lock to not change hands feel a bit more intriguing. Let's hope this plays out well for the promising duo.
2. Cena's Return
Cena is still far and away the biggest star in the company. When he's on a show, it feels that much more important. WWE desperately needs a few more acts like that. His promo on SmackDown came off as arrogant, and had a bit of a plot hole (so once you reach a certain level of success you can have a title shot anytime you want? Why has that dummy The Undertaker never thought of that?), but overall it started off the last show of the year on a hot note.
The most intriguing thing Cena had to say was calling the new era "bs." While it is very, very unlikely to lead to any sort of an actual heel turn, it was a noteworthy segment that also helped SmackDown score a rare ratings victory. With the show being more consistently entertaining than its counterpart on Monday nights, hopefully that trend continues, so perhaps Vince can take notice and figure out why. He'll likely conclude that James Ellsworth has something to do with it.
1. The SmackDown Main Event
Now Roman Reigns vs. Kevin Owens was the "bigger" main event of the week in WWE, but SmackDown's triple threat was the far superior match of the two. We knew the ending was never in doubt (how bizarre would it have been to see Ziggler vs. Cena at Royal Rumble?), but the journey to that destination was still entertaining to watch.
The match featured some great creative spots, highlighted with a fun double jump onto Corbin by Ziggler and Styles onto the announcer's table, and an incredibly cool End of Days/Zig Zag combo. Corbin was protected in his loss, and continues to impress as a badass big man. Also of note is that WWE is unexpectedly doing a nice job of promoting the Rumble this year, as we at least know our title matches weeks ahead of time. It was a surprisingly strong way to close out the year, and no adult male was born on-air. What more can you ask for?
It's time to tap out, but I'll be back next week with more of the best and worst in wrestling. Thanks for reading!
NOW CHECK OUT THE PREVIOUS COLUMN: BEST & WORST OF THE WEEK (Thru 12/16): Total Nonstop Deletion, Sparkle Crotch, Uranus, New Day, Harper, Gallagher, Foley-Zayn
---
(This is a new edition of Andrew Sousek's new "Best & Worst of the Week" feature. It will run on a weekly basis right here at PWTorch every weekend.)