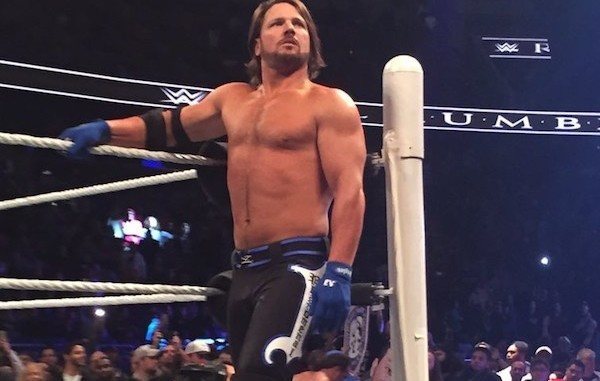 ---
SPOTLIGHTED PODCAST ALERT (YOUR ARTICLE BEGINS A FEW INCHES DOWN)...
---
It was a pretty interesting week in professional wrestling. Smackdown had one of its best post-brand split episodes so far, Raw teased us with Titus O'Neil potentially joining New Day, and TNA dove right into its newest, greatest era ever. The biggest change they had on Impact? New ring aprons with the Anthem logo on it. Things really have changed!
But what was the best of it all this week? What was the worst? Let's dive on in and find out.
WORST
5. Karl Anderson Goes 13
Karl Anderson wrestling 13 minutes against Cesaro on Raw is one of the worst moments of the week? To me it is, and it has nothing to do with the man himself, it's because of how he's been portrayed on TV. It's unfortunate, but Anderson has been positioned as one of the weakest members of the roster since he debuted in WWE. His last few televised singles matches were losing to Enzo Amore, losing to Big Cass in a minute, losing to Big E in three minutes and losing to John Cena in two minutes. We've basically been shown that he's a loser. So when he goes toe-to-toe with someone who has more credibility than him, the story doesn't feel like Anderson is suddenly getting better as a wrestler and is on a roll, it feels more like they just needed to kill more time on Raw. Even though it's not right, he'll likely move right on back to jobbing in short order.
4. Jax Does The Job
Having only half-a-dozen women on each brand continues to hurt both shows. There had to have been a better way to get to Charlotte vs. Bayley and Sasha Banks vs. Nia Jax than by having Jax lose in three minutes. She's supposed to be the Braun Strowman of the division, but over the past couple months we saw her tap out to Becky Lynch, lose to Asuka and now Bayley has taken her down too. Even though it was due to a distraction, they should have saved her getting pinned on the main roster for when it could have actually meant something. Eventually they're going to have to run a Bayley vs. Jax program, but we've already seen the underdog win, so it's going to feel that much less special when it plays out down the line.
3. Decay vs. Trevor Lee & Andrew Everett
TNA's X Division is in shambles. TNA's Tag Team Division is also in shambles. One of the few men competing in both divisions is Trevor Lee. The man has a ton of potential, but for some reason management doesn't see it. He rarely talks and he almost always loses, and he usually does so in short order. On Impact, he teamed up with Andrew Everett, and the two were destroyed in three minutes by Decay. It just doesn't make a lot of sense to take two promising young guys, and effectively make them a lower-card comedy duo who can be defeated with ease. TNA does not have the roster depth for that. They could have easily called in two local Florida guys for that role.
To add further confusion, the DCC went after Decay after the match. The presentation didn't seem to deliver a clear indication of who fans should be cheering for. Even though DCC got in a cheap shot, we probably should be on their side. Since Crazy Steve murdered a dude at Tag Team Apocalypto, perhaps they were getting some revenge for that guy's family. That's gotta be it!
2. Too Much of a Good Thing
Along with Mick Foley, Kevin Owens, and Chris Jericho opened up Raw. Owens had a 15 minute match with Seth Rollins as soon as the segment was over. Jericho and Roman went another 15 minutes later on in the show. The two best friends then closed out the night with the Kevin Owens Show. It felt like way too much. Maybe they could give someone else a chance to talk or wrestle? That Rich Swann guy might have something to say. Or hey, see if Goldust is still mad that Gallows and Anderson ripped the head off a bear that represented his dad. That was a thing that happened. Does he have any further thoughts? No?
Well, anyway, ever since Raw went to three hours, it seems management picks an act to anchor the show, and then they rely on them for months and end up overexposing them in the process. First it was CM Punk, then it was Seth Rollins and now it's Owens and Jericho. If Raw were two hours, the act would be something to look forward to every week, but creative is continuing to stretch it out to about as thin as it can get. Eventually that approach is going to backfire, so they should start laying off a bit on them before it's too late.
1. TNA Plays It (Too) Safe
Last year was perhaps TNA's strongest one ever from a creative standpoint. However, there were some big shake-ups behind the scenes that saw Billy Corgan getting booted from the company. With new owners in place it would have been nice to see the company go all out in on their first "live" show in weeks. Perhaps I was expecting too much for this new era.
I was hoping for something newsworthy, like when Eric Bischoff and Hulk Hogan came to town. Obviously whatever they could muster up now wouldn't be anywhere near that big, but was it too much to expect something interesting? There was no Jarrett (who may never appear on TV), no Mantell, nobody new except for Swoggle (who appeared at Total Nonstop Deletion). Even The Hardys, the hottest act on the show, only appeared to set up a meaningless tag match for the pay-per-view the following night.
Anything new would have been nice. A different announce team would have got the year off to a great start! Or really, just something to get people talking. While the episode was fine, it was completely forgettable and didn't deliver anything remotely buzzworthy. If you were looking forward to the show to see what kind of changes were in store for TNA's future, you likely left disappointed.
BEST
5. Just Signing Some Contracts
Contract signings seem to be a bit overdone these days in wrestling. Usually they're pretty bland affairs, but on occasion, they do make their upcoming matches feel more important. This was the case of A.J. Styles and John Cena on SmackDown this week. Cena showed a lot of fire in his promo, and didn't toss in anything overly embarrassing or lame, which as one may have noted, he's been known to do on occasion. He showed that when he's on, he is still the best in the company when it comes time to cut a serious promo to take a feud feel to that next level. Seth Rollins, Roman Reigns and Dean Ambrose should all take note.
4. Edwards vs. Lashley vs. EC III
While I mentioned before that Impact was a disappointment this week, the wrestlers themselves still gave it their best, and the main event of the show delivered one of the best matches of the week. Edwards may not be catching on yet as a personality, but in the ring he continues to do good work. Despite the loss, Lashley got to look dominant, because the two faces ganged up on him throughout most of the match and yet he still got to toss them around a bit. Hopefully creative has someone new in mind to challenge Edwards, as the battles between these three are played out. If they want to continue investing in him as the champion, then they really need to give him a strong opponent and storyline to bring something out of him as a character.
3. The Kevin Owens Show
As noted, there was too much of Owens and Jericho this week, but the last segment of Raw was an entertaining way to end the night. Seeing Roman and Goldberg in the ring together at the same time was an interesting moment (though it probably didn't get the pop that management was hoping for), and it helped add some extra intrigue for the pay-per-view.
My fears were alleviated for the segment when Goldberg still got cheered when he went up against the two heels. Jericho and Owens are so likable, and get beat up so easily, that I thought fans may rally to their side over the rarely seen babyface. It was refreshing to see everyone playing along! The company also did a nice job this week of inserting Braun Strowman into the mix (and Baron Corbin over on SmackDown) into the Rumble talk. Very rarely have they featured so many credible wrestlers this far out for the match, and it is incredibly refreshing to see.
2. Last Man Standing
Going into the feud, it seemed there was no good way out of it. Either Strowman was going to have to take an unnecessary loss, or Zayn was going to have to be destroyed and look like a jobber in the process. However, WWE has done a surprisingly nice job of keeping both men strong. Zayn's character showed some great heart in defeat on Raw, and Strowman continued to look like a remorseless beast. The last man standing match won't be remembered as a classic, but it was an entertaining brawl that delivered just enough hope spots for a Zayn win to feel possible. To top it off, who the hell ever thought we'd hear a "This is awesome!" chant during a Braun Strowman match?
1. Ziggler Finally Turns
This is probably two years overdue, but at least it's happening. In the summer of 2013, Dolph Ziggler turned face and many of his fans were excited over the idea. Maybe he had quite a bit of untapped potential, and could become a major player. It never came closing to panning out that way. He just never clicked as a face. He bragged too much. His humor was too goofy. He dressed like he was from the '80s. And in 2016, he started giving Mick Foley a run for his money for the person who needlessly screams the most on TV. So with all that in play, it was well past the point of letting us boo him again. Hopefully he can regain some of his momentum from a few years ago, but even if he doesn't reach those heights again, he should still be able to put on some entertaining matches with Kalisto and Apollo Crews in the future.
Time to kick out.
Thanks for reading. What was your best and worst moments of the week? Sound off below if you're reading on our desktop website.
---
NOW CHECK OUT LAST WEEK'S ARTICLE: BEST & WORST OF THE WEEK (Thru 12/30): Dusty Bear, Snowballs and Yule Logs, Steph's Punk comeback, Alpha, Gallagher