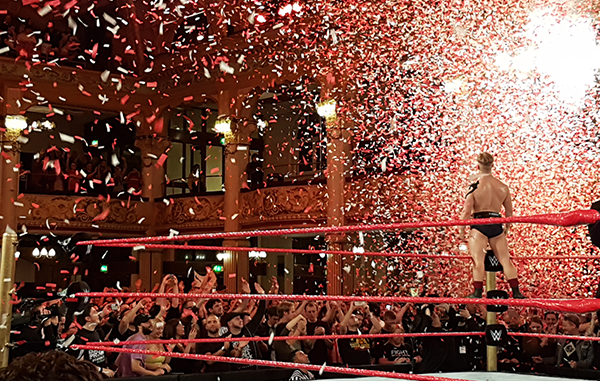 ---
SPOTLIGHTED PODCAST ALERT (YOUR ARTICLE BEGINS A FEW INCHES DOWN)...
---
WWE NETWORK: PICK OF THE WEEK
Pick of the Week: WWE United Kingdom Championship Tournament (Part 1 & 2)
Event Date: January 14th and 15th, 2017
Location: Empress Ballroom in Blackpool, England
Greetings, grapple fans! Thanks for joining me once again, as I dive head first into the wonderful world of the WWE Network! After having had the privilege of attending the WWE's amazing UK Championship Tournament here in England this month, I've had a week to reflect on the event and its overall impact within the professional wrestling landscape, as well as how this UK special stacks up against more traditional WWE programming.
The first thing that hit me when watching back the UK tournament on the WWE Network, was just how different the product feels in comparison to a more typical WWE live show. Much like WWE's "The Beast in the East'" event from Japan in 2015, this live UK special has its own distinctive tone and attitude. The Empress Ballroom, situated in the heart of Blackpool, oozed Regal (no pun intended) heritage and provided that extra nugget of English charm, to add to the historic context of the tournament. With so much live weekly content on TV, anytime WWE decides to change up its formulaic presentation normally always results in a big Jim Duggan-esque "thumbs up" from me!
When WWE trades in its large-scale production for a more modest (dare I say Indy?) set up, it induces an "anything can happen" mentality for the audience, and most importantly it directs the focus and attention back onto the in-ring talent.
For those of you on the fence about watching the UK tournament, whether it's because it doesn't contain the same global name value as other WWE offerings, or maybe your already swamped with Raw, Smackdown, NXT, etc. I urge you to make some time for it this week and watch it! I can assure you that after the show is done, you'll be scouring the web to find more clips and information on some of these guys. Although not every offering on the card delivers a 5-star match, each competitor does offer something a little different bell to bell, which keeps the first round matches unique enough from one another, and avoids audience burn out.
Having seen a few of the guys perform at independent UK wrestling shows previously, I knew the calibre of talent was going to be high across the two days, however there were three performers in particular, that stood out as being on that next level, in terms of both in-ring ability and performance.
Firstly, there's the "Bruiserweight" Pete Dunne, who at the age of 23, is already considered somewhat of a young veteran in the UK. Working his way around the British independent scene over the last decade, including some short stints overseas, Dunne's style is a combination of technical mat wrestling, coupled with a hard hitting, aggressive edge. During many of his matches in the tournament, Dunne can be found working a body part, slowing down the pace of his matches to suit him, and trying to inflict as much pain on his opponent as possible. Arguably the most well rounded character of the tournament, the "Bruiserweight" demonstrates supreme confidence and a nasty mean streak, and when he makes his way down to the ring for a match, you know someone is about to get hurt.
Another honourable mention from the tournament was the high-flying Welshman, Mark Andrews.
Andrews offered an energetic, cruiserweight style of action to the tournament, and his top rope antics gave the crowd a myriad of unforgettable moments. Although other wrestlers on the show did utilise some high-flying offence, it was Mark Andrews who delivered a more fluid style of performance and strong, dynamic in-ring work throughout. His semi-final match of the tournament with Pete Dunne was fantastic, and highlighted a chemistry that had developed from years of working in the ring together previously.
Lastly, there's the young breakout star of the show, and fan favourite, Tyler Bate. At just 19 years old, Bate exhibits a command of the ring far beyond his years, and never showed signs of cracking under the pressure of the "big leagues." Tyler Bate is equal parts power and speed with an "old school" look and fight style. He is neither a straight up technician nor grappler, but a wrestler with quick fists, vast upper body strength and a dynamic move set. A true fan favourite of the weekend, he could elicit a pop from the crowd with a mere wave of the hand!
Bate, alongside fellow finalist Pete Dunne, had to wrestle three matches in one night (their fourth overall) and I was impressed with both men's ability to vary up their multiple match-ups, and create new, fun moments in every round. Both men saved their best performances for the final showdown, and the crowd ate up every second of their encounter bringing a big match feel to an already electric audience. A gripping, back and forth affair, these two were given proper time to shine. The live crowd wanted a feel-good moment after two days of intense competition, and they got it! In the final moments of the match, we eventually saw the young baby face Tyler Bate get the pin fall, and have his hand raised in victory, to become the first ever WWE United Kingdom Champion. The booking for the tournament was more or less spot on throughout (I would have liked to have seen a Trent Seven vs. Tyler Bate, mustache vs. moustache, semi-final but hey ho), and the WWE were wise to end the tournament with the fan favourite on top rather than finish the night with a shock upset.
From the incredible in-ring action to the unique production, and even the reasonable price of admission (it has got to be the cheapest WWE event I've ever been to!), for me the WWE delivered on what they set out to do. They captured a little piece of UK Wrestling and brought it into the spotlight. The British wrestling scene has been bubbling up slowly for a while now (check out promotions such as ICW or PROGRESS Wrestling) and it feels like we're on the cusp of something very special just on the horizon. The WWE UK Tournament is hopefully the catalyst for something even bigger, not just for the fans, but for the incredible UK wrestlers themselves who truly deserve a global stage to perform on.
There's not a lot of concrete information on how the story of the UK Championship title goes from here. Do we get our own new weekly UK wrestling show much like NXT? And if so, when and where? Would the champion be allowed to tour around the UK and visit other promotions, and act as an ambassador for WWE and British wrestling simultaneously? Time will tell, but one thing's for sure – judging by the talent at the WWE UK Tournament, British wrestling is in very safe hands indeed.
---
NOW CHECK OUT PREVIOUS COLUMN: WWE NETWORK PICK OF THE WEEK: ECW Heatwave '98 – An event at the peak of ECW with impressive roster depth and compelling content