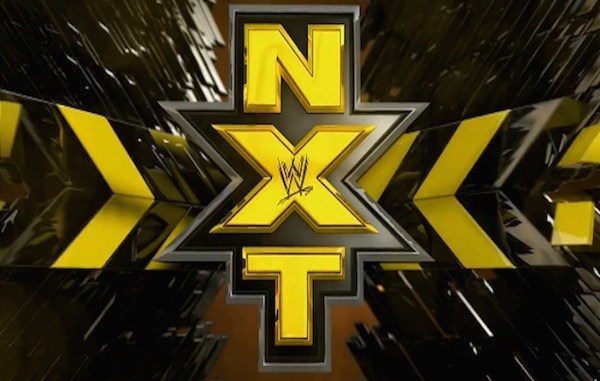 ---
SPOTLIGHTED PODCAST ALERT (YOUR ARTICLE BEGINS A FEW INCHES DOWN)...
---
NXT REVIEW
JANUARY 25, 2017
TAPED AT FULL SAIL UNIVERSITY
AIRED ON WWE NETWORK
[Q1] No pre-credits video, but the announcers hype a "Fatal Four Way Face-Off" between the Asuka, Billie Kay, Peyton Royce, and Nikki Cross. And then Ember Moon's music hits to bring her out. Hard to imagine Liv Morgan winning against Ember Moon without a significantly dirty trick. New ring gear for Morgan, red velvet.
1. EMBER MOON vs. LIV MORGAN
Some one-ups-manship early on and shows of sportsmanship. Interesting to see this kind of mat action from Moon. Morgan barely gets a one count, then Moon dodges in the corner and lands a high knee followed by a fallaway slam into a two count and right into a crossface. Morgan tries rolling into a cover but Moon rolls through and back into the crossface. Morgan is stuck mid ring, bridges into a cover to break the hold. Jaw breaker lets Morgan start a rally. Guillotine mid-ring but Moon powers her into the air and throws her over the top tope. Great show of strength from Moon. Sliding kick on the apron to Morgan on the outside. Moon preps the Eclipse and nails it.
Winner: Ember Moon in 3:58. Morgan got some offense in, but not enough to justify her talk last week that she was ready for the next level. Morgan is becoming more reliable in the ring.
Post-match, Moon offers Morgan a hand up then leaves.
[ J.J.'s Reax: This felt like a setup to turn Morgan heel, and they didn't go down that route, refreshing to see a wrestling show not always use the same tired formulas. ]
Backstage interview with Andrade Almas. Almas starts talking tough about his match with Roderick Strong, but Strong comes out and challenges Almas. Almas walks around, then jumps Strong.
Video package showing us how #DIY became the NXT Tag Team Champions. Then Paul Ellering reading from the Book of Pain.
[Q2] No Way Jose is out to lighten the mood a bit. He's facing the struggling Kona Reeves.
2. NO WAY JOSE vs. KONA REEVES
Jose shakes his hips a bit. Then he shimmers to annoy Reeves into letting go of a waistlock. More fun from Jose. Reeves backs into the corner to avoid the baseball punch. Reeves apologizes then does some dancing, then jams his hands into Jose's throat. Jose gets fired up, but manages to land onto Reeves' shoulders and take a Samoan Drop. Reeves surfs on Jose's back, elbow drop for one. Reeves with an abdominal stretch, but Jose with a hip toss of sorts to escape. Reeves dodges the baseball punch, but runs into a popup baseball punch.
Winner: No Way Jose in 4:03. Reeves didn't show much here.
In-ring promo is about to start with Jose, but Elias Samson interrupts to boos. He has a song just for Jose. Jose starts talking on the mic to cut of Samson and says that his song sucks. Jose gets the crowd to sing "Just drift away" to the "No Way Jose" song. Samson charges the ring but a big right from Jose keeps him out of the ring.
[ J.J.'s Reax: obvious where this is going, but Jose already has gotten the upper hand on Samson so the booking feels a bit off. All the same, I won't object to seeing these two in a ring with a serious beef. ]
Chris Atkins is coming to the ring for his NXT debut. He's facing Eric Young. "Last week" interview with Tye Dillinger. Dillinger acknowledges that Young has backup, but Dillinger cuts a strong promo vowing to take them down. Damo is renamed Killian Dain.
[Q3]
3. ERIC YOUNG vs. CHRIS ATKINS (w/Sanity – Nikkiy Cross, Alexander Wolfe, and Killian Dain)
Atkins is much larger than Young, but a hand to the face lets Young get the edge. Young mocks Dillinger by flashing tens in Atkins' face as he clobbers Atkins. Young with the wheelbarrow slam for the win.
winner: Eric Young in 1:54. Quick match to make Young look like a threat without Sanity's help.
Post-match, Young cuts a quick promo telling Dillinger that he made a bad choice, and Dain emphasises with a running senton to Atkins.
Shots of Shane Thorne getting surgery on his knee, and an update saying that he will be out for 7 – 9 months.
Video package recapping Shinsuke Nakamura's career from his signing to the current day. Then Bobby Roode gets attention showing his rise to the top.
[Q4] Willing Regal is in the ring. He says that it is against his better judgement to invite the four women in the Fatal Four Way into the ring at the same time, but they have all promised no fighting. Peyton Royce and Billie Kay to the ring first, they are wearing street clothes. Kay dismisses the "Asuka's gonna kill you" chants. royce runs down Asuka and Nikki Cross and Kay backs it up. Royce says that one of them will be the NXT Women's Champion. Cross is out next. She is by herself, Kay and Royce demand that Cross be kept on the other side of the ring. Asuka is out next, she charges Kay and Royce, they duck out of the ring, then turns around to make sure Cross doesn't ambush her. They go head to head then Royce and Kay return to deliver a beating. Cross and Asuka weather it and dump Kay and Royce out. Asuka and Cross stare down from across the ring, then security guards come out. Asuka and Cross start fighting off the male security guards. Cross and Asuka manage to obliterate four or five big men, then Asuka gives a roundhouse to Cross, kicks a security guard fof the ramp, then brawls outside. Cross lands a splash from the top to put all of the guards and Asuka on the ramp. Kay and Royce look like they just realized what a big mistake they made to get into a match with Cross or Asuka.
[ J.J.'s Reax: Seeing Asuka and Cross take out the male security guards was a highly unique and effective technique, though they clearly can't return to that well for a very, very long time. Seeing men become physical with women is always uncomfortable, but it worked in this setting because of how Cross and Asuka have been presented, and that the men were working for restrained, not punches, kicks, etc. ]
FINAL THOUGHTS: Takeover: San Antonio is going to be a fairly unique event in that not a single advertised match is part of a long running feud, other than Dillinger vs. Young. Nakamura vs. Roode should be good. I have low expectations for #DIY vs. The Authors of Pain, especially after the lame final match of the Dusty Rhodes Classic. Dillinger vs. Young has my attention for sure. Dillinger has really stood out as a sympathetic face character, filling Sami Zayn's shoes in that regard. The women's Fatal Four-way may be good as well, and will offer Kay and Royce a chance to stand out, although it feels like the real money is in Asuka and Cross. Andrade Almas vs. Roderick Strong should be an outstanding opening match. I am liking this Takeover and the build to it, as NXT recovers from the loss of so many key players in the last year.
---
NOW CHECK OUT THE PREVIOUS REPORT: 1/11 NXT TV Review: A return to Full Sail University with Revival vs. #DIY, Lorcan vs. Almas, Takeover hype