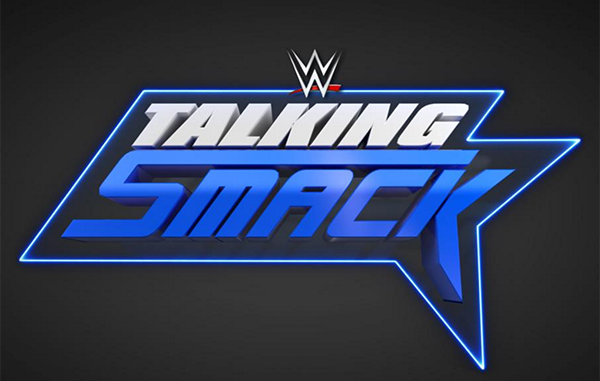 ---
SPOTLIGHTED PODCAST ALERT (YOUR ARTICLE BEGINS A FEW INCHES DOWN)...
---
WWE TALKING SMACK REPORT
JANUARY 24, 2017
AIRED LIVE ON WWE NETWORK
REPORT BY BRANDON BEAUCHAMP, PWTORCH CONTRIBUTOR
Renee Young and Shane McMahon drum role us into the show. Renee pitches a vote to have Shane on the show full time. Way to throw Daniel Bryan under the bus, Renee.  Shane said Bryan has baby on the brain and is taking care of business. Renee asked Shane how he feels going into the Royal Rumble. Shane said he feels Smackdown will once again come out on top. Renee asked about what we saw on Raw. Shane said, "I don't know, I don't watch Raw. Remember?" He added that he did watch some clips on WWE.com, though. Shane mentioned all the big heavy hitters from Raw – Goldberg, Brock Lesnar, Braun Strowman along with Smackdown's Wyatt Family. "There's tons going on in that match," he said. Renee asked what Shane's relationship is like with Stephanie McMahon. Shane said they don't talk other than a few texts here and there.
Guest: Mickie James
Renee brought in the first guest of the night, Mickie James. Shane welcomed Mickie to the roster. Renee and Mickey exchange pleasantries. Renee told Mickie that this show is a little different and Mickie can feel free to air her grievances. Before Mickie could get a word out, Shane butted in and asked Renee what it was like to be out in the ring with Mickie James in front of the crowd. Renee said it's a different feeling than being in a studio like this show and standing there with Mickie, someone Renee said grew up watching on TV. She said it was intimidating standing there in the ring trying to figure out her relationship with Mickie. Mickie said, "Thank you very much, I'm glad somebody remembers who I am." Oooo member Mickey James? I member. #SouthPark.
Mickie said she was a forgotten thing in the history of the women's division of this company and it's pretty sad and disrespectful. She said when she sat home watching, it was like a continuous slap in the face being reminded of the Women's Revolution. Mickie said the revolution started long before any of these ladies, they are not an actual revolution, but a product of one. Renee asked how it felt watching at home watching WWE on TV taking time off and starting to see all the rumblings of a Divas Revolution and not getting to be a part of it, sitting home the whole time, not wrestling for TNA or anybody else ever. Mickie said it was bitter sweet. At first she said she felt excited for the women getting what they deserved, but after it being shoved down her throat so many times, it made her feel like everything she accomplished both in the ring and politically backstage to make it easier for today's women meant nothing. She said it's disgusting and she's sick and tired of it.
Shane asked about Mickie's comment on Smackdown about Alexa Bliss giving her a little spark. Mickie said she sees a lot of herself in Alexa. She's hungry, she's passionate, and sometimes it takes a little ruthlessness to be successful in this business. She said that's why Alexa called her and wanted to learn from her. Renee asked what it was that made her decide to come back after seven years. Mickie said she never wanted to not be part of WWE. She said this has been her dream since she was a little girl. Going away was humbling and she learned a lot and had some great life experiences, but she always wanted to come back and is grateful to be back. Shane said Mickie came back with a bang, and asked the truck to pull up tonight's clip. Shane gives the best play-by-play of the attack on Becky Lynch we've seen since Mike Adamle. Renee said it was a good set up playing some head games. Mickie said she is the master of head games. Renee asked if Mickey plans to stay aligned with Alexa. Shane, still distracted by the clip, said Mickey still has it. Then a crowd rushed into the set and chanted "You still got it." Mickie said she likes to think she never lost it.
Renee asked Mickie if aligning herself with the Women's Champion will be a conflict of interest for their friendship. Mickie said she has bigger fish to fry for now, but not everyone can be friends forever. Shane asked if Mickie is excited to be heading into the Royal Rumble. Mickie said she was. Renee plugged the huge six women tag match with Nikki Bella, Naomi, and Becky Lynch taking on Natalya, Alexa Bliss, and Mickie. Renee asked if it will be a challenge facing some new competition. Mickie said she is not only prepared, she is over prepared. "I've sat back too long and watched these ladies too long to not be ready for everything they've got," she said. Renee said she's looking forward to seeing Mickey at the Rumble and thanked her for joining as Mickie exited the set.
Renee said the six-women match will be one hell of a showing. Shane brought up the confidence in the ladies and Mickie bringing some of that back. Renee said at first after the draft she felt like there was a lot of peace on the Smackdown roster, but now doesn't feel that way in the women's locker room. Renee asked Shane with them not keeping it in the ring at what point does Shane need to step in and sort it all out. Shane said he and Daniel Bryan sort it out a lot. They set it up for this Sunday so we will see what happens.
Guest 2: Mojo Rowley
Renee welcomed another person we will see this Sunday Mojo Rowley. Renee congratulated him on earning a spot in the Royal Rumble match and asked if this what he was waiting to do explode. Mojo said it is a surreal feeling. Mojo said his circumstances dictate his actions. With Hype Bros. on hold and Zack Ryder out injured, he said things had to change. Mojo said he's been working really hard and this is the culmination of all of that. Shane again broke into the play-by-play, putting over several big eliminations by Mojo in the battle royal on Smackdown and said Mojo was on fire and jacked up.
Mojo said being out there without "broski" watching his back and it all being on him it was a game changer. Shane said that's the energy he's going to have to bring this Sunday, especially with the list of who's who in the match as both Shane and Mojo pointed out. Renee said never being in the Rumble it is a lot of pressure, but a lot of luck as nine guys have won the Rumble in their very first one. I can see it now, Mojo Rowley vs. John Cena or A.J. Styles in the main event of WrestleMania.
Mojo said maybe some people may look into this being his first match as inexperience, but Mojo said sometimes being the first one makes you bring a little bit of extra energy to it. Or, as Shane said, his Mojo. No pun intended. Shane said if you bring that, a lot of people will be flying over the top rope. Mojo said he's ready. Going back to the locker room getting a lot of love, texts from friends and family, but what touched him most was a screen shot from his dad of Mojo on TV with the graphic saying Mojo is going to the Royal Rumble. He said it was really cool because he hasn't seen his dad in over a year he has been out of the country on business and he missed him a lot, but to get that text and his dad being so proud meant a lot. He said when he was a kid, the Rumble was one of the biggest nights of the year. He said that's what dreams are made of. Mojo said one of the greatest moments of his life was when he made the team with the Green Bay Packers and telling his dad he made it. Mojo said: "If I win the Rumble this Sunday, it will blow that out of the water."
Renee asked as Mojo heads in is there anybody he's got a target out there for. Mojo said everybody. Mojo said there's thirty guys in there so you can't just worry about one guy. He said that's how mistakes and accidents happen, especially with the size of the guys in there. He added if the ring is still standing at the end, he will be surprised. Renee congratulated Mojo again and thanked him for his time as Mojo exited the set.
Renee went into plug mode saying she can't believe it's time for the Royal Rumble already and hyping the huge kickoff show being joined by Jerry "The King" Lawler and "The Heartbreak Kid" Shawn Michaels. Shane hypes the host of talent shown in the graphic. Renee puts Shane on the spot and asked Shane who he thinks will win the Rumble match. Shane said he didn't know. Renee was not satisfied with that answer and listed off all the huge names involved. Shane said he thinks it will come down to the order of entry and luck of the draw. The later the entry, the better the chance. He said being number one and winning can be done, but it's a long time to be in there. He said number thirty has the advantage. Renee asked which number Shane plans on drawing trying to catch him off guard. Shane smiled and said he won't be in there.
Guest 3: A.J. Styles
Renee transitioned to the last guest of the night, the WWE Champion AJ Styles. Shane clapped as AJ walks in. AJ was less than trilled to be on the show.  Renee asked AJ how he's feeling after tonight. AJ asked: "What do you mean how am I feeling, I'm the champ, I feel great." Shane said to AJ he's being a bit of a buzz kill to the show. AJ said he can't shake what John Cena said to him earlier on Smackdown. AJ repeated Cena's words, saying Cena basically said AJ is just like any other man he's been in the ring with. Renee threw to a clip of the segment where Cena said, "You're just a guy holding onto that championship because I let you… and you're also just the guy who on Sunday is going to find out what everybody already knows, there's only one John Cena and I'm still a bad bad man and my time is now." Mic drop.
AJ watched the clip with his face showing he was truly bothered by the statement. Shane said he does think AJ is phenomenal and a great talent, but wanted to know what was going through AJ's mind. Shane asked if AJ was afraid, second guessing himself, was he PO'd. AJ looked offended by Shane's question. AJ said he was actually listening to what Cena said and was appalled he would say AJ is just another guy. AJ said we all know that isn't true. AJ asked how many men have beaten Cena three times in a row. AJ said Cena was acting. Shane said that was an Academy Award performance. AJ asked Shane to hear him out and said, "I see what your doing there." Shane said he wasn't doing anything. AJ said yes you are. AJ said he's not saying Cena is scared to get in the ring with him, but he is scared he will lose again. AJ said he's beaten Cena three times and Cena is doubting himself, but trying to play it up like he's a big shot. Renee asked how it felt that Cena didn't discredit all of AJ's work, but that he never had to make it in the indies. AJ cut her off and said, "Because he couldn't have made it in the indies, that's why." Renee asked why not. AJ said because "he can't hang in the ring with guys like me."
AJ said he knows everything there is about performing in a ring. He said you can name any style and I can get out here and do it. AJ said Cena can not. He said Cena is strong and has a great mind for the ring, but there's more to it than that. AJ added: "John Cena couldn't last two seconds on the independent rank." Renee asked how he felt about the guys on the Today Show saying AJ was just some guy from Atlanta. AJ asked, "How insulting was that?" He said the guys from the Today Show need to do some research and find out what they are talking about because "those two morons didn't know anything about the WWE." Shane added that AJ was actually from Gainsville, Ga. AJ became all worked up about it and had to stop and take a breather. Shane said he understood he is very emotional he has a huge match this Sunday. AJ said Shane made a match Cena doesn't deserve. He said Shane made the match only because he loves ratings and feels like everyone is against him right now.  "I feel like Smackdown is against AJ Styles," Styles said.
Shane said no. AJ said that you say no, but there I was on the poster in the very back right next to Rich Swann. AJ asked: "Why was I not on the front? Am I not a good champion? Have I not done what I need to do as a Champion?" Shane said AJ has been a phenomenal champion. AJ asked if that's the case, then why was he in the back? He said everything goes through Shane. Shane passed the buck and said Stephanie McMahon was actually in charge of creative for this Royal Rumble poster. AJ said that was obvious as every Raw guy was upfront except for John Cena. But he's not the WWE Champion. He said he holds the "original belt." AJ asked what Shane did about the poster. Shane said the poster doesn't matter. AJ disagreed, because the poster says John Cena is important, AJ Styles is not.
Shane said, "Let's not focus on the poster, let's focus on you." He said AJ has been showcased in every opportunity. He said AJ has seized that opportunity. He said what AJ has done in the last year was truly phenomenal. But then Shane quoted Cena saying "You've been hot for six months, and he's been locking it down for ten years." Shane added he can't wait to see what happens this Sunday. AJ said what's going to happen is he's going to walk out the WWE Champion as AJ holds the belt up and walks out. Very emotional.
Renee tells Shane there is a lot of pressure on AJ not just with the Royal Rumble but with the Elimination Chamber after. Shane said he thinks AJ is one of the most talented guys to ever step in the ring, period. He said he is phenomenal. Shane said "The only thing that is not phenomenal about AJ is his attitude." Renee added that AJ is losing it right now. Renee gave one final plug for the title match between AJ Styles and John Cena at the Royal Rumble this Sunday. Shane wonders if AJ is playing mind games with Cena or if Cena is getting to AJ. Renee said we will find out this Sunday as the show goes off the air.
---
NOW CHECK OUT LAST WEEK'S REPORT: TALKING SMACK 1/17: Renee and Shane interview Jerry Lawler, Baron Corbin, and Bray Wyatt, talk about Mickie James return