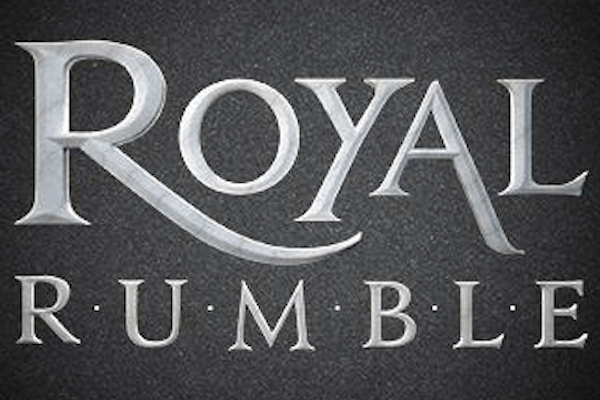 ---
SPOTLIGHTED PODCAST ALERT (YOUR ARTICLE BEGINS A FEW INCHES DOWN)...
---
The talk leading up to this year's Royal Rumble has been about how wide-open the field of possible winners truly is. Wade Keller and Sean Radican wrote about it in latest Torch Newsletter, and others all over the Internet have fantasy booked their own fantastical finishes. While there are some who do not have a chance to win, consider this entry a one-stop shop for all the reasons for and against the top contenders this year.
Braun Strowman
Why he'll win: His gradual ascension to the top seems ready to culminate at Wrestlemania. Fans seem to be taking to his push and WWE is obviously preparing him for big things. He's shown in his matches with Sami Zayn that, given the right style, he can carry his end of a match.
Why he won't: Even as he's getting more over, Strowman is still not ready for a Wrestlemania title match and possible main event. It would feel like somewhat of a rush job, and in some areas, he does need more time to develop.
Undertaker
Why he'll win: Despite slowing down, fans still buy him as The Phenom. A title match would switch things up from his usual Wrestlemania match. Without The Streak, it wouldn't hurt to have another draw for his match.
Why he won't: Taker's appearances are so rare, they are special in and of themselves. Thus, his Mania match won't need a title attached to it. As a part-timer, would fans buy him as a possible winner of a Wrestlemania title match?
Chris Jericho
Why he'll win: He's been doing his best work in years and deserves to be rewarded. A Rumble win will add intrigue to his BFF storyline with Kevin Owens, and make their expected match at Mania mean even more. Winning the Royal Rumble is one of the rare items Jericho is missing from his dossier.
Why he won't: Jericho and Owens will likely come to a head at Mania regardless of whether or not a title is on the line. There should be enough personal animosity between the two to draw from, such that a title on the line may distract from the rest of the storyline.
Samoa Joe
Why he'll win: Joe has done everything one can do in NXT. What a shot in the arm he'd be for Wrestlemania. If A.J. Styles does face Shane McMahon on the big show, Smackdown would desperately need depth on top. He'd give them that. He'd also inject some fresh life and intrigue into WWE, something Styles was able to do at this time last year.
Why he won't: Joe isn't even officially in the Rumble match, nor has he been called up. Some will only believe a big main roster push for him is in store, despite the rumored plans, when they see it. Even if he's a surprise entrant, it doesn't necessarily mean he'll win. He could still clean house and look good without getting his hand raised in the end.
Brock Lesnar
Why he'll win: Lesnar is still booked, despite his stunning loss to Goldberg, as the premiere combat athlete in WWE. A Rumble win would go a long way in building back his credibility after his job to Goldberg. He's still got the believability to walk away from this match as a winner. If you think the biggest match on the card should be for a title, that just might be Goldberg vs. Lesnar at Mania.
Why he won't: Lesnar as champion while being a part-timer didn't work the first time, and it probably wouldn't work this time, either. Goldberg vs. Lesnar is a big enough match on its own, it doesn't need the title. It may upset some of the main roster talent to lose not only a spot on the Mania card to two part-timers, but also a title match.
Goldberg
Why he'll win: He's gotten over better than expected in his return. It would continue the dominance he first established over Lesnar at Survivor Series. Some of the other reasons for a Lesnar win would fit here.
Why he won't: Lesnar vs. Goldberg is as close to written in stone at Mania as it can be. That means Lesnar would have to win the title sometime before Wrestlemania, and he's not scheduled to wrestle at Fastlane. His promo this past Monday on Raw shows that he can't be trusted to cut the Mania-building title promos that the spot requires. For more reasons, see why Lesnar won't win.
Shinsuke Nakamura
Why he'll win: He's already one of the most charismatic wrestlers under contract to WWE. He's main-roster ready. A win in the Rumble, as a babyface, would energize fans more than a win by his NXT counterpart, Samoa Joe, would. Having the NXT Champion wrestle in a title match at Wrestlemania would give some rub to NXT at a time when they're in a bit of a dry spell creatively.
Why he won't: Unless he loses the NXT Title on Saturday to Bobby Roode, it's unlikely he'd pull double-duty. NXT needs someone to carry house shows around the country, and Nakamura is the top babyface draw for the brand. He could be more important to NXT than he'd be for WWE.
Triple H
Why he'll win: Hunter will be the "Break Glass in Case of Emergency" Rumble candidate going forward for as long as he can wrestle. He'll always be available if Mania plans fall through or if plans change, which they do frequently. Hunter himself said the Rumble winner will "surprise" people, and this would certainly do it.
Why he won't: If anything, Seth Rollins should challenge the champion Triple H at Wrestlemania, given how Hunter helped Kevin Owens end Seth's opportunity to become Universal Champion. Triple H winning the match would not send a positive message to the fan base at a time when they desperately need WWE Network subscribers heading into Wrestlemania season.
A.J. Styles/John Cena/Kevin Owens/Roman Reigns
Why any one of them will win: As participants in their respective brand's main title matches, none of them have been announced for the Rumble match. But there is precedent for losers of the main title matches on the night to find their way into the Rumble match. At the biggest show of the year, WWE may not want to take a big risk by putting a Joe or Nakamura in that spot. Instead, they could settle for someone familiar to Raw and Smackdown fans as having the credibility to challenge for a major title.
Why any of them won't win: More often than not, those who do not win the title matches don't end up in the Rumble. Would WWE really go the Reigns well again? Would they really use this opportunity to prop up someone who is already a title contender, and give the impression they're recycling title opponents for Wrestlemania?
Randy Orton
Why he'll win: Orton is a legacy (pun intended) star in WWE, someone who has been away from the title picture long enough to seem fresh, yet someone who fans will buy in that role given his history. A win could set up a storyline for a Wrestlemania match with Bray Wyatt, with whom he seems on good terms with at this point. Wyatt would have to win the title in the Elimination Chamber.
Why he won't: Orton is not exactly an inspiring pick to win the Rumble. WWE will have to decide if he'll be a heel or a babyface, and sort out the associated Wyatt Family storyline. Did he really join the Family or try to destroy it by infiltrating it? It seems more like a secondary story than one you'd build a title match around.
Bray Wyatt
Why he'll win: Despite being a veteran in WWE, Wyatt has rarely been involved in the title picture. A win here won't seem like a retread. Just when you think the company is going to go all the way with this character and give him a big push, they tend to pull back. Why not take this opportunity to see how far the character can go, and how much you can get out of it? Wyatt can certainly handle the promo end of his WM match hype.
Why he won't: Wyatt, the character, shouldn't really even care about titles. He's similar to The Undertaker, historically, in that way. He doesn't match up particularly well with anyone who could hold the WWE Title at Wrestlemania, unless Orton takes it at Elimination Chamber. Given the story between the two thus far, it would make more sense for Orton to challenge Wyatt.
Finn Balor
Why he'll win: The story is set for him to return and go after the Universal Title, given he was only able to hold it for one day because of an injury. He should be healthy and ready for a match by the time Wrestlemania rolls around. You can hide him in a Rumble match if he's still not 100% and not ask him to do much. He won't need to wrestle before Mania after winning here.
Why he won't: Putting him in this match before he's ready, no matter how close he is, sets a dangerous precedent. Allowing Balor more time to recover and pushing back his return time will give WWE a storyline to cultivate over the summer or after Mania when there is usually a dead period, rather than throw his comeback for the Universal Title onto an already loaded Mania card, causing the story to possibly get lost in the shuffle.
Seth Rollins
Why he'll win: Rollins wants desperately to hold the Universal Title he was screwed out of by Triple H. Winning the Rumble would provide a path, and a sort of redemption, for him. Booked correctly, a Rumble win could do something for him that WWE hasn't been able to do yet: Get him over as a top-shelf babyface. Yes, he's scheduled for Triple H at Wrestlemania, but what better way to win the title you've longed for than by beating the guy who caused you to lose that chance in the first place?
Why he won't: Raw is top-heavy in some regards, and others can be used in that Universal Title slot at Wrestlemania. A match with Triple H for the title at Mania would require Triple H to win the title, likely at Fastlane, and that doesn't really fit into the current booking. Rollins doesn't feel like a hot enough act to throw into the Mania title picture.
Shane McMahon
Why he'll win: WWE has an inflated sense of McMahon's in-ring value, so it sadly wouldn't surprise me to see him win. He put himself in the Survivor Series match on Team Smackdown, so who knows, Daniel Bryan or someone else might convince him in storyline to enter the Rumble match that night. If McMahon vs. A.J. Styles at Mania is a real thing, Styles could just keep the title and breeze into Mania to marry McMahon's win here and a match against Styles.
Why he won't: WWE booking can be crazy, but could it really be this crazy? The booking of Smackdown seems too good since the brand split for something like this to happen. His performance against Undertaker at Mania last year (and at Survivor Series this year) should disabuse WWE of the notion that McMahon can be counted on to carry his end of a big-time match. He probably shouldn't even wrestle at this point in his career let alone headline Wrestlemania.
Greg Parks has been covering WWE Smackdown for PWTorch.com since January of 2007. He co-hosts the PWTorch Livecast PPV post-shows at least once a month. Follow him on Twitter @gregmparks for live Tweeting during Raw, Impact, and PPVs, as well as other bits of wisdom. Comments, questions and feedback are welcome, and can be sent to g_man9784@yahoo.com.