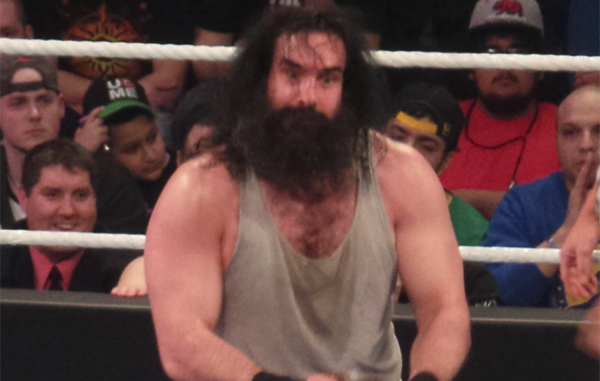 ---
SPOTLIGHTED PODCAST ALERT (YOUR ARTICLE BEGINS A FEW INCHES DOWN)...
---
SMACKDOWN HITS
Mickie James: Mickie James was a little over the top in her performance, but on the whole it was pretty good. I particularly liked the way her interview was written. It would make sense for a good woman wrestler of the past to be angry over a perceived slight in the "women's revolution" suggesting that the women wrestlers of today are so much better than in the past. An effective heel is often right up to a point. You can see why James would be upset, but you boo her because her tactics and the fact that she is teaming up with Alexa Bliss are so wrong despite the fact that you might see where she is coming from. So, this works for me.
Ziggler vs. Kalisto: I'm not sure I would have had Dolph Ziggler squash Kalisto in less than a minute, but Ziggler needed a strong clean win, so I'm good with it. I don't care about Kalisto needing to be protected at this point. He is talented, but at the bottom of the card. Apollo Crews certainly looked better in coming to Kalisto's aid this wek than he did in the past when Ziggler still got the better of him.
Naomi – Bliss: With Becky Lynch moving away from the Women's Title picture for awhile to feud with Mickie James, Alexa Bliss needed a new challenger and building up Naomi makes sense. This was a good first step. I like the fact that WWE kept the feud going between Nikki Bella and Natalya by having Nikki attacking Natalya as a retaliation for what happened earlier in the show. That cleared up Naomi to make an open challenge since her opponent wasn't able to wrestle. Bliss was very good on the mic in dismissing the idea that Naomi has a chance against her. She still needs to keep improving in the ring, but she is really good in her character. I loved her line when she told Naomi to "say hi to obscurity for me."
SMACKDOWN MISSES
Opening Bit: Has there ever been a great Lumberjack match in WWE history? I can think if great matches of various stipulations, but not that one. So when the show is built around the announcement during the opening bit that the main event would be an Intercontinental Championship Lumberjack match, it failed to get me excited. I appreciate the fact that Daniel Bryan saw through The Miz's suggestion of a no disqualification match to come up with a different stipulation. But, I don't care for that stipulation. It was obviously a set up for a big brawl among the lumberjacks to sell the chaotic nature of the Royal Rumble which isn't the best way to go about it. And the announcers always act upset that the lumberjacks are only supposed to throw wrestlers back into the ring, not beat them up before doing it. But, the lumberjacks always beat up the wrestlers. It has been years and years since lumberjacks have merely thrown wrestlers back in the ring. It is ridiculous. Also, The Miz was acting like the annoying character that was so flat for so long before improving greatly last year. It felt like a real step back for his character like the fake laughing with Bryan. So while most of my issue is with the announced main event, the scene was bad too. As far as the main event goes, it was solid, but not quite good enough to get a Hit.
Harper vs. Orton: This match suffered from the fact that I didn't care about it. I don't care about the angle. It isn't working for me. I'm not sure who WWE wants the fans to cheer for here. The fans are behind Randy Orton because he is a legacy star at this point. But, he is a heel. So is Luke Harper. Harper is the one who keeps messing up, so maybe we aren't supposed to side with him. But, Bray Wyatt was clearly supporting Orton in the end since he won. And Wyatt is a heel, so he supported Orton which makes him a heel, so that means Harper is a babyface, but he doesn't act like one. To me, this is a mess of an angle which hurts the quality of the match, even if Harper and Orton put on good efforts in the ring which they did.
Carmella Takes Ellsworth Shopping: This was a terrible segment. It was boring. It was not funny. It was not entertaining in any way, shape or form. It was a huge waste of time.
Styles – Cena: The performances by AJ Styles and John Cena were fine here, even good at times. But, I hated how a lot of this was scripted, mostly from Cena's side of things. Styles came across like the babyface to me. He is the WWE World Champion. To have Cena on The Today Show talking about how he was facing some guy from Atlanta was so disrespectful and dismissive that it was a heel move. Cena at one point said that Styles is the Champion because he has let him be the Champion. Hasn't Styles defeated Cena multiple times? Why didn't he bring that up? I am a large proponent of building up your opponents, not tearing them apart. So to me, it is a huge mistake for Cena to say that Styles isn't on his level or even a level below him. If he wins at the Rumble, then he only defeated someone who is a loser two levels below himself. If he loses, then he lost to a loser who is two levels below himself. And the statement about not being built for the indies was so disrespectful to so many wrestlers in the company, not just Styles. It is disrespectful to Dean Ambrose, Kevin Owens, Seth Rollins, Sami Zayn, Cesaro, and many others who built a reputation on the indies, TNA, ROH and New Japan Pro Wrestling. And most of the great NXT wrestlers have made a name for themselves outside of the WWE bubble as opposed to the few like Baron Corbin who have made it, but aren't nearly as good as guys like Neville, Samoa Joe, Shinsuke Nakamura along with Ambrose, Owens, Rollins, Zayn and Cesaro. It is tone deaf. If their roles were reversed and a few tweaks were made, this would have been a good segment.
---
NOW CHECK OUT LAST WEEK'S ARTICLE: SMACKDOWN HITS & MISSES: Was WWE trying to get fans who like Smackdown better than Raw to change their mind? Plus Mickie, Lawler-Ziggler, Bliss-Lynch
OR CHECK OUT JASON POWELL'S HITLIST ARTICLES HERE.
---
Jon Mezzera is PWTorch.com's WWE Hits & Misses Specialist, providing his point of view for Raw and Smackdown each week. Email him at jmezz_torch@yahoo.com. Act now and become my 68th Twitter follower@JonMezzera (pretty clever handle right?). Just be aware that I don't live tweet Raw, I don't tweet much about wrestling, and I don't tweet much at all.