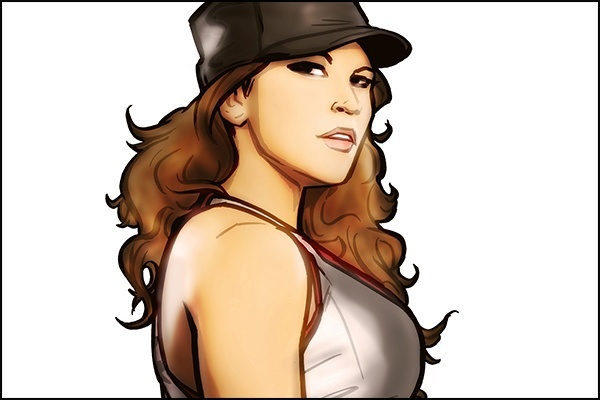 ---
SPOTLIGHTED PODCAST ALERT (YOUR ARTICLE BEGINS A FEW INCHES DOWN)...
---
Let me start this week off by stating that Smackdown really stole my heart. What they've been doing in comparison to Raw has been a little more polished and buttoned-up, and because of that consistency (and the benefit of being only two hours) I think this week's episode really delivered. Now, with getting that out of the way, let's get to brass tacks:
RISING STAR OF THE WEEK: Mickie James
In wrestling, presence cannot go understated. Mickie James had it seven years ago when she first left the WWE and she still has it in her return. Did her promo on Tuesday sound a little too polished? A little unnatural? (If you're Torch VIP, you'll know Todd Martin pulled no punches when it came to this segment) While those aspects certainly were enough to alert my senses, I think the way she handled herself, from body language to delivery completely overshadowed any towing of the corporate line. I loved it and I loved the fact that Becky Lynch just all-out sprinted to the ring to beat the hell out of her.
I scoff at any argument that says Raw's women's roster is more enjoyable to watch, because really, just the same could be said for those Smackdown gals. Raw may have had them beat as far as wrestling ability is concerned with Charlotte, Sasha and Bayley, but it's a much tighter race when it comes to charisma. For kicks, let's take a gander at my lady wrestler charisma ranking below to get a gist of what I'm getting at (feel free to murder my choices on Twitter @DominicDeAngelo). Now keep in mind, this is just the women who wrestle for Smackdown or Raw on a consistent basis, so don't go all Alicia Fox on me because Alicia Fox or Lana didn't make the cut.
WWE Lady Wrestler Charisma Ranking as of January 26, 2017:
1. Charlotte Flair
2. Alexa Bliss
3. Mickie James
4. Becky Lynch
5. Bayley
6. Sasha Banks
7. Carmella
8. Naomi
9. Natalya ("You'll die alone" has really helped her cause)
10. Nia Jax
11. Nikki Bella
12. Dana Brooke
Alright, now I'll clear up some of my reasoning behind some of these potential eyebrow-raisers: Last week's "Rising Star", Bayley, would be higher than #5 if her character was positioned as "one of us" throughout her first several months rather than kinda cocky (and one-time "gang beater").
Now Sasha, is no doubt for me in the top two of "WWE Lady Wrestler Wrestling Ranking" (along with Charlotte), but let's face it, what exactly has she been "The Boss" of? Trading titles way too often? Kinda-sorta standing up to Stephanie? Crying too much? Her character's credibility just isn't there yet.
And yeah, I'm willing put Mickie James in the top three already simply because of her cache of charisma. She immediately injected that Smackdown roster with a boost of credibility, and everyone, from Bliss to Naomi will benefit from her presence.
HONORABLE MENTIONS
Luke Harper: Could this be it? Harper marching to the tune of his own backwoods banjo? Mauro placed a little intrigue on what this could mean as far as Royal Rumble ramifications go, but what's truly intriguing is the possibility of a complete repackage for Cool Hand Harper. Perhaps a forming of his own rival cult (one that doesn't talk in circles), maybe one where he goes all Shane from "The Walking Dead" and shaves off all of his whiskers in some sort of "Unfollowing of The Buzzards" protest? *Gasp* No more sweat-stained wife-beater? I'm on the side of anything different for him at this point. Gator roll your way right out of Bray's good graces, my freaky friend.
Seth Rollins: Didn't Seth seem a little more human this week? With the "dick bag" exception of him impulsively slapping the phone out of some stooge's hand (I mean, visually, the guy had every indication of "entitled millennial" written on his face, but c'mon, Vince probably did that to him after he went to get creative coffee that morning) his backstage exchange with "Broken" Mick Foley (he's "broken" from any kind of authoritative standpoint) was quite conversational and friendly until Mick dropped his "risky Rumble ramifications" on him  Heck, he even positioned Sami Zayn as a friend in arms. I'm not really eating up this Triple H feud at this juncture, but any Seth showing signs of shoring up his checkered past is a Seth in the right direction.
FADING STAR OF THE WEEK: John Cena
I'll get the positives for Cena out of the way first: Overall, his segment with Styles seemed "big time." He found the perfect balance of "Thug-0-nomics" inflection and being all business. A.J., in turn with that "chip on his shoulder" delivery looked like he fit along perfectly with Cena in the headline of main eventers. Justifiably, he felt slighted, but him pointing his backrow spot in the Sgt. Pepper of Royal Rumble posters was petty enough for some John Cena spitfire . The glaring problem, however, is the content completely wet-blanketed A.J.'s "headline" potential. Cena seemed like a holier than thou, dismissive douche in his "Today Show" omission of A.J. The fact that A.J. didn't even retort (on the mic or off it) as Cena walked off was a pathetic visual. A win for Styles on Sunday will negate any negativity of this segment, and Cena will continue to be unscathed with either outcome, but boy, Thursday was not a good look for someone wearing a shirt with "respect" written on it.
DISHONORABLE MENTIONS
I'm shocked. Yet again, aside from your usual suspects, no one else bummed me to the point of dishonorable. I mean, Enzo & Cass have been non-stop "meh" throughout this entire Rusev program and The Vaudevillains were already scratching the bottom of the barrel before the were immediately discarded in that 10-man battle royal. So therefore, I will go Cooperstown over Canton by being picky in this illustrious selection process. Something's bound to break this weekend, though. With all these big stars in the Rumble, someone's gotta get the shaft. I just feel it.
---
NOW CHECK OUT LAST WEEK'S ARTICLE: RISING STAR & FADING STAR OF THE WEEK: Bayley, Braun, Sami, Cedric, Jerry Lawler's new rap solo, more