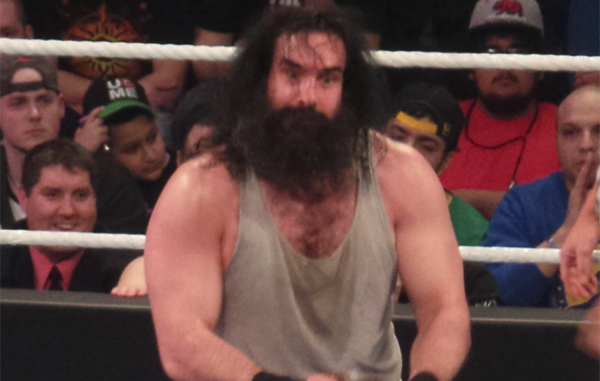 ---
SPOTLIGHTED PODCAST ALERT (YOUR ARTICLE BEGINS A FEW INCHES DOWN)...
---
SMACKDOWN PREVIEW
JANUARY 31st, 2017
CORPUS CHRISTI, TEX. AT THE AMERICAN BANK CENTER FROM
By Joey Galizia (@RamJam89)
"I HEAR VOICES"
THE LEGEND KILLER. THE APEX PREDATOR. The star of THE CONDEMNED 2. (It's the Empire Strikes Back of the Condemned movies LOLZ) Randall Orton has a couple of nicknames, and after Sunday, has a couple of Royal Rumble victories under his belt. More importantly, Randy remained loyal to his new besty Bray Wyatt in the confines of the match, but did you notice he came out to his old theme? (THAT SONG SUCKS) Bray and Randy may be on a collision course with one another, but as of now their bond is still in tact. Orton turned in a great showing in the Rumble, starting an RKO party and finishing by eliminating the Big Dawg Roman Reigns. If nothing changes as of right now…we get to see Orton and Cena one more time.
"SWEET 16"
There are a many moments in sports, entertainment, or in this case sports entertainment (SEEwhatIdidTHERE) where a fan base is able to watch a superstar perform at the height of their powers. Such moments are enthralling for its time, and a bookmark for the future of the industry. AJ Styles and John Cena are the very best, performing at their VERY best. Their match at Royal Rumble was as well put-together as any wrestling bout you'll ever see. Personally, this feud has a Micky Ward vs. Arturo Gatti esque parallel and dare I say it, Cena deserves as much praise as AJ does. Long story short…a double AA captured Ole Johnny Boy's record tying 16th world championship, and it doesn't look like he's slowing down. However, the show must go on, and there are only two weeks until the Elimination Chamber where odds are that everything will change. 6 men, all trapped in a steel hell…honestly it's my favorite gimmick match of all time. And with only two weeks, SD will have to build their entire card probably tonight but at the very least mention who the participants in the Chamber will be. They could also do that great wrestling thing they do where they make guys earn their opportunity to compete in the chamber with a series of matches. Here are my guesses of who will prevail:
John Cena (Obvi), A.J. Styles, Bray Wyatt, Baron Corbin, Luke Harper, Dolph Ziggler.
I love Ambrose and Miz, but with a stacked match of this caliber there will need to be some excitement for the under-card, and after Dean defeated Miz in his guaranteed title rematch (SERIOUSLY GET RID OF THAT) the IC belt needs a new contender. Hopefully that is another thing SD establishes tonight as well.
"IT'S TUESDAY… YOU KNOW WHAT THAT MEANS"
Seriously…Luke Harper's twitter…is the GOAT. You know what else is the greatest of all time? Harper turning on long-time master and commander at the Rumble to a fantastically big pop. As a Luke Harper fan-boy (SHUT UP GUYS I LIKE HIS HAIR) I look forward to Bray and Luke finally having it out, and while Bray is the bigger star and will most certainly win that feud, it will be a good step towards pushing Harper to being his own man. 61 days until Mania so this does not need to be rushed. If this needs to get settled even on an episode of Smackdown I'm fine with that.
"ALL THE BEST"
-Naomi pinned Alexa Bliss so she will probably get a shot at the title which will be a nice change-up to the women's scene on the blue brand. Look for this match to get booked for EC tonight.
-Perhaps Becky will be able to get her hands on Mickie James one on one? And don't forget about the best feud in women's wrestling Nikki vs. Nattie. The 6-women tag-team sure did do it's job of deeply advancing all of these feuds along, so tonight's show will be another page turning closer to the conclusion.
-We haven't seen them since in a couple weeks but hopefully American Alpha are still around and hungry to prove they are the best tag-team in the world. Honestly if they are not facing the Usos I will be very surprised.
Two days out and I still can't stop thinking about the Rumble. What a great show. What a great time to be a wresting fan.
---
NOW CHECK OUT LAST WEEK'S ARTICLE: SMACKDOWN PRIMER: What to expect tonight based on what happened last week with Mickie James, Orton, Harper, Miz, Cena, Styles