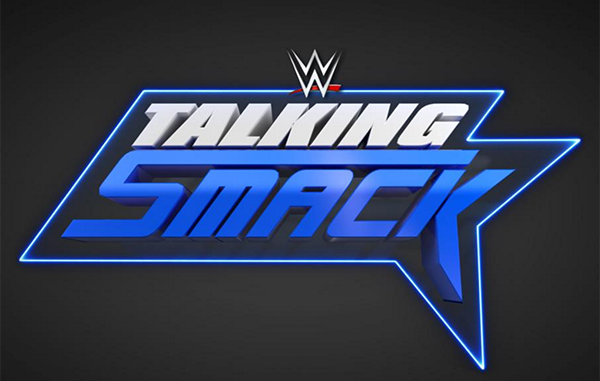 ---
SPOTLIGHTED PODCAST ALERT (YOUR ARTICLE BEGINS A FEW INCHES DOWN)...
---
WWE TALKING SMACK REPORT
JANUARY 31, 2017
AIRED ON WWE NETWORK
REPORT BY BRANDON BEAUCHAMP, PWTORCH CONTRIBUTOR
Renee Young welcomed us to Talking Smack and was very excited that Daniel Bryan was back on the show this week. Renee asked where Bryan has been. She said he left her high and dry. Bryan said they were suppressing his opinions. Renee argued no one was doing that. Bryan said they were, but there was an uproar with the people and now he is back. Renee went right into this past Sunday's Royal Rumble event talking about what a great night Smackdown had with Randy Orton winning the Royal Rumble match and John Cena winning his 16th world championship.
Bryan brought up how Cena tied the record for most world title wins previously held by Ric Flair. Bryan stated that Cena was able to do that by being on top of the industry for longer than any WWE Superstar ever, naming Hulk Hogan, Steve Austin, and The Rock as other examples of great champions Cena has surpassed. Bryan said for over ten years Cena has been on top and in the main event scene.
Bryan then talked about how proud he was of the Smackdown brand at the Royal Rumble with not only Randy Orton's victory but John Cena and A.J. Styles being the only Smackdown brand match on the main roster and they stole the show. Renee said they were unbelievable and then commented on how being in the Alamo Dome with 52,000 people gave the event the feel of a WrestleMania. Bryan agreed.
Bryan then said, "It was the best of times, it was the worst of times." He said he loves to give opportunity to the roster and Bryan felt disappointed in himself because they only had the one singles match on the card and of the 30 entrants in the Rumble match, only eleven of them were from Smackdown. No Women's Title match, Intercontinental Title match, or Tag Team Title match. With that said Renee welcomed the Smackdown Tag Team Champions onto the show American Alpha.
Guest 1: American Alpha
Jason Jordan and Chad Gable joined the and welcomed Bryan back to the show. Renee welcomed American Alpha back, saying it's ben a while since they were last on. Gable said last time they were on, JBL was in Bryan's spot. Renee said JBL did a great job. Bryan, seeming a little insecure, wanted to know how JBL did such a great job. Renee said he asks a lot of good questions. Bryan asked what kind of questions and how he can ask better questions? Renee said he just seemed to have his finger on the pulse which got a good laugh out of Bryan.
Gable said he was glad Bryan brought up the Royal Rumble, saying it's been a little bit of an issue for them. Bryan asked what that was like acknowledging American Alpha wasn't on any of the show. Jordan said that they have said from day one "We're the Alphas and were here to prove it." Jordan was discouraged they were not given the chance to prove it. Jordan suggested maybe somebody just didn't step up, taking some of the heat of Bryan, the General Manager of Smackdown. Jordan said it was disappointing looking up and down the card because it seemed like their title was the only title not defended.
Gable jumped in and said its exciting to see the "blue brand" doing good on the show, but they wanted to add to that and that's why they came out and issued an open challenge tonight. Bryan asked who they were expecting to answer the challenge? Gable said "literally anybody." He said they have been waiting for anyone and haven't defended in a long time. Jordan said every week they will defend the titles.
Bryan cited the big brawl on Smackdown between all the teams and announced at Elimination Chamber there will be a tag team turmoil match. Jordan was excited. "See, we asked for anyone and you give us everyone." Welcoming the challenge. Renee asked who they see as their biggest threat in this match. Gable brought up their history with the Usos and how they think they have American Alpha's number but mentioned it also depends on the order of entry in the match. Bryan asked what if they entered first? Gable said they want to enter first. Bryan got really excited and Jordan added that they were confident. Renee thanked them for joining the show and said she looks forward to that match. American Alpha thanked Bryan for the opportunity to compete. Then the Tag Team Champions exited the set.
Renee switched gears to former WWE Champion A.J. Styles taking on Intercontinental Champion Dean Ambrose in the main event. Renee mentioned the other competitors in the Elimination Chamber match for the WWE Title being at ringside and everybody mixing it up at the end. Renee asked Bryan from being in an elimination Chamber match before what these guys must be feeling with this big opportunity just two weeks away. Bryan said: "Not only have I been in an Elimination Chamber match, I've won an Elimination Chamber match. He said the match is a horrifying experience. He said you don't know when you will be going into the match. He said the steel is like hitting a brick wall. He said he would rather be thrown onto concrete.
Bryan said he was impressed by Baron Corbin tonight, talking about how aggressive he was, and then brought up how at the Rumble, Corbin was the person who eliminated Braun Strowman. Renee said she actually though Strowman might win the Rumble match. Bryan said he looked great until he came across Corbin. Renee asked if Corbin bumped up on Bryan's list. Bryan said he doesn't keep a list, but was impressed. Bryan than said, however, he does not approve of all the interference in the A.J. match with Ambrose tonight. Saying though A.J. beat Ambrose, he didn't really beat him as it was just because of all this interference. Renee plugged the Elimination Chamber match in two weeks. Renee asked Bryan who he thinks might win. Bryan said Corbin. Renee wanted to ask more about that choice, but Bryan said he didn't want to talk about Corbin anymore because Naomi was sitting at the desk.
Guest 2: Naomi
Naomi danced in her seat when introduced, all smiles after her two recent big wins. Renee said talking about impressing people, Naomi has impressed her with her new look and ring gear and asked what's behind the whole glow thing. Naomi said it's all glow. She has been able to find her confidence and go out there and truly enjoy what she's doing. Renee said it was like seeing a whole new side of Naomi out there with the other women tonight and scoring her second win over the Women's Champion Alexa Bliss. Naomi said third time's a charm.
Renee asked Naomi after being sidelined and now being back and going forward, what is her take on the Women's division? Naomi said its at the best it's ever been. She said we have talented women and right now it's all about proving herself and showing people who she is and why she does what she does. Naomi said she wants people to feel the glow. Renee said for so long Naomi was said to be one of the best in the Women's division. Bryan said because Naomi has been so impressive, she will be getting a shot at Alexa Bliss and the Smackdown Women's Championship at Elimination Chamber. Naomi was so excited to hear that news, she jumped up out of her chair.
Naomi said it's been her goal to walk into WrestleMania the Women's Champion in her home town. Bryan said that gave him goosebumps. Naomi said she has had literal dreams about this. Renee asked how it would feel to see her friends and family watching her walking in as Women's Champion in her hometown making her incredible entrance? Naomi said it doesn't get any better than that. She said the majority of her family have never seen her perform before. Bryan asked Naomi if she were to walk into WrestleMania as Champion if she would be able to dance all the way to the ring in that long runway. Naomi said she would be so hyped she would dance all the way down. Renee continued to put over the glow entrance of Naomi's. I think maybe Renee is secretly a raver. Renee said she can't wait to see her and is looking forward to her big title match. Naomi said she has to go call her mom and tell her husband as she exited the set.
Renee tried to change topics, but then Bryan mentioned that his wife Brie is the same way in that she will call her mom or Nikki first and he said he's always the last to know. Renee said that's because they would give her the response they want whereas Bryan would not be as excited. Bryan yelled in excitement, saying he parades and claps and would give her a big celebration. He and Renee have a good laugh.
Renee plugs next week on Smackdown John Cena goes one-on-one with Randy Orton. Haven't seen that match before how exciting. After a few other cheap plugs, Renee moved on to the third guest of the show, the winner of the 2017 Royal Rumble Randy Orton.
Guest 3: Randy Orton
Renee clapped a few times, but Orton's gaze seemed to suck the wind out of her quickly like some type of charisma vacuum. Renee asked Orton how it felt. Orton said he's done this before, but the feeling he gets when he's out there never gets old. He added: "Dan, you know, we've torn it up a lot in that ring." Orton said that adrenaline rush he gets, especially at the Royal Rumble, is one of the biggest nights of the year. Orton said he had his wife there in the front row and it was a very special night for him. Renee asked with the Elimination Chamber match possibly changing, who the Champion is. She asked who Orton would like to face at WrestleMania. Orton turned into a comedian all of a sudden, saying whether the fans know it or not, he thinks they would like to see a match between him and Cena again.
Renee asked with the new side of Cena feeling like he has to prove something to people, if Orton feels nervous with the role Cena is on. Orton asked Renee if she watched Smackdown tonight. Renee said she did and she also watched the Rumble. Orton said what Cena did means nothing to him. He said he's beaten Cena before and also has 12 of his own World Title wins under his belt. Orton added it doesn't matter how many titles Cena has won, he is going to go out there and beat Cena.
Renee asked about Luke Harper and where he stands with Orton and the Wyatt Family. Orton said he thinks it's obvious he has no place in the Wyatt Family. He said Bray keeps giving him chances, but he thinks over the last few weeks Harper has had a meltdown. He said he doesn't know what's going on in his own head, and he's dangerous to be part of the group. Orton said the Wyatts have been very dominant in the locker room and in the ring, wherever it is, and they don't need Harper to do that.
Bryan brought up that this is not Orton's first WrestleMania main event nor has it been his first Mania main event in Orlando, citing his big title win at Mania 24. He asked Orton if that gives him confidence having been there before. Orton said the more of these big WrestleMania matches he has over the years, he gets better at it. "You get confident in yourself, and if there's one thing I have right now, it's confidence," he said. Renee asked if that confidence will carry over to Orton's match with Cena next week? Orton said most definitely. He said next week he is going to take Cena's pride and at WrestleMania – he is going to take Cena's title. Orton said the only thing for Cena to do is run. Then Orton got up and walked off the set.
Renee said it was so shocking to see Orton getting stronger with the Wyatts. "Randy Orton right now is bad ass," Bryan said. Renee laughs and yelled "Bad ass Randy!" Renee gave one last plug for the match next week and thanked everyone for joining them as the show signed off. Bryan said he will be here next week and will be presented by Tout, a cheap shot at all the cheap plugs and of course the failed WWE social media investment. Renee laughed as the show went off the air.
---
NOW CHECK OUT LAST WEEK'S REVIEW: TALKING SMACK 1/24: Styles vents more about Cena on Today Show and poster, Mickie James on motivation to return, Mojo on being in Rumble