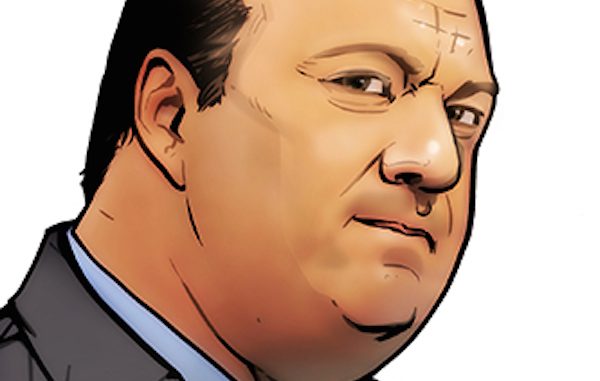 ---
SPOTLIGHTED PODCAST ALERT (YOUR ARTICLE BEGINS A FEW INCHES DOWN)...
---
RAW HITS
Owens and Jericho: I enjoyed the start of Raw. Kevin Owens and Chris Jericho were very good in gloating about Owens still being the WWE Universal Champion and Jericho setting the record for most time spent in the Royal Rumble over a career. They continue to show their great chemistry together. I liked a lot of their lines. It was amusing how Owens talked about needing to thank someone for helping him defeat Roman Reigns at The Royal Rumble and it looked like he was going to thank Brawn Strowman, but he thanked Jericho instead. The challenge from Strowman himself was ok. The problem was Mick Foley (more later).
Jericho vs. Zayn: This was a good match. I tweeted during the match something like why does Sami Zayn always looked shocked when someone kicks out of the Blue Thunder Bomb when he never wins with it? I do think it looks like a much better finishing move than the Helluva Kick. But, that's just an aside. He and Jericho had a good non-title match that went nearly 12 minutes. With Zayn getting the clean win, it should set him up for a United States Title match in the future. I do wish that there was some reason or set up for why Zayn was getting a non-title match in the first place.
Rollins – Stephanie: This is a minor Hit for hooking the audience into waiting around to see what would happen once Triple H showed up to go face to face with Seth Rollins. Part of the scene between Rollins and Stephanie McMahon was good. There were some good lines in there. However, it dragged on too long and I'm not a big fan of some of the sexist language that Rollins used towards Stephanie, even if she is a heel who has doesn't deserve any sympathy. Calling her "babe" is sleazy and fits in more with a heel Rollins, but he is a babyface. So, I had issues with the segment, but in the end it accomplished what it needed to accomplish.
Heyman and Lesnar: This was a great promo from Paul Heyman setting up challenging Goldberg to face Brock Lesnar at WrestleMania. The "yeah, but…" mantra worked very well. He gave some good examples from the past and made Lesnar the "yeah, but" for several WWE Legends. It is unusual to have Heyman talk about a weakness or vulnerability for Lesnar which is part of why this promo stands out from the others that he has done in the past. He talked about how Goldberg is the "yeah, but" for Lesnar. The challenge was strong. But, why would Goldberg say yes? He has proven himself against Lesnar three times. So, I hope something happens to make him want to face Lesnar again.
Joe's Debut: Samoa Joe has done enough in NXT. He needs to be on the main roster, so it was good to see him debut at the end of Raw with a surprise attack on Seth Rollins. It was a good surprise. The beating was physical and memorable. It put him over as a monster. The announcers did a nice job to add to that feeling. It will be interesting to see him as Triple H's new chosen one over Rollins (and over Owens too for that matter). This set up Joe vs. Rollins at Fastlane which should be outstanding. I am curious to see where they go with Joe after that. If we get Rollins vs. Triple H at WrestleMania, where does that leave Joe? Finn Balor perhaps?
RAW MISSES
Mick Foley: Foley is turning into my least favorite WWE/WWF authority figure of all time. I'm not saying he is the worst, but he has certainly moved into the conversation. He has been weak. He has kissed Stephanie's ass far too often. He has even said things like he can't believe Stephanie would do something bad, despite you know, her entire character's history over close to 20 years. These are all scripting issues. His performances have sometimes been good, but often not. It has gotten bad enough that WWE has turned his real life forgetfulness and mistakes into a running gag where he looks at his hand to read what city they are in. This week, he rewarded Brawn Strowman for interfering in a Universal Title match by giving him a Universal Title match. That makes no sense. He acted like the conversation between Owens and Strowman from several weeks back was some type of binding contract. Ruining a major title match at a major PPV is the type of behavior that should get a wrestler punished, not rewarded. Why should the fans get mad at a wrestler for ruining a Title match like that, if the authority figure is going to say that he understands it and then rewards it like Foley did?
Nese Interview: I wasn't a fan of having Mustafa Ali losing this week after they highlighted him and his great finishing move last week. It is the 50-50 booking that hurts the entire roster and helps no one. I like Tony Nese and so I'm fine with him getting a win, but not at Ali's expense. The real problem was the interview that Austin Aries did with the victorious Nese after the match. The interview pointed out that Nese has no charisma and isn't interesting to hear talk. What? Why do anything to point out a wrestler's weakness? Am I wrong? Doesn't Nese work for WWE? Don't they want him to do well for them? Why not accentuate his strengths and ignore his weaknesses? That is what a good wrestling promoter would do.
Universal Title Picture: I already complained about Strowman getting the Universal Title match. It was predictable that Reigns would interfere to cost him the match to get his revenge. They seem to clearly be setting up a triple threat match for Fastlane with Owens vs. Reigns vs. Strowman. I'm certainly not excited about that prospect. That's two heels and a babyface who gets a heel reaction from the vast majority of the fans. WWE started a possible storyline for Jericho vs. Owens at WrestleMania, with a little bit of tension between them in the backstage encounter. Then Jericho got destroyed before the Title match. If they are going to go with Owens vs. Jericho at WM, why not have Jericho win the Rumble? I don't know what they have planned for Randy Orton as the winner on Smackdown, but I am not excited about any of the possibilities that come to mind. I would have been much happier if Jericho had won. The Title picture is murky right now both for Fastlane and moving forward to WM. And as an aside, I do wish WWE would have explained how Reigns got into the Rumble when he could have been the Universal Champion at that point. It would not have taken much to say that Stephanie and Foley reserved one spot and picked a number at random for the loser of the Universal Title match. Just give the fans like me who think about these things a story that makes sense.
Banks, Jax, Bayley: This is a minor Miss. I think they are setting up Sasha Banks to turn heel. I would be fine with that as her personality to me screams heel. Calling yourself The Boss is a heel move to me. Plus, she was a great heel in NXT. She took a dig at Bayley in the trainer's room. She is going to grow more and more frustrated and eventually probably will take it out on Bayley. But, there aren't any other babyface women wrestlers on Raw. That makes three top heels and only Bayley on the babyface side. There is also a heel Dana Brooke and a heel Alicia Fox although she is more of a manager at this point with Noam Dar than a wrestler. Banks doesn't get my sympathy because she is kind of stupid for her actions. It doesn't seem like she would have actually been cleared by WWE doctors to wrestle at the Rumble so there is a lack of logic to what they are doing. And Bayley looked pretty weak in coming out to "save" Banks without getting physical with Nia Jax. She got in the ring and sort of asked Jax to let Banks go. Where was her fire? She should have jumped on Jax. I have a feeling that it will be a fatal four way at WM for the Raw Women's Title which I'm not excited about. The more I think about it, maybe this isn't so minor of a Miss.
Enzo & Cass: Come one. I have been hating on Enzo & Cass since their time in NXT, long before they got called up to the main roster last year. I have acknowledged multiple times that I am in the minority of fans who don't like them. I know they get a great parrot response from the live fans. But again, come one. Even their biggest fans have to admit that this was terrible. They made fun of Jindar Mahal for having veins showing because of his buff physique. Why? And then they went on and on with a series of terrible puns based on "The Wizard of Oz." I know that is one of the most classic movies of all time, but it still came out in 1939. And it was all based on the fact that Laredo sort of rhymes with tornado. Riveting. This was so lame. I don't know how anyone could defend this crap. I mean, the lollypop kids will be lolly gagging. Are you kidding me? I want these two to go away. They aren't good. They are annoying. They aren't even good wrestlers. I hate them.
Triple H's Promo: The Triple H vs. Seth Rollins program has not been good. Having Rollins turn babyface by having Triple H dump him was a weak start to a babyface run. Rollins doesn't always act like a babyface like when he called Stephanie "buttercup" and "babe" earlier in the show. Triple H is a babyface promotor on NXT. So while it was interesting to see Rollins show up at the NXT Takeover show on Saturday, it does point out the imbalance in the characters and how they are presented. Then came Triple H's promo where he was sometimes making heelish points, but other times making good points. He was a heel in making fun of Rollins for being weak and getting hurt and having to relinquish the WWE World Title. But, he was right that without his help, Rollins has been a loser since coming back from injury. Rollins hasn't been able to get it done without The Authority's backing. He made some good points. In a lot of ways, he is coming across like a babyface, more so than Rollins. We are supposed to be cheering for Rollins and booing Triple H, but they aren't doing a good job of getting the fans to react that way. And while I liked Joe's debut, it could have been better with a stronger heel Triple H and a stronger babyface Seth Rollins.
NOW CHECK OUT LAST WEEK'S ARTICLE: RAW HITS & MISSES 1/23: Bayley & Charlotte, Seth vs. Sami, Taker and Brock and Goldberg, New Day, Enzo & Cass, Cruiserweight
OR CHECK OUT JASON POWELL'S HITLIST ARTICLES HERE.
---
Jon Mezzera is PWTorch.com's WWE Hits & Misses Specialist, providing his point of view for Raw and Smackdown each week. Email him at jmezz_torch@yahoo.com. Act now and become my 68th Twitter follower@JonMezzera (pretty clever handle right?). Just be aware that I don't live tweet Raw, I don't tweet much about wrestling, and I don't tweet much at all.