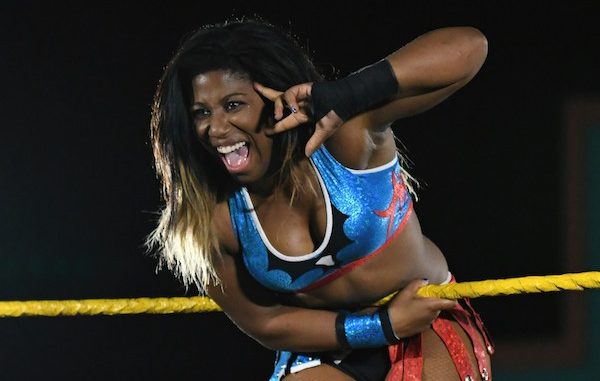 ---
SPOTLIGHTED PODCAST ALERT (YOUR ARTICLE BEGINS A FEW INCHES DOWN)...
---
Welcome once again to the NXT TRACKER, where I pick an NXT talent, assess their progression to this point and make bold, sure-to-look-hilarious-in-retrospect predictions about their future prospects. Let's have a look at the still-undefeated Ember Moon.
The Talent
Ember is a ten-year veteran of the ring. She's been all over the indies, facing Kimber Lee, Candice LeRae, Cheerleader Melissa, Heidi Lovelace and Mickie James, among many others. She first wrestled under the name Trouble (that's a pretty cool name – maybe we should bring that back for a mascot character or a tag team) and then settled into the name Athena until her arrival in NXT. She's been near the top of the card everywhere she's gone.
Signature Wins in NXT
Ember debuted on NXT TV with much fanfare, after a slew of vignettes hyping her arrival, at Takeover: Brooklyn II against Billie Kay. Since then, she's spent the last six months beating the dregs of the thin women's division while being kept away from Asuka (other than at house shows, where the "undefeated" Moon has lost a number of times). She defeated Aliyah in a match taped at the fresh Takeover: San Antonio, which was featured in the first match on the first episode after the event, which typically suggests a bigger focus going forward.
Live Reactions
When fans are chanting "Ember's gonna kill you" at your opponents, that's a good sign. Ember and Asuka were treated to a "This is awesome" chant from an otherwise average crowd when I attended a house show some months ago. Fans love a babyface who wins – the main roster could use a few more of those.
The Booking
The idea with Ember is that she's fearsome, which was established all the way at the beginning. This is a bit of a tough sell when you have Asuka right there, with the market cornered on domination, but NXT has done a decent job of building Ember alongside Asuka for a title match at Takeover down the line, and if her mic time at Takeover and her squash over Aliyah aired Wednesday are any indication, it might be the night before Wrestlemania. There's work to be done, though, as her appearance on the panel at San Antonio was one of the most awkward, cringe-worthy performances I've seen this side of Steve Blackman. The four-way match was largely sold by Peyton Royce and Billie Kay on the mic given Asuka's language limitations, so the build for this imminent match will be interesting, to say the least.
The Future
Ember has very little to prove in the ring, as she has a strong moveset, transitions well and boasts one of the cooler finishers in the company with the Eclipse. With enough women on the main roster to satisfy months or more of storylines, Ember's going to have to shrug the San Antonio performance off and get a lot more comfortable listening to her earpiece and giving an interview at the same time.
Predictions
Like all in NXT, I'm hoping the interview was a temporary setback and Ember can get back to doing what she does best. I know I predicted Asuka to lose the title in the four-way match last weekend, but Ember would benefit a lot from a win over Asuka too, and has some fresh matchups waiting for her in Peyton Royce, Billie Kay and Nikki Cross. I suspect when Ember wins this title – whether just before Wrestlemania or later – she'll be asked to anchor the NXT women's division for a while until workers like Heidi Lovelace and Kimber Lee come up to provide realistic title threats. It could be a long wait to get to the main roster for Ember, but once there, I expect her to blaze through women like Dana Brooke leading to a spot near the top of the division, where she's always been.
---
NOW CHECK OUT LAST WEEK'S ARTICLE: NXT TRACKER: Assessing the State of NXT Booking Headed into Takeover Tonight including all three titles and other feuds