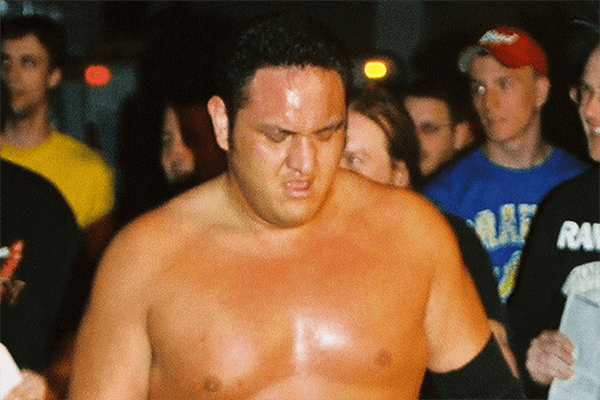 ---
SPOTLIGHTED PODCAST ALERT (YOUR ARTICLE BEGINS A FEW INCHES DOWN)...
---
RISING STAR OF THE WEEK: Samoa Joe
Injury to Seth Rollins notwithstanding, this has been quite the week for everyone's real favorite Samoan. If we put his age of 37 in terms of wrestling years, Joe's about on the high-end of his money-making prime, and I'd say being involved in an angle with Triple H during WrestleMania season is one of the richest spots you could ask for. With Seth's knee sadly put on ice, does this mean a straight shot to him going up against a Triple H whose "fatherly" NXT persona will finally eat his Monday Night persona's lunch? Nobody likes Monday Night Triple H. Nobody. Okay, maybe Vince and the suits at USA, but nobody else. Speaking of Vince, let's hope he doesn't hold this injury to Seth against Joe too much. I hope his optics for the situation are a little broader than what we're used to seeing from him, because if anybody deserves their chance in the mainstream wrestling spotlight, it's Joe.
HONORABLE MENTIONS
Naomi: When was the last time we "Felt The Glow"? Was it when Naomi got drafted to Smackdown? Before the "Diva"s Revolution" (which, do not forget, was originally pioneered by the beacon of self-made womanhood, Stephanie McMahon) and the NXT call-ups of Charolette and the gang, Naomi was one of the best women wrestler's on the main roster, so seeing her kind of get lost in the shuffle was a little disappointing, but now it looks like she'll be playing dance partner to Alexa Bliss in the Smackdown's Women Title picture (she actually has a title shot at Elimination Chamber). She's above average on the mic so I'm thinking this feud might catch some people by surprise – that's if WWE doesn't cut it off at the legs before it gets a shot to develop.
Baron Corbin: Who here listens to PWTorch Livecast guest/comedian/former WWE creative writer Matt McCarthy's "We Watch Wrestling" podcast? Big fan I am. Well, his co-host and fellow comedian Tom Sibley chose Baron Corbin as his "favorite wrestler" of the week, and his reasoning was so rock solid. It wasn't because of his character, his badass "lone wolf" shirt or because he eliminated Braun Stroman in the Rumble, but it was the hustle that he showed during the Rumble, and I gotta say, I'm all in with the ol' T-Bone in saying I too appreciated the hustle. Baron's been downright consistent in his heel character and is becoming one of the guys to see on Tuesday nights. It'll be interesting to see where he matches up come early April.
FADING STAR OF THE WEEK: Bayley
When will the roller coaster of hot and cold, start and stop end for poor Bayley? First, she's mis-used and improperly characterized for months after her main roster debut, then they finally start righting her sails by making her "fan first, wrestler second", and now she just loses clean as a whistle to Charlotte on Sunday? This concept is not a hard one, Vince. It really isn't. Money is to be had here and this even stevens booking is not only screwing up this feud, but it's really messing with this column's feng shui. What's there left to prove at WrestleMania? She already lost! She was just "Rising Star of The Week" 14 days ago and now she's booted to digging a ditch in the trenches of "Fading Star"? Nothing makes sense anymore.
DISHONORABLE MENTIONS
Enzo Amore: Has there been a more damaging advertising partnership than the one WWE has with KFC? Could you imagine Andrew Lincoln taking a break as Rick Grimes during a scene from The Walking Dead to hock the network's upcoming episode of "Comic Book Men"? Or Rick Steiner having to act scared of a possessed doll because TNT has been showing trailers for "Bride Of Chucky"? (Wait, that one does sound strangely familiar) Forget what it does to your GI tract, how many babyface characters must KFC's mutated chicken suck all the coolness out of before it leaves the roster dry? That…"segment" with Enzo at the Rumble made me feel like I just ate one of their trash "Georgia Gold" meals. What's worse is that I'm probably going to accept the implication that one of my favorite wrestling personalities may have had sexual relations with not just food, but deep-fried fast food.
Neville: His heel turn has been one of the best WWE has done probably in years, but Neville's new attitude started to turn a little sour after his title win on Sunday. The "King of The Cruiserweights" thing is getting taken a little too seriously, and WWE may think it's adding something onto Neville's character, but in all actuality, it's subtracting from it's authenticity. "Bend at the knee?" "Bow to your king?" I know I said before Neville looks like a Game of Thrones character but the guy doesn't need an Iron Throne to sit on.
Road To WrestleMania is now, folks. Someone is bound to get a flat tire.
---
NOW CHECK OUT LAST WEEK'S ARTICLE: RISING STAR & FADING STAR OF THE WEEK: Mickie James shines, Cena, Harper, Rollins