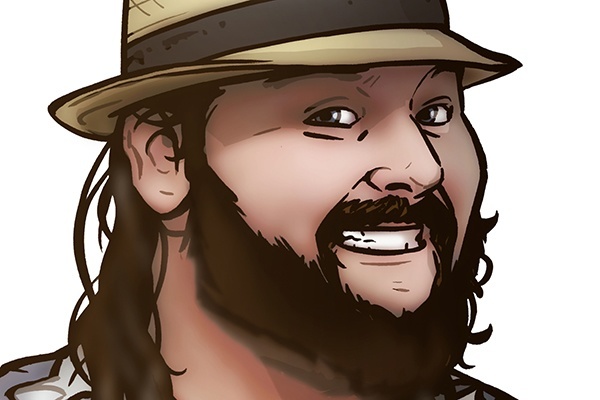 ---
SPOTLIGHTED PODCAST ALERT (YOUR ARTICLE BEGINS A FEW INCHES DOWN)...
---
SMACKDOWN HITS
Opening Segment: There was a lot going on in Smackdown's opening segment. You had Shane McMahon and Daniel Bryan announcing the wrestlers who will be in the Elimination Chamber match. You had a set up for the main event of Dean Ambrose vs. A.J. Styles. You had a hint that Styles would also get a rematch for the WWE Championship at some point outside of the Chamber (which might be how you end up with a multi man title match at WrestleMania). Then came the in ring part of the opening with John Cena addressing winning the Title at The Royal Rumble. His promo was good. The interruption from Bray Wyatt and Randy Orton worked well. WWE explored the possibility of a Cena vs. Orton match up and an Orton vs. Wyatt match up as well. While I'm not looking forward to any of the Orton possibilities, teasing a few makes sense. And it ended with Luke Harper coming to Cena's aid to set up the tag match for after the commercial break. They accomplished several goals in a well executed way.
Cena & Harper vs. Wyatt & Orton: This was a good tag match. It had good wrestling action, and advanced the storyline of Harper leaving The Wyatt Family. It was interesting how Harper was frozen by Wyatt's presence in the ring. He would attack Orton, but tag out to Cena when Wyatt entered the ring. Cena doesn't need to be protected the way new Champions would usually. So, it is ok that he took the loss. Orton was an undeserving cold flat Royal Rumble winner. So you better start getting him hot and building him up to a point where he hasn't been in a long time if you want him to main event WrestleMania. So starting out with him pinning the WWE Champ with an RKO is a good start.
Lynch & Naomi vs. Bliss & James: This was another good tag match. Becky Lynch and Mickie James are very good workers. Naomi is solid with some exciting moves, although I don't always trust that she won't slip and hurt herself or her opponent. Alexa Bliss is solid and has improved in the ring, but still needs to keep improving. They all performed well in this match. It played into their storylines of Lynch trying to get her hands on James while Naomi tries to prove that she belongs in the ring with the Women's Champion. It was predictable that she would once again pin Bliss, but that's fine.
American Alpha Interview: I was thrilled to see American Alpha get an interview this week. They have hardly been on since becoming the Tag Team Champions. They actually addressed that situation. And for once on Smackdown, Chad Gable in particular, but also Jason Jordan, got to show off their personalities. That bit with Gable swinging the Title belt around and Jordan having to duck under it multiple times was funny. I've said before that in addition to their great work in the ring, their personalities and these types of back stage segments helped get them over at NXT, so why not let them do similar things to help them get over on Smackdown?
Ambrose vs. Styles: A good Smackdown had a good ending with the main event of Ambrose vs. Styles. Ambrose and Styles worked very hard here and had a very good match. It was fun to watch from start to finish. It went nearly 20 minutes and never dragged. They had some very good sequences with several counters. They had great high spots too. Everything was well executed. The ending gave Ambrose an out after being distracted by the fighting at ring side between The Miz and Baron Corbin. Plus, Styles needed the win to get some momentum back after losing the Title to Cena.
SMACKDOWN MISSES
Open Challenge: While I liked the set up for American Alpha's open challenge for their Tag Team Titles, the parade of losers who came out one after another to accept the challenge was so lame. I was fine with the Usos coming out as they are a great team with credibility, even though they haven't been on Smackdown enough lately to get over their new look, attitude and entrance music. But then you got all the other D list teams coming out like the Ascension and the Fashion Police to remind the fans how crappy the Smackdown tag team division is. And nothing that they did with the long brawl made me excited to see American Alpha face any of these loser teams.
Main Event Announcing: While I did enjoy the main event, my enjoyment was lessened by the terrible announcing which often distracted instead of enhancing the match. Seeing the four regular announcers and two guest announcers lined up reminded me of the end of "The Naked Gun" when there are a ridiculous number of announcers for the baseball game. But, that's a joke in the movie. This is reality where we are supposed to take this situation seriously. And they wouldn't shut up. And the director cut to the announce table far too often during the match instead of showing the match itself. Miz was off character at times basically cutting down Corbin, but building up the rest of the Elimination Chamber participants. I wasn't buying him praising guys like Cena and Styles as much as he was. And the bickering back and forth between him and Corbin wasn't good. Corbin's big comeback that he played in the NFL was weak. He really added nothing to the situation. I would have been better off muting the tv and just watching the great work from Ambrose and Styles.
NOW CHECK OUT LAST WEEK'S ARTICLE: SMACKDOWN HITS & MISSES: Mickie James, Cena-Styles, Ziggler squishes Kalisto, Naomi-Bliss, Orton-Harper, Carmella-Ellsworth shopping trip
OR CHECK OUT JASON POWELL'S HITLIST ARTICLES HERE.
---
Jon Mezzera is PWTorch.com's WWE Hits & Misses Specialist, providing his point of view for Raw and Smackdown each week. Email him at jmezz_torch@yahoo.com. Act now and become my 68th Twitter follower@JonMezzera (pretty clever handle right?). Just be aware that I don't live tweet Raw, I don't tweet much about wrestling, and I don't tweet much at all.