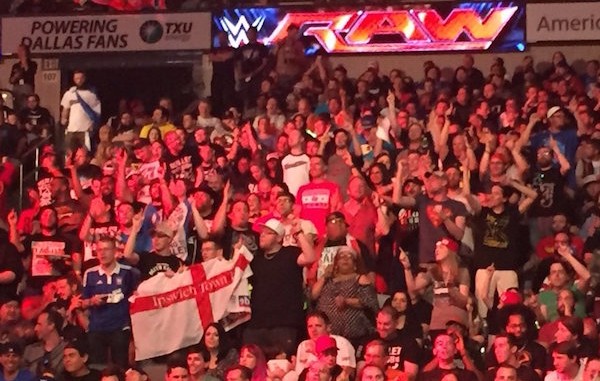 ---
SPOTLIGHTED PODCAST ALERT (YOUR ARTICLE BEGINS A FEW INCHES DOWN)...
---
Last night's episode of Monday Night Raw drew a 2.20 rating (3.115 million average viewers) down from the 2.49 rating (3.615 million average viewers) last week the day after the Royal Rumble. The promise of Goldberg likely helped Raw match the January ratings average to start February.
The viewership loss between the first and third hours was worse than usual at 497,000, though, and the highest since Nov. 7, an indication that Reigns and Joe main event wasn't a draw, nor did it likely help having two Cruiserweight segments back-to-back in the third hour. The third hour drew 2.84 million viewers, which is 10,000 below the rolling ten-week average headed into this week. So it's not so much that the third hour drew poorly as much as the first hour got off to a better than average start at 3.34 million viewers. The rolling ten-week average for the first hour headed into this week was 3.16 million. The second hour drew 3.17 million viewers, which is in line with the ten week rolling average.
A year ago, Raw drew a 2.65 rating, a bounce back from a 2.38 rating the prior week. The average rating six episodes into 20176 was 2.54 compared to 2.08 six episodes into 2017, a drop of 18 percent.
Keller's Analysis: No matter how WWE spins it – relative to other cable shows, accounting for DVR and YouTube and Hulu views – that's just an alarmingly sharp year-over-year decline in people choosing to watch Raw live – a show that was touted by WWE as having particular value in the cable landscape for being live appointment viewing. On the other hand, relative to last fall, WWE is performing fine six weeks into the year, with a 2.21 average so far in 2017, buoyed by last week's 2.49 post-Rumble episode. I do wonder how long Vince McMahon is going to give this much time to Cruiserweights. That said, it's not the usual regular-roster "filler" in the third hour was doing all that week. The fact that an hour anchored by Chris Jericho vs. Sami Zayn in a U.S. Title match and Roman Reigns vs. Samoa Joe in a main event grudge match saw a nearly half-million viewership decline compared to the first hour is not a good sign. Goldberg continues to correlate to increases in viewership, but saving him for nearer the end of the show seems to work better.