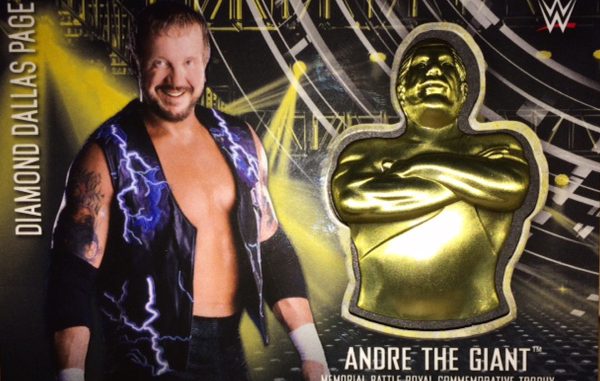 ---
SPOTLIGHTED PODCAST ALERT (YOUR ARTICLE BEGINS A FEW INCHES DOWN)...
---
Topps' first WWE trading card release of 2017, Road to WrestleMania, continues the company's successful formula of delivering two hits (autographs, relics, kiss cards and press plates) per box, with each box usually costing around $50.
While the formula remains basically the same, many collectors have been pleasantly surprised with the quality of the cards and with the hits they've been getting from hobby boxes. While many Topps WWE products over the last four or five years have delivered one T-shirt relic and one other hit (oftentimes a mat relic) per hobby box, many collectors are getting at least one autograph per box, with many hobby boxes yielding two autographs and no relic cards.
Autographs are serial numbered to 200, with different colored parallels numbered to 1, 10, 25 and 50. The autographs have a very attractive, distinct look compared to other recent  WWE products from Topps. More importantly, most of the cards feature on-card autographs instead of stickers, which is always a big plus for collectors. There are also rare dual autograph cards (serial numbered to 10) that feature signatures from the likes of Sting & Lex Luger, Sasha Banks & Becky Lynch and John Cena & Nikki Bella, among others. Topps also included Kiss Cards and Autographed Kiss Cards from many of the top female stars in WWE.
T-shirt Relic Cards include a swatch of a shirt worn by a wrestler. Although this is pretty standard fare, Topps really came through with a strong design for this particular product. Colored parallels, particularly the blue cards numbered to 50, are especially eye catching. Mat Relics include pieces of the ring from WrestleMania 32 and NXT Takeover: Dallas. Andre the Giant Battle Royal Commemorative Trophy Cards are the only manufactured hit in the product, and feature a 3D trophy relic of Andre. The checklist is pretty weak, but the Andre battle royal hasn't exactly been a match for big names the last several years. The trophy cards are among the better manufactured hits Topps has produced. Topps' 2017 WWE Road to WrestleMania product also includes autographed versions of many of the memorabilia cards, a rarity for a base WWE product like this. 
Insert sets include Daniel Bryan Tribute (exclusive to Walmart) and John Cena Tribute, which are similar to tribute sets to Hulk Hogan, the Rock and others in recent years. WrestleMania 33 is a very attractive two-per-hobby pack insert with a posed picture of a WWE wrestler or other personality.
BOX
Box Break: 2017 Topps WWE Road to WrestleMania (Hobby)
Packs: 24
Total cards: 166
Bronze parallels (1:2 packs): 7
Silver parallels (serial numbered to 25, hobby exclusive): 2 (Vader, Triple H & Stephanie McMahon)
John Cena Tribute cards: 3
WrestleMania 33 inserts (2 per pack): 48
Hits (2 per box): 2 (Dean Ambrose Autograph serial numbered to 200, Finn Balor Shirt Relic Blue Parallel serial numbered to 50)
Box Breaks
I opened both a 24-pack hobby box and two $20 Walmart blaster boxes recently to get a close look at the product. My hobby box yielded a Dean Ambrose Autograph (serial numbered to 200) and a Finn Balor T-shirt Relic Blue Parallel (serial numbered
to 50). I also pulled two hobby-exclusive Silver Parallels, which are serial numbered to 25: Vader inducting Stan Hansen into the WWE Hall of Fame, and Triple H and Stephanie McMahon making their entrance at WrestleMania 32.
Retail blaster boxes guarantee one hit per $20 box, which could be a T-Shirt-Relic, Mat Relic, Autograph, Kiss Card, or Andre the Giant Memorial Battle Royal Trophy Card. The first box I opened yielded a basic Bray Wyatt T-shirt Relic (not numbered) and a Blue Parallel of The Rock, serial numbered to 99. The hit of the second box was an Andre Trophy Relic Gold Parallel of Diamond Dallas Page serial numbered 8/10.
Overall Thoughts
Most Topps WWE products deliver quite a bit of value for $50, and 2017 Topps WWE Road to WrestleMania is better than most. The basic Autographs are serial numbered higher than in recent years (numbered to 200 instead of 99), but more autographs means a better chance for collectors to pull one from a box instead of a Mat Relic.
The Autographs are the highlight of the product. The cards are colorful without being cluttered or overdone, and there is a very clear faded space on each card for each wrestler to sign his or her autograph. Wrestlers like Bayley and Charlotte have big, legible signatures, and they took advantage of the space these cards provided them.
Topps WWE products are generally much more affordable than most other sports and non-sport trading cards, and deliver more value. It's nearly impossible to find a decent football or baseball hobby box for $50, much less one that will deliver two hits. The fact that many collectors are hitting at least one autograph per box only increases the appeal of 2017 Topps WWE Road to WrestleMania. 
NOW READ OUR PREVIOUS COLLECTIBLES COLUMN: Looking Back at Rare WCW Figures from Galoob
---
PWTorch Collectibles Specialist Michael Moore can be reached at michaelmoorewriter@gmail.com. Follow him on Twitter @MMooreWriter.