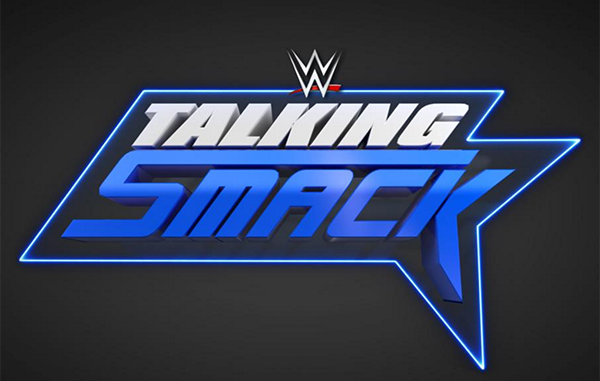 ---
SPOTLIGHTED PODCAST ALERT (YOUR ARTICLE BEGINS A FEW INCHES DOWN)...
---
WWE TALKING SMACK REPORT
FEBRUARY 14, 2017
AIRED ON WWE NETWORK
REPORT BY CRAIG ELBE, PWTORCH CONTRIBUTOR
Tonight's edition of Talking Smack begins with a lonesome and bewildered Renee Young, assuring us Daniel Bryan will join her, implying urgency to his General Manager duties following Randy Orton's statement after Bray Wyatt won his maiden title defense.  Renee informs us Dean Ambrose sustained injuries from tonight's Baron Corbin's attack, falling short of injury details but relieves concern with news of his release from the hospital facility, promising updates as they become available.
Bryan apologetically joins the show in tardy fashion as Renee continues to be openly flustered with WrestleMania's Smackdown title match in question.  Bryan announces he and Shane will be swapping tools from a monkey wrench to a Battle Royal next week to determine a new  no. 1 contentender to Bray Wyatt's title for WrestleMania.  Renee asks about Randy Orton, with Bryan claiming he can't force him to a match he doesn't want, blaming Renee for jinxing it with her proclamation Sunday night of Wyatt vs. Orton at WrestleMania following Wyatt's title win at the Elimination Chamber.  Renee pleads innocence, adding she was reacting to what she saw and wasn't alone.  Bryan persists she hexed it all and recalls he said a lot can change in the seven weeks leading into WrestleMania.
Bryan whips out his first batch of sarcasm of the night, deflecting potential blame to Renee for what she may say, and Renee points the finger right back at Bryan.  They find positivity by hyping next week's Battle Royal for a new no. 1 contender while being sympathetic for themselves for missing out on a Wyatt-Orton match despite Orton earning it with a Royal Rumble victory and showing he was a badass during his visit to the Talking Smack desk a mere two weeks ago, before submitting to Wyatt servanthood tonight.
Renee pivots to their first guest.
First Guest: Alexa Bliss
Bliss is welcomed to the show by a smattering of golf claps. Renee asked how she is. Bliss replied "great" followed by forced reciprocation.  Renee talks to about Bliss' supposed high spirits after learning about Naomi's knee injury.  Bliss offers confusion and embarrassment for Naomi's celebration, saying it took her five months to win the Women's Championship to Naomi's eight years.  Alexa hints at a feigned knee injury after Renee defends Naomi's journey, speculating a strategy to keep her WrestleMania dream alive by postponing their rematch until then, arriving as champion in her hometown of Orlando as she feels Naomi knows she'll lose her title in said rematch.
Bliss threatens to make Naomi's "injury"  real, offering to buy her a ticket to WrestleMania and watch a what a real champion looks like – in the form of her, of course.  Renee asks her to relate to Naomi's title quest as she has some similarities on the road to her title win.  Bliss adds Naomi shouldn't be celebrating eight years of losses while claiming not to discredit her. Bliss extrapolates her career in eight years while Bryan points out early successes ending in long-term failures across all professional sports, asking Bliss if she feels worried about that.  Bliss retorts with heel cockiness, touting her athletic background with Renee offering the same concern of burnout. Alexa replies with confidence to being burnout impervious, that she is the future and shouldn't entertain the idea.  Renee wonders to Bliss if she is concerned about injuries, putting over Naomi as a top athlete with locker room reverence who can't escape the injury bug either.
Bliss throws more dirt, saying she is no Naomi and is better than Naomi.  Bryan quips she wasn't better than Naomi on Sunday while offering her excuses of a lack of sleep and hydration, dripped in more sarcasm of course.  Bliss continues using those excuses while entering Bizzaro World where the Patriots lost the Super Bowl and adds that her off day reasoning.  Bryan quickly brings her back to Earth with a congratulations of her Patriots actually winning the Super Bowl while she regains her heel demeanor, insisting she speak as she is the former champion as Bryan continues to proclaims her elation.  I wonder how many memes she will have to tolerate after that exchange.  Bliss tries to use it, claiming the airing of the Super Bowl on the plane where she didn't remember who won negatively impacted her sleep a week before she lost her title.
Renee asks Bliss when she became such a Patriots fan, followed by more congratulations from Bryan that drew Bliss's own sarcastic chuckle.  Renee hopes for Bliss to be in a better state of mind when the rematch with Naomi occurs. Bliss says she already is as she is aware of Naomi's tactics.  Bryan puts a cherry on top of her great state of mind with her just finding out her Patriots won the Super Bowl!  Bliss asks Bryan if his rudeness has ever been brought to his attention, with Renee telling her she did just last week.  Renee apologizes on Bryan's behalf and thanks Alexa for being on the show. Bliss thanks her back, visibly anticipating a rack of ribs.
Too bad this show airs live, but I have to wonder if she was fed that Super Bowl  line and messed it up or if she improvised it and fell on her face without remembering who won the game and when it took place.  Dusty impressions shall commence.
Renee speaks with a grin difficult to talk with, telling Bryan he's the worst while he keeps the Super Bowl joke going.  He says she didn't even celebrate the Patriot's big win as she just found out.  He compares it to how happy he'd be if was a Seahawks fan (he actually is) and he found out they won the Super Bowl two weeks after the fact on the show. He says he'd be doing backflips on the desk, medically cleared or not!  Renee did add he was devastated when the Seahawks lost the Super Bowl two years ago, but that didn't damper his imagination's enthusiasm.
Renee regains focus and brings up a match Bryan made for next week, a Falls Count Anywhere Match between Nikki Bella and Natalya.  Renee asks Bryan if he was nervous when he made the match. Bryan said he wasn't, claiming the nerves came to the surface after the fact.  He said he made the match out of anger after Renee asks if he regrets it.  Bryan says he made the match Falls Count Anywhere, citing their many weeks in a row of fighting outside the ring, including tonight, and their countout draw from Sunday's Elimination Chamber.  Bryan goes on to say he feels this is what they need and he wants to give them the opportunity to resolve this conflict that has resulted in chaos.  If they want to fight, then let them fight he says, and hopes Nikki and Natalya are better after that match.
Renee then recounts Baron Corbin's assault on Dean Ambrose.  Bryan talks about how he  is confused by Corbin's actions but understands Ambrose cost him a chance at winning the title in the Elimination Chamber match.  He plays psychologist, drawing on Corbin's past successes and how frustrating it can be to get to high level in WWE but not replicate that same success as quickly as hoped, attaching the same concern to Alexa Bliss.  Bryan feels Corbin has not developed thick enough skin to rebound from losses in a positive enough manner, choosing instead to act out and blame others.  Bryan remembers all the times that Corbin came on the show, imploring attention and opportunities from Bryan.
Bryan puts more heat on Corbin for robbing him of seeing the Big Hog wrestle, Ambrose vs James Ellsworth was the intended match before Corbin's attack.  Renee tries to comfort Bryan with his interaction with Ellsworth but then wonders if that was even fair for Ellsworth.  She feels Ambrose is a different class while Bryan counters, citing their unfinished business and the fact he is a wrestler under contract and he should be wrestling, but dips his hand in sarcasm jar agian, claiming to know the caliber an athlete Ellsworth is.
Renee uses the segway to introduce a high caliber athlete as their next guest to the show.
Guest Two: Apollo Crews
Renee calls him a fine specimen as he approaches the desk, with him showing some personality with his callback of Alexa Bilss' fail.  Renee calls for part of Dolph Ziggler's promo, asking Crews his thoughts.  Crews recalls Dolph always being there for advice and support, but is confused with his new approach.  He gives an example of a few weeks ago when he confronted Dolph after his sore loser assault on his friend Kalisto.  Renee asks the result of the conflict. Crews answers with he got a headbutt for his troubles.
Crews goes on to talk about his background of loyalty and sticking up for his friends, wondering if Dolph feels threatened by Crews trying to take his spot, which Crews says he has no intention of doing.  Bryan adds people should be threatened, putting over his talent and ability with Renee chiming in that he's also charming.  Apollo continues, saying everybody's fighting for the same thing but Ziggler has now made it personal with injuring his ankle.  He touts his love for WWE and what he does and that Ziggler tried to take that away.  He promises this is only the beginning.
Bryan then gets Crews to talk about his family coming to America from Nigeria in about 1985 with nothing, detailing that struggle and his humble upbringing as a foundation for his determination and loyalty, his military high school being a huge factor.  Crews finishes by reiterating his promise of revenge on Ziggler while
Renee and Bryan continue talking of their admiration for Crews and his positivity and how they've wanted him on the show for a long time to share his story and for people to know his roots.
On Ziggler, they go on about their disappointment in him, comparing him to the Nikki and Natalya feud with him trying to ruin careers.  Bryan recall Ziggler's past failures after big successes, using his own experience to relate on Dolph's potential mental state.
Renee uses next week's Battle Royal as a segway for tonight's final guest.
Guest Three:  A.J. Styles
A.J. brings awkward and reciprocated silence to the desk, speaking first with an upset tone, saying hi to Bryan.  He immediately stares a hole into Bryan, telling him he was supposed to have a one-on-one title rematch.  Bryan denies the offer and A.J. concurs, remembering it was a Shane McMahon deal, and a promise.  He implores a rematch but not immediately, lamenting he had tonight's triple threat match won many times but there was always that second opponent.
A.J. asks why Bryan has to make things difficult for him.  Bryan answers he's doing his best for the fans, A.J. says he understands Bryan's position that Shane is his boss, asking Bryan to honor Shane's promise of a one-on-one rematch for the WWE Championship.  They agree that Bryan isn't the sole maker of decisions, then A.J. indicates Bryan doesn't always follow orders.   They continue by bickering over John Cena's rematch occurring tonight  before A.J.'s one on one rematch.  Bryan says the match was advertised and made above his paygrade.
In the backdrop of footage showing A.J. not winning tonight, Renee asks A.J. how hard it is to watch it and where he goes from there.  A.J. continues to say he wants his one-on-one rematch for the title, recalling Randy Orton's withdrawal of his title opportunity against Bray Wyatt.  Bryan  goes on to say that he can win next week's Battle Royal to gain a one on one title match, giving A.J. a sarcastic out due to his bruised bicep he got in tonight's match.  A.J. reacts unfavorably, saying he'll take what he can get from Bryan as he feels Bryan is dragging his feet on his one on one rematch.
Bryan tells A.J. a match had to made for the Elimination Chamber following his title loss two weeks before at the Royal Rumble, adding Cena asked for his rematch tonight and was granted his rematch, being the most recent champion.  A.J. disputes the logic, saying he asked for his rematch earlier than when the Elimination Chamber happened.  Renee suggests it was just odd timing, with Bryan asking if he has patience, as he will get his one-on-one rematch. A.J. says he'll believe it when he sees it.  Renee also begs his patience, with Bryan reiterating Smackdown gives opportunities.  A.J. speaks down to Renee as not having any authority while she just wants to keep things from getting more awkward.  A.J. takes that as his cue and walks out.
Renee and Bryan take a breath and talk about how tense things are in this WrestleMania season while pointing out A.J. has a point in his rematch quest. Bryan finishes out the show by hyping next week's Falls Count Anywhere match between Nikki Bella and Natalya and the Battle Royal to determine a new no. 1 contender to the WWE World Title.
---
NOW CHECK OUT THE PREVIOUS RECAP: 2/12 WWE Talking Smack Review: Naomi glows with pride, Bliss & James lament being on show after bad night, American Alpha josh around with Bryan