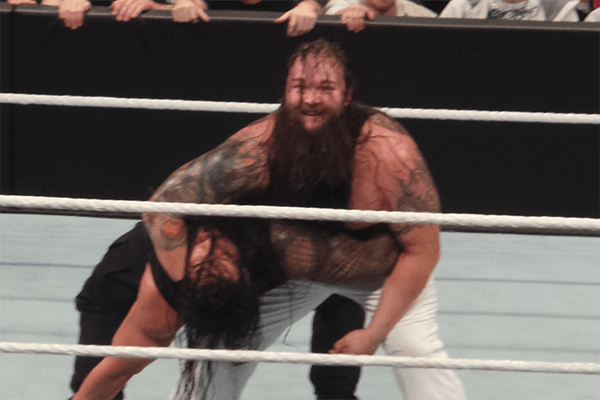 ---
SPOTLIGHTED PODCAST ALERT (YOUR ARTICLE BEGINS A FEW INCHES DOWN)...
---
What is Bray Wyatt? If a newcomer to wrestling heard his name and asked you to describe him, what would you say? Is he a face or a heel? No idea. Does it even matter?
Is he the deranged Louisiana psychopath that he debuted under? That guy barely even had a beard and had but the one follower. Is he the platitude-spewing cult leader? He never was. Bray Wyatt always has been the victim of the cult of Sister Abigail.
On the face of it, Bray is much the same character he has ever been, but this is far from true. The shirts have gone. The hair has changed. The family left and then returned again. All talk of revolution has ceased. For a while he called himself a God and that too has ceased. So what is he now?
Wyatt is one of those rare characters that has always been defined by others. His family. His feud with Roman Reigns and the Shield. The Undertaker. Daniel Bryan's magnificent beard. Randy Orton now. Wyatt has been used as a jobber so many times, but not so much a wrestling jobber as a character jobber. Then, just as people start to tire of his continuing empty threats, he goes and destroys two of the biggest stars this business has ever seen in both an Elimination Chamber and in a Triple Threat match the following Smackdown. What is Bray Wyatt? Why, he's the WWE Champion.
Not the UV Champion, the actual champion. The serious belt. Bray Wyatt has been given the keys to the kingdom.
It's been a long time coming. Bray's unrelenting difference has endeared him to fans but he does not have the star power that you might expect for a WrestleMania main eventer. Should we then expect BrockBerg to be the WrestleMania main event? Well, yeah, given that the UV Title is now apparently going to be involved.
But he could be, couldn't he? Bray Wyatt's storyline with Randy Orton has been built for almost as long as Jeri-KO and the pay off is expected to be just as satisfying, but Kevin Owens has been given much more attention than Bray Wyatt. Owens has been a paper champion, but he has at least been competing week in and week out. Before the Elimination Chamber, Bray Wyatt had barely been in the ring.
The only matches he has been in have been against marquee players, with the exception of American Alpha. Wyatt hasn't lost many matches recently. He defeated Roman Reigns with one Sister Abigail at the Survivor Series. He defeated Randy Orton with one Sister Abigail at No Mercy. Cena and Styles have similarly fallen by the wayside. Suddenly, a wrestler with a loss record of almost 70 percent is forcing people to stand up and take notice.
If Wyatt continues his current trajectory, destroying opponents with his devastating finisher, regardless of just how grand their star power is, Bray Wyatt could very much be the next big thing. Surely Dean Ambrose and The Miz should be watching their backs.
But what is Bray Wyatt? What is his place on this card? He may be champion, holding a title recently held by some of the biggest names possible, but will he still have that title after WrestleMania? Signs point to a Randy Orton betrayal and that would be that.
Imagine, just for a moment, the following scenario. Just, for one moment, picture Bray Wyatt vs Randy Orton in the main event of WrestleMania. Randy Orton comes out first and mugs for the crowd. Bray Wyatt comes down with his army of children in sheep masks. They surround the ring.
He steps into the ring with a microphone and says, "You never really were a Wyatt, were you Randy?" Eric Rowan steps up on to the apron to Bray's right, distracting Randy's attention.
"You were always a viper," while Braun Strowman takes his position on the apron behind Orton.
"And we always knew." He finishes as Luke Harper takes his rightful position to Bray Wyatt's right.
And just like that, the payoff that everyone expects is reversed completely. And just like that Bray Wyatt's star soars.
Seriously though, try describing Bray Wyatt in one sentence. I am utterly lost.
NOW CHECK OUT THIS RECENT ARTICLE: FRIDAY FEATURE: I like Roman Reigns… there, I said… he's a valuable part of the WWE ecosystem including at Rumble
---