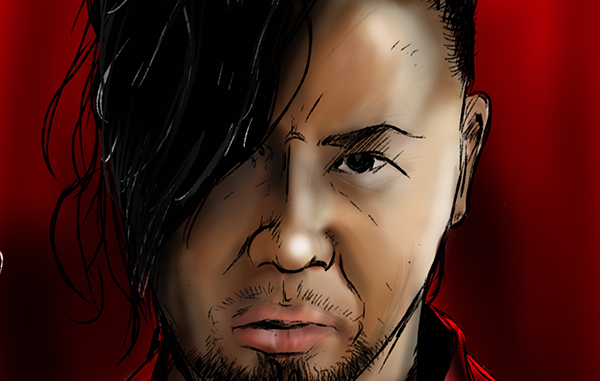 ---
SPOTLIGHTED PODCAST ALERT (YOUR ARTICLE BEGINS A FEW INCHES DOWN)...
---
While viewership for NXT isn't as high as the Kevin Owen's era, the show still consistently delivers satisfying storylines and high match quality. Takeover San Antonio is a perfect example: I personally felt overloaded with content and had only been watching clips or reading recaps of the weekly tapings just to stay involved for the big show, and while there was a lot of speculation that this particular card wouldn't deliver, I was (and believe many were) blown away by how fantastic the event ended up being.
With that said, I wonder if this next round of tapings in the build-up to Takeover Orlando will recapture my attention. (A returning Chris Hero / Kassius Ohno helps.) since a good number of matches have already been all but confirmed. There are, however, some feuds that we can ponder and hope come to fruition because the ground-work is either already there or the tools of the talent combined could spark interest. All it needs is the focus and dedication that NXT is so good at delivering on. Here are five feuds that may not happen but definitely should.
NOTE: I need to address that this list only contains feuds for the men. As a huge advocate for women's wrestling, the reality of the situation is that the only direction for Asuka is Ember Moon and Nikki Cross, which they are already hinting at. The division at this time is not diverse enough to offer interesting match-ups and I don't think a Peyton Royce and Billie Kay break-up angle would be smart. Just felt like it needed to be said and I look forward to future rosters changing my mind.
SHINSUKE NAKAMURA VS. KASSIUS OHNO
Like most things in wrestling, we can always bet on a certain thing, and nothing is more certain than Shinsuke getting a rematch for his prized NXT Title. However, as Shinsuke approaches his one year anniversary in WWE, his star-power is slightly fading and his call-up to the main roster needs to happen soon. Personally, I believe the best approach for the King would be to pass the NXT torch to a returning Kassius Ohno much like Finn Balor passed the torch to him. While this is a likely scenario anyway, there is no guarantee that this match would happen.
That would be a shame, considering the potential showdown between these two fan-favorites would be a show-stealing showcase that could only improve both wrestlers' value. The story is simple: Kassius is back and he wants to prove that his rise to fame elsewhere was no fluke, and his vicious elbow is ready to crack every skull that doubts him. Even better is that this bout can take place during a regular taping much like the Balor vs. Nakamura one and help the weekly program snag back those viewers who tune in only for the Takeovers whilst also establishing a new face for the brand. No matter what, Bobby Roode will be walking into Orlando as champion, and it is certain that his opponent will be one of these two.
HIDEO ITAMI VS. BOBBY ROODE
Speaking of Bobby Roode, his match versus Nakamura at San Antonio is well worth a second viewing. It seemed as if Bobby spent weeks watching tapes of Shinsuke's signature spots and had a detailed plan on how to avoid said spots for his advantage. (Check his resume, because he must have a PHD in psychology.) Bobby claims that his mere presence has given NXT mainstream attention and boosted the backstage roster's morale to an all time high. I don't want to speak for him, but that probably doesn't sit well with long-time NXT soldier Hideo Itami. Hideo has beaten the best that NXT has to offer (including Balor), but his string of injuries has placed him on the shelf on multiple occasions. While he is due back, and probably feuding with a returning Austin Aries, Itami does deserve the main event spotlight that he has worked so long for. Matching him up with the "Glorious One" could certainly be another big money fight. Itami doesn't necessarily need to come out on top of this feud, but could serve as filler until the rightful underdog (The Perfect 10) finally defeats the corporate mastermind.
AUTHORS OF PAIN VS. SANITY
This one is just fun to think about since there is literally no way (as of yet) that these two forces of evil would go at it. The Authors are tag champs and getting ready for a DIY and Revival triple-threat and Sanity is slowly building its reputation as the new stable of destruction. It would seem like Akam & Rezar would fit so well with Eric Young's boys, though, since even their attire fits the Sanity clothing fashion. Imagine if the AoP were approached by E.Y. to join together, but Paul Ellering respectfully declines. (If there is one thing that Young REALLY dislikes, it's being turned down.) Because of this, E.Y. sicks his biggest dog Damo onto Ellering injuring him horribly.
Alone and without their father figure the Authors are forced to make a decision: stand with E.Y. or stand against E.Y. For purposes of this post, you can imagine what they do. These teams clashing could make for a strong storyline of NXT dominance considering that every guy involved is BIG AF. It would also be a fun way to turn the brothers babyface in the process. Maybe no one has to turn either. A heel vs. heel atmosphere sounds contradictory on paper but with the level of smart fans that are involved people will choose who they want to root for. Will this happen? No. Should this happen? Probably not. Would it be entertaining? A-B-S-O-L-U-T-E-L-Y.
PETE DUNNE VS. WILLIAM REGAL
This potential feud has already been dangled in front of us, and while it may not come together for an in-ring spectacle, the politics of this one are too hard to ignore. William Regal helped sculpt the WWE UK tournament and was eager to present the best that England (as well as other countries) had to offer. It personally meant a lot to him. So when one of the competitors viciously attacks another in an unorthodox and violent fashion, you can imagine how enraged the NXT Commissioner was. That competitor, the aforementioned Pete Dunne a/k/a the "Bruiserweight" a/k/a "SERIOUSLY GO TO THE DENTIST," used those very tactics to finesse his way into the tournament finals and even laid a beating on his final opponent Tyler Bate after Bate won his semifinal affair. Dunne's reasoning for the attacks were to make a name for himself, especially since all of the WWE Universe had their eyes on the two-day contest. Regal berated him, both on camera and backstage for his disrespectful actions, and had it not been for Triple H, would have expelled Dunne from competing. You could see the hate in Regal's eyes having to present Dunne as one of the final two challengers for this historic event. Fortunately for Regal, Tyler Bate would best the "Bruiserweight" and capture the UK Championship at the ripe old age of 19. The story won't end there. Pete Dunne is about to make his NXT debut, and probably isn't done with Tyler Bate, but in the same vein, William Regal isn't done with him. Messing with Lord Regal's tournament is one thing. Messing with the brand that he has been appointed to regulate? PREPARE FOR FISH HOOKS IN YOUR TOOTHLESS MOUTH, KID.
JOHNNY GARGANO VS. TOMMASO CIAMPA
I'll be totally honest; my main purpose for these lists is to promote discussion in the wrestling community, and much like my last list I based it all around my final choice. I implore you… I implore you all. Go back and re-watch my favorite match of the Cruiserweight Classic: The finale of round 1. Tommaso Ciampa and Johnny Gargano's friendship is just as strong as the tag-team magic they always seem to produce, but their chemistry as partners is only matched by their chemistry as opponents. In the CWC, the story was "may the best man win." What they gave us was a hard-hitting and unpredictable demonstration of engagement that pushed the limits even for a sport that is predetermined. After it was all over they embraced as friends and stood together as brothers. There is only one word for how strong their bond is: love. Love of one another. Now imagine that bond gets broken, gets shattered as their goal to become the best drives a wedge between them. It no longer becomes "may the best man win." It becomes, "there can only be one of us."  That is a feud that can benefit not only Tommaso and Johnny's value as stars in WWE but NXT. NXT has always done well with the hardcore wrestling fanatics for live events, and their ticket prices for these "indy darlings" could surge. I may not be alone in saying this, but if I am I will say it with pride: A Johnny Gargano vs Tommaso Ciampa feud should headline a Takeover.  These two are so incredibly close a blood feud could produce nothing less than a match of the decade candidate. Not year. Decade.
NOW CHECK OUT THE PREVIOUS TOP FIVE LIST: TOP FIVE LIST: TOP 5 1990s cruiserweights who would be a perfect for 205 LIVE including Rey, Ultimo, Malenko, more
---
(Joey Galizia contributes Raw Primers and Smackdown Primers every Monday and Tuesday afternoon on PWTorch.com along with regular Top Five List contributions. Follow him on Twitter @RAMJAM89.)