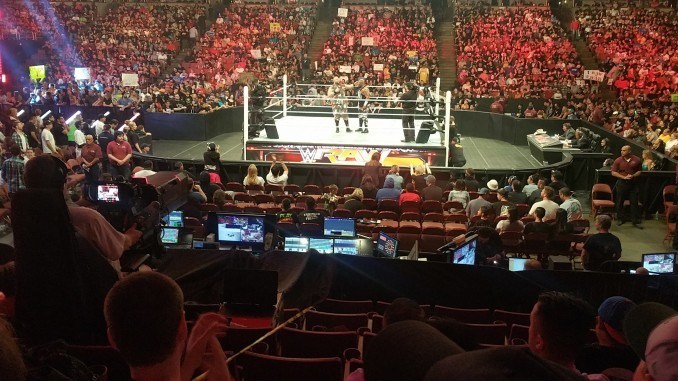 ---
SPOTLIGHTED PODCAST ALERT (YOUR ARTICLE BEGINS A FEW INCHES DOWN)...
---
WWE MONDAY NIGHT RAW – HOLT REPORT
FEBRUARY 20, 2017
LOS ANGELES, CALIF. AT STPLES CENTER
REPORT BY TYSON NELSON, PWTORCH VIP MEMBER
Here's a timeline of my experience at Raw tonight, capped off by The Rock calling C.M. Punk in center-ring after Raw went off the air.
It looked sold out. I was sitting opposite camera and the camera side was full, so that was a good sign.
PRE-TAPING
At 4:20 PT, the lights go out. Long video recap of WrestleMania in Dallas while they changed Raw set up to Main Event. (Why don't they just start with Main Event set up? Will it confuse people if they aren't set up for Raw when they take their seats?) At end of the video is Roman holding belt. Loud boos.
MAIN EVENT TAPING
(1) Bo Dallas beat Sin Cara in 5:00. Sin Cara got nice pop from L.A. crowd.  Bo got a nice reaction of boos. With the beard he's growing, please tell me they are working their way to him joining the Wyatt family. Bo got booed anytime he played to crowd. They did a spot where Bo was on apron outside and Sin Cara flipped on him. While Sin Cara was still shocked he lost in the ring, 18-20 guys changed the ring over to Cruiserweight Purple
Note, when they tape the ring, I always thought they wrapped purple electrical tape around the ring. Instead, they do just a few long strips of purple duct tape.
(2) Cedric & T.J. Perkins beat Tony Niece & Noam Dar in 7:00 when Cedric pinned Dar.
The ring was not ready for either Cedric or TJPs entrance. They finished when TJP got into ring and then turned the lights on over the ring. Cedric had a cool round of moves on Dar. The crowd was mostly into the match. Maybe because it was early in the night. The finisher on Dar looked really cool live with Dar flying off the shins of Cedric.
THE ROCK AND VINCE MCMAHON SHOW UP
Next, the Rock's music played. And out comes The Rock to the loudest pop I've ever heard live because it was unexpected, I think. The Rock cut a promo that Raw will be great and after the show they will shoot a scene for his new movie "Fighting with my Family" about Paige. After Raw, they will shoot the championship match between Paige and A.J. Lee with actresses playing their roles.
Rock made a joke that John Cena is in the movie, then he said, "No, wait, we want to make a good movie." He also commented that he's booing and cheering for everyone just like us, including booing Roman. Crowd cheers and boos. Then he says isn't it fun booing Roman? He did a bunch of guys' catchphrases. Then his own. Then Vince McMahon came out and said, "You're fired!" to Rock. And that's it. They both leave.
NOTES FROM LIVE RAW
-Not sure if it made the air but the crowd chanted "Thank you, Sheamus!" after he kicked Enzo, even though crowd popped for their entrance and win.
-Regarding Roman, the crowd enjoyed booing him loudly throughout. But they were confused by his actions with chair. They ate it up hoping it was a heel turn, but then were confused by what was going on.
-Regarding the contract signing, the ring was not done when Austin Aries came out. And four or five guys were still working on it when he climbed into it. They hustled out quickly when he climbed in. Most people stayed in their seats during the contract signing. Jack didn't get much of a reaction when he came out. I enjoy his character. The crowd did get into the signing. I thought Neville's promo was awesome.
-During Nia's match, a brief "Let's go jobber" chant broke out.
-Every time they do a stand up with the announcers, they have to remove their chairs from the stage, then they return them once they go to the ring. Seems like a pain. There was a time when they appeared to forget to return Byron's chair for a bit.
-The Barrack Obama promo must have killed McMahon. Or at least his wife's boss. The promo got a big pop from the L.A. crowd.
-Bayley received a really nice pop. The waving tube men got a nice pop, too.
-Besides the Rock, Charlotte got the best crowd reactions. Best heel working today. Let's hope they let this new Kevin Owens show what he can do.
ROCK'S POST-RAW APPEARANCE
-Rock came out after show. He made another Roman joke. "That Roman guy got his ass kicked."
-The crowd chanted "C.M. Punk" at him. Rock let's them. Then he says he's not in the movie. Ge said he was told that when you mention A.J. Lee, they will chant C.M. Punk.
-Rock then called Punk from the middle of the ring. It went to voicemail. Rock left a voicemail! He said he was calling from Staples Center and fans "are chanting your name." He held up the phone as everyone chanted "C.M. Punk." Pretty cool.
-They film boos and cheers or the movie. After boos, Rock joked, "It's a John Cena crowd." We even did a "This is awesome!" chant. (Your favorite, Wade!)
-Punk called Rock back while we were doing the chants.
-The crowd stayed for all of this Rock stuff and the downtime between the chants and waiting to film the match. I didn't see anyone leave.
-They then filmed A.J.'s promo. The actress looked nothing like her, but had her vocal ticks down. Then the match.  They did none of the high risk bumps. Then they would lie on that mat as if they did a big bump. Crowd laughed at it.
-Tessa Blanchard then came out to play Paige. They did the match with all the bumps. Most people were leaving by this point. Including me.
Thanks Wade! Love being VIP!
NOW CHECK OUT LAST WEEK'S HOLT REPORT: 2/13 WWE Raw HOLT Report: Notes from attending live in Las Vegas, Nev. including what happened with Festival of Friendship during break, advertised main event, Emmalina
---
Please send any news tips and results to: pwtorch@gmail.com. For instance, let us know if you hear a pro wrestling reference on a popular talk show, see a pro wrestling related Tweet or Instagram from celebrity, hear an ad for matches advertised for an upcoming WWE event, or anything else pro wrestling related that'd be of interest to our readers. 
If you attend a live event, please send results. We don't set up correspondents ahead of time and count on readers like you to send an email with a report on live events you attend – not just WWE, but also ROH, NXT, international groups. and anything else.