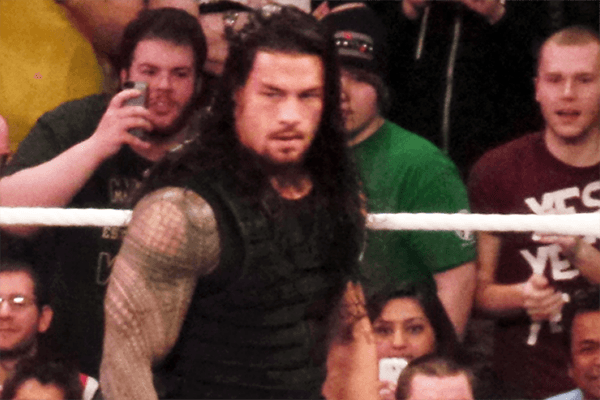 ---
SPOTLIGHTED PODCAST ALERT (YOUR ARTICLE BEGINS A FEW INCHES DOWN)...
---
Roman Reigns is one of the most divisive and talked about WWE performers in history. The company makes desperate play after desperate play to make him their number one star – thus far to no avail. How do they do it? What do they do?
I'm Tom Colohue and this is the Monday Night Reigns-o-meter.
Monday Night Reigns-o-Meter
Roman Reigns is not in the opening promo for Monday Night Raw. Instead, Kevin Owens opens the show and, despite a truly magnificent segment with Chris Jericho last week, Owens is still more popular than Roman. Roman's push is dead. Long live Roman's push.
In fact, basically this whole show is dedicated to Roman Reigns getting beaten up. It's all about putting over his opponent at Fastlane: Braun Strowman. Strowman will get bigger and bigger and bigger until only someone as truly and outrageously talented as Roman Reigns can take him down. It will take a true champion like Roman to make this magic happen.
Strowman's gonna eat him.
So when does Roman turn up? Quite late on, really. He appears briefly in a Strowman promo package; his sexy hair twisting in the wind. He later appears in a backstage segment with Mick Foley and is so cripplingly unpopular that Mick Foley can not be heard over the sound of the boos. Their conversation is interrupted by The Club – they're after another match.
Remember when The Club were doing great things in WWE? No. Me neither. Roman eschews a partner, then eschews the room, all the while eschewing any semblance of charisma. I think he had maybe two lines there? Remembered them both though, didn't he? Didn't have to write anything on his hand, did he?
A replay is shown of Roman getting beaten up, again, while he comes out to a mixed to negative reaction. Pretty sure the last three handicap matches have all been two-on-Reigns. We have no idea why that is, though; Roman's proper buff and he's got loads of friends. Roman recovers well in his replay, then glares at a nice, big "Delete Roman" sign that's genuinely opposite the hard cam. Bet that vanishes soon.
I really like The Club's music. FYI.
With no partner for Roman there'll be no hot tag build, so to keep this match from getting boring, it's important that he never looks likely to lose. That's why he's booked to look incredible; I promise.
Roman's offense is not all booed. That's different. He's been getting a few pops recently, just not when he comes out. A chair finds its way back into play, and the fans are hot and cold on it, then just hot on it. That spear got major pops. Considering how badly concussed he and Shane were last time he tried it, the guy's got guts.
I count four times he's buried Gallows and Anderson now. Only twice as tag champs though, so, you know.
Then there's no Roman for a while. A long while. But how will we know he's the star of the show? How will we know that he's the one we're supposed to love long time? But if Roman's not on the screen, who should I love? Samoa Joe? But he's not my favourite Joe the Samoan. Owens? Strowman? Where did all the faces go on Raw, by the way? This is like the most heelish show ever.
The main event happens. Roman politely allows it to finish before doing his run in. Not really a run-in when everyone knows it's coming, is it? This is like Monday Night Raw – We Promise Fast Lane Won't Suck edition.
Braun doesn't even get his music to celebrate his win. Roman lands a few hits. Braun is tired from just finishing a match! Strowman goes down! Strowman drop kicks Roman in the face. Crowd goes wild. Ball game. The lowest drop kick I've ever seen. Roman gets beat up some more.
Reigns has been getting beat up all year. Looks proper stylish in defeat though. Methinks he's getting a big win at WrestleMania to make up for it.
At Fast Lane? Maybe not.
Odds Counter
– Secondary booking
– Getting beaten up in replays
– Being overshadowed by Foley / The Club
– Gallows / Anderson again
– Handicap match and a chair
– Strowman's 2 foot drop kick
– Strowman in general
Did Roman Reigns beat the odds?
No
That spear was nice though, wasn't it?
NOW CHECK OUT LAST WEEK'S ARTICLE: MONDAY NIGHT REIGNS-O-METER #6: Tracking Roman Reigns's ability to beat the odds and come out on top
---