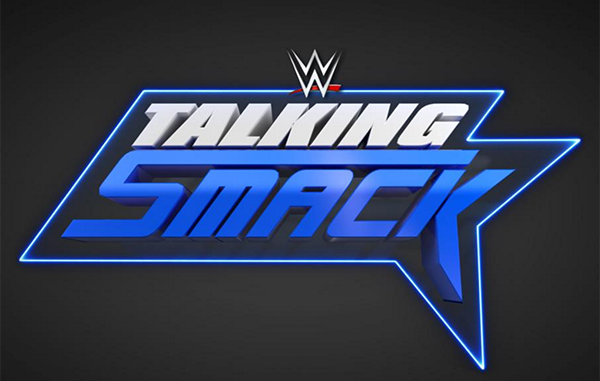 ---
SPOTLIGHTED PODCAST ALERT (YOUR ARTICLE BEGINS A FEW INCHES DOWN)...
---
Talking Smack has quickly become must see TV. That is very high praise for a network special that promotes sitting down and talking over wrestling on a wrestling network. It's smooth, easy viewing that appeals to those who want to know more about what really goes on without ever damaging the overall characters. Every episode gives us a few interesting things that it is definitely with knowing.
I'm Tom Colohue and this is Talking Points From Talking Smack.
Follow Tom Colohue on Facebook and @Colohue for updates.
---
Talking Points From Talking Smack
1. Pre-emptive hype
Talking Smack continues to be tasked with a two-fold role. It not only serves to celebrate the show that came before, it also hypes the hell out of the week to come. Within moments of coming on air, Luke Harper vs. AJ Styles was announced as the main event of Smackdown next week. Miz TV came up near the end with a John Cena vs. The Miz promo promised. This is how you establish a legacy.
Also, Mick Foley was told to suck it, hyping a supposed rivalry that Raw rarely seems to even remember. How much of this is real, I'm not sure but it doesn't really matter all that much. Renee Young and Daniel Bryan, at this point, are the ambassadors of the WWE.
2. Lynch doing the favors
Often the cost of a championship run is that right afterwards you're forced to return favours for everyone that did the favours for you when you were the champion. Ask A.J. Styles. Today Becky Lynch continued her run as chief jobber to the stars and a win at Elimination Chamber doesn't quite excuse it.
Lynch touched on Naomi, Alexa Bliss, and Mickie James in her brief appearance, as well as ensuring that her brief foray back into the title scene was pushed backwards in favour of the Mickie James feud. She dubbed herself the "most irrelevant" horsewoman to celebrate the others, then after-hyped the Bella-Natalya match. Carmella was the only one on the roster right now who was not mentioned in the speech.
Alexa Bliss has surpassed Lynch now as the first two-time Smackdown Women's Champion. Nikki Bella has been the focus of much of the attention and developed as the bigger star but Becky Lynch's time is far from over. Sadly, her time is not now.
3. Two Tag Teams are better than one
Since the moment that American Alpha won the tag team titles, the division has been an afterthought at best. Alpha have been given almost all of an extremely limited focus. The Ascension had a brief moment. Breezango have now had a brief moment. I expect the Vaudevillains will as well in the process of building Alpha up for Wrestlemania, but their Wrestlemania opponent does not require a build.
Heel Usos deliver in every aspect. At first they seemed unsure of their role but right now they are the dominant heel tag team for a reason. They are the veterans in a division that is shallow but talented. They have a major responsibility to drive this division forward and their moment in the spotlight on Talking Smack was a smooth, well played promo.
Credit to them for talking about Naomi with genuine heart, though. It got real there for a moment. That made me sad.
4. Certainty in character
We've seen a lot of opportunities given on Talking Smack recently, with people like Mojo Rawley, Baron Corbin, Alexa Bliss, and Apollo Crews given a chance to showcase their developing characters and generate some interest. No risk has been taken on Hawkins yet, but I'm alright with that, for now.
Opportunities were not given this time. We might just be getting too close to WrestleMania for stars in the making now. The wrestlers on display this week were all major players in their respective divisions, with major experience of taking that lead. It showed.
5. Return of the manbun
A.J. Styles looked fresh out of the shower when he arrived for his second appearance in 2 weeks on Talking Smack. However, his story hasn't changed since last week. Keeping his place at the top of the card isn't possible right now but being consistently in second place is not a bad place to be.
I don't know what it is about Daniel Bryan and Styles, but I could genuinely watch the two of them argue all week. Renee Young faded in the background, which is not an easy thing to do when you're as smooth a talker as Renee Young.
I would not mind Styles as joint host next week, but given that he's going to be screwed out of a WrestleMania main event just beforehand, it might not be the best idea.
---
NOW CHECK OUT LAST WEEK'S ARTICLE: TALKING POINTS FROM TALKING SMACK 2/14: Alexa Bliss would have failed on Raw, Apollo Crews is dull, Battle Royal announcement, Styles, Tag Division