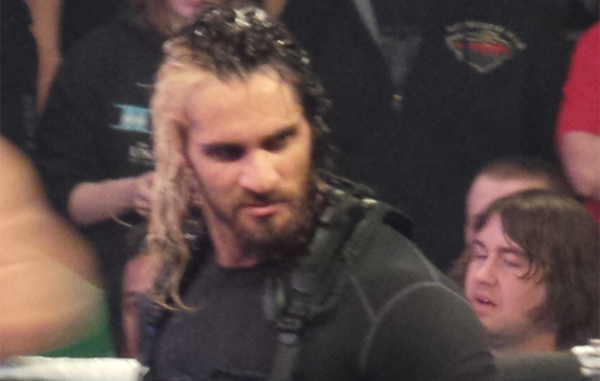 ---
SPOTLIGHTED PODCAST ALERT (YOUR ARTICLE BEGINS A FEW INCHES DOWN)...
---
In this week's WWE programming we saw Raw build to their final pay-per-view before WrestleMania and Smackdown try to piece their main event scene together. Let's take a closer look at who was hot and who was cold.
RAW ALL STAR: SETH ROLLINS
In his much anticipated return to TV, Seth Rollins was booked in a unique in-ring interview segment that allowed him to be much less formal and speak openly about his injury and status for WrestleMania. His tone and delivery was spot on for that moment and after months of trying to get Seth over as a babyface, he finally was able to garner the sympathy WWE has been chasing after. The emotion in his words and body language was as real as it gets which made the viewing audience believe that he had no chance at performing at Wrestlemania for the second year in a row. It was refreshing to see him talk about how his comeback has not been what he thought it would be and adding his disappointment for letting the fans down was a nice touch. His attitude quickly shifted when Triple H appeared and ran him down verbally, prompting Seth to leave the door open on a Wrestlemania appearance.Talking has always been a strength of Rollins, but as a babyface he had been more timid and less confident in his delivery. It is unknown if he will in fact be cleared to compete, but regardless this was a great way to kick start his babyface run whenever he is able to return.
RAW UNDER PERFORMERS: THE WOMEN'S DIVISION
If I could sum up the women's segment on this week's Raw in one word it would be: Clunky. Between the promo that started the segment to the match that followed, not one of the women had a positive performance. While Charlotte has been on a tremendous run, cutting long, in-ring promos is still not her strong suit. It was difficult to watch her try and remember all of the "one hit wonders" that were relevant in Green Bay sports and pop culture, and even more awkward to see her interrupted twice by entrance themes when it looked like she was not finished talking. Bayley's attempts to stick up for herself further cemented her fan-girl gimmick that has delegitimized her character more and more each week. Further, the dynamic between Sasha and Bayley just doesn't work for so many reasons. While we all know these two are close friends in real life, "The Boss" should never want others to succeed when she is not. The persona that got Banks to where she is now is deceiving, divisive, and selfish, not the personality she is showing now. Then, there is Dana Brooke, who was passed up on in this match and did nothing but take Charlotte's robe and leave the ring as irrelevant as she was made out to be without even making an argument to participate. Lastly, Nia Jax got the pinball victory over the current champion which makes no sense considering she is not wrestling for the title at Fastlane. Overall, this was a poorly booked segment, a terribly produced match, and a bad look for the Raw woman's division.
SMACKDOWN ALL STAR: JOHN CENA
My goodness, can anyone go toe to toe with John Cena on the mic and come out looking better? This Tuesday The Miz cut one of the most emotional, true to life promos we have seen him deliver. The brilliant part of the segment, however, was his rival's retort. As Cena said, so many people that came before The Miz had accused him of the same exact things, yet John continues to find creative and entertaining ways to combat the "part-timer" claims and make his words unique to the situation. We have all seen John Cena explain his love for WWE, but we have never seen him pull back the curtain on the influence he has backstage like he did on Smackdown. While it may have hurt Miz quite a bit, what Cena said made total sense – if he truly did have as much pull backstage as most think he does then why would he be setting up a Wrestlemania match with someone so far below his level? The entire exchange was brilliant and has heated up a storyline that most had not been excited about when the mixed-tag Wrestlemania match rumors started to leak. Much like Cena, most WWE fans did not want this either, but after witnessing the exchange on Tuesday more and more people seem to be changing their opinion.
SMACKDOWN UNDER PERFORMER: MICKIE JAMES
After seeing the way Mickie James has been booked since her return to WWE's main roster, I question the reason for bringer her back in the first place. Smackdown already has a quality veteran in the woman's locker room in Natalya, a larger number of women women in their division than Raw with less time to fill, and more than capable athletes that could establish themselves as viable title contenders. In another tough evening for James, she lost to Becky Lynch in a best of three falls match even after Alexa Bliss tried to help. Aside from her debut, Mickie has gotten almost no reaction from the live crowds and has done nothing to sway them either way. More of the same continued Tuesday. Fans aren't booing or cheering, just sitting on their hands while James talks into the camera saying that she knew everyone missed her. Did we? I'm taking nothing away from her accomplishments in WWE, but she just doesn't have the name value to make a meaningful impact on today's Smackdown programming other than putting over younger talent. Her matches and move set is fine, just nothing that jumps off the screen. I would imagine that WWE anticipated more fans remembering her contributions to the company and now need to figure out how to heat her up after WrestleMania.
Hope everyone has a great weekend and enjoys Fastlane on Sunday!
---
NOW CHECK OUT LAST WEEK'S ARTICLE: ALL-STARS & UNDERPERFORMERS: Big Show, Braun Strowman, Gallagher, Owens, Luke Harper, Dolph Ziggler, more