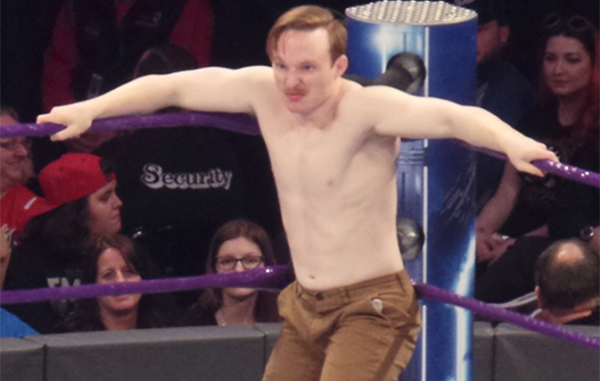 ---
SPOTLIGHTED PODCAST ALERT (YOUR ARTICLE BEGINS A FEW INCHES DOWN)...
---
RISING STAR OF FASTLANE: Big Show
Big Show's in great shape and it seems like McMahon wants to do the same thing for his star power. The character of Rusev hasn't been handled the best over the past couple years (I'm thinking since his WrestleMania loss to Cena), but having him be such a credible and powerful force against Show made it a credible win for Mr. WIght.  It kept things level after his loss to Braun two weeks ago on Raw, and what's even more interesting, is who exactly are they preserving Show for since Shaq has probably ate his way out of WrestleMania 33? Like Shaq, I'm hungry to find out.
HONORABLE MENTIONS
Jack Gallagher: Even in defeat, Gallagher stole the show in what was the match of the night against Neville. The loss stinks for him because it was a clean win (where else can he go from there?), but it was an impressive showing none the less. Those headbutts are vicious, man. He will need to have a credible feud to follow up to keep that Gentleman's umbrella popping.
Samoa Joe: I don't like seeing Zayn taking a clean loss, but a decisive win was key in having "The Destroyer" actually be a destroyer. Joe's been getting the Baron Corbin treatment since his Raw debut, and it's pretty necessary in today's "WWE Universe" that they need stars that aren't see-sawing wins and losses, which (funny enough) leads me to…
FADING STAR OF FASTLANE: Braun Stroman
Ain't no way to shake this stick, Stroman's star dropped big time after tonight. He looked less like a main eventer and more as a vessel to get Roman Reigns over, which is exactly what he was (surprise, it won't!) Rusev came across looking stronger in defeat than Braun did earlier in the night after the gauntlet of chokeslams he took. It's hard to top a pinfall after something like that occurs. This seems like such a weird move to do before WrestleMania. Even if you are doing Reigns vs.Taker, do you need to feed Braun to him to make it any more important? No way. It's a waste of a potential star and puts Braun back down to earth. We may not be seeing him dancing like Khali anytime soon, but it lowers his "Brauuun" yell down an octave.
DISHONORABLE MENTIONS
Nia Jax: I'm not seeing where Nia Jax fits into the puzzle after tonight and I'm not talking just in "Road To WrestleMania" terms, either. She's being positioned as a Mark Henry for the women's division: an obstacle in the way to get the talent over. It's going to be tough for her to be framed differently after keep featuring her in matches (on the losing end for that matter) that don't involve a title.
Goldberg: I've been a Goldberg fan since I was 13 (which was 1998) and that won't change, but booking him to only deliver two quick moves for a second time is so counter productive it drives me nuts. So what if Owens has to show a little more wherewithal than Lesnar does when fighting Goldberg, it's pretty important for your WWE Universal Title holder going into WrestleMania that he's able to do more than just those two moves; that's if he actually can, and if he can't, he shouldn't be holding that belt.