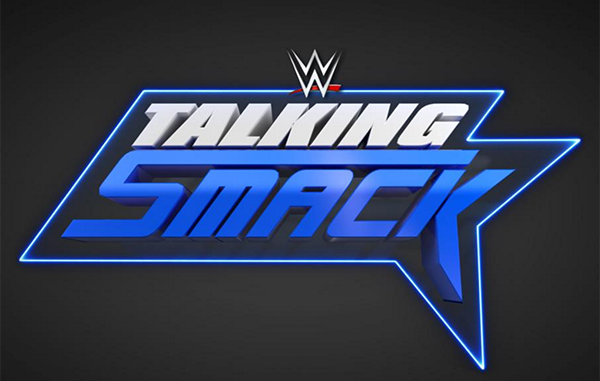 ---
SPOTLIGHTED PODCAST ALERT (YOUR ARTICLE BEGINS A FEW INCHES DOWN)...
---
WWE TALKING SMACK REVIEW
MARCH 14, 2017
AIRED LIVE ON WWE NETWORK
BY CRAIG ELBE, PWTORCH CONTRIBUTOR
Renee Young and Daniel Bryan were at the Talking Smack desk as the show started. Renee introduced herself and Bryan. Then they spoke of Pittsburgh being one of their favorite cities to visit and drive into from the airport.  She said she had her first Jimmy John's in Pittsburgh, but was somehow surprised from vegan Bryan's scoff.
Renee said she interviewed Bryan and Kurt Angle this morning about a dream match between the two.  She said it was the first of many such interviews that will be in a 360 degree format as they gear up for WrestleMania season for future social media releases.
Renee brought up the sneak attack that A.J. Styles perpetrated on Shane McMahon during Smackdown.  Footage of the carnage was shown in its totality.  Bryan said he lost all respect for Styles after his act of cowardice because he thought he was a higher caliber human.
Renee gave us another clip, one that saw the end of Smackdown where Shane made a match with himself versus Styles at WrestleMania.  Bryan didn't think Shane was in the right state of mind to make a decision of that magnitude.  Even though Shane is above him in the hierarchy,  Bryan said he will have to talk to him about the match.  Bryan said he knows the fans were upset when he fired Styles, but he had to based on his conduct.  He went on to say a potential match between Styles and Shane will be anticipated.  While Styles is the best wrestler in WWE and Shane is not, Bryan said Shane is tough and the match will be memorable, if it happens. He mentioned Shane was slurring his words and perhaps it wasn't a good idea for everyone to let Shane decide, while in the state of mind, that he is fit to wrestle Styles.
First Guest: Mickie James
Mickie James surprised Bryan and Renee by already being at the desk upon her announcement to the show.  Mickie said vanquishing Alexa Bliss tonight was her biggest accomplishment since her WWE return.  She spoke of an understanding she and Bliss had; she'd help Bilss regain and keep her title in exchange for a title shot at WrestleMania, but Bliss reneged.  Mickie said there really are no true friendships in this business and expected her and Bliss to go their separate ways at some point, but not this soon.  She mentioned that April 2nd has some luck behind it for her, that WrestleMania 22 was April 2nd when she beat Trish Stratus for her first WWE Women's Championship.  Mickie said she hopes to make history at WrestleMania 33 and tie Trish's record of 7 title reigns.
Surprise Guest: Carmella
Carmella interrupted Mickie's cute and touching story and "reluctantly" tooted her horn as the most impressive woman tonight.  She vowed to be the same at her very first WrestleMania by adding to her arsenal of already present gold by winning the Women's Championship.
Second Surprise Guest:  Natalya
Natalya made her presence known and touted herself as the best there is, the best there was, and the best there ever will be.  She told Carmella that everything about her is fake and she had better watch her back at WrestleMania.
Natalya went to Mickie and claimed herself as the locker room leader for the women since she ran Mickie off and sarcastically but nicley thanked her, to Mickie's confusion.
Third Surprise Guest:  Becky Lynch
Becky Lynch strolled to the desk in high disagreement with Natalya.  Lynch said Natalya is only the leader of snakes in the locker room, finger pointed at Carmella, and she is not her leader.  Lynch said she would rather stand alone instead.  She accused the other women of jumping on the bandwagon of attacking her from behind to make names for themselves.  She stated any such tactics won't matter and she will keep fighting and coming back for more.
Fourth Surprise Guest: Alexa Bliss
Bliss commanded, as the champion, that everybody to shut up.  She told Bryan he only has himself to blame for the chaos.  Lynch continued her snake narrative and imitated Samuel L. Jackson, that at WrestleMania she'll exclaim "get these snakes out of this ring!"  The joke fell on deaf ears, unfortunately.
Bliss took the awkward silence as an opening to ask Lynch what she is still doing there despite her many failed attempts at beating Bliss for the championship.  Lynch made another joke, this one about Bliss being one of Santa's elves.  Be a Star Lynch, you're a babyface.
After the minor bickering that ensued, Bliss emerged with a question for Bryan: How can he let this chaos happen with all these women that can't beat her, even firing a shot at innocent Renee.  She also conveniently failed to recall the deal with Mickie.  After more arguing of who deserves title shots and accusations of dishonest title retentions, Bliss asked them who is the only two time Smackdown Women's Champion.  Lynch raised her hand as the first, but Bliss said she lost it to her.  Bliss again blamed Bryan for everything and left the show.
Natalya also picked on Bliss's height while Carmella told them all to watch their backs and left the show.  Natalya had more to say, but left in disgust after learning Renee has unfollowed her cat's Instagram account.  Renee thanked Mickie and Lynch for being on the show and gave one last mention of the multi-woman match at WrestleMania for the Smackdown Women's Title.
Renee segued into the WrestleMania matchup of Miz & Maryse vs. John Cena & Nikki Bella.  She asked Bryan his opinion of all the verbal barbs the four of them threw at each other tonight.  He said he's still trying to recover from the previous segment from all those babbling women.  He made a funny comparison of how close that was to his real life, current and impending with a baby on the way.
Renee asked Bryan who he is favoring in that match.  His reluctance was met with criticism from Renee, but he said he likes Carmella's potential entrance with James Ellsworth, hoping for Bayley-like balloons and flesh colored tights.
Bryan transitioned to Maryse's accusations of Nikki from earlier tonight.  He said Maryse was wrong because he witnessed what happened and sides with what Nikki said in retaliation.  Bryan went on to state two obvious things: He can't stay objective in this situation and he and Miz do not like each other.  Despite that, Miz still gets opportunities.  Bryan goes on about what makes Miz hateable, comparing his arguing style to Donald Trump.  Bryan added he doesn't like how Miz blames others for his lack of success, comparing him to Baron Corbin and A.J. Styles and their recent actions.
Bryan said despite all that, he feels fans will be looking forward to the match he made tonight between Miz & Maryse vs. John Cena & Nikki Bella at WrestleMania.  Renee said it will be neat to see Miz and Cena fight again at WrestleMania, but cited her personal knowledge and experience of the tension between Nikki and Maryse.  She said they are both going to tear each other up with that personal animosity.  Bryan said that match will be a Face Punching Extravaganza as Renee gave a final plug to the matches that were announced for WrestleMania on tonight's Smackdown and signed off.
NOW CHECK OUT LAST WEEK'S REPORT: 3/7 WWE Talking Smack Review: Styles confronts Shane, Bryan hints at wrestling again, Miz and Maryse fire shots, Crews WM plans