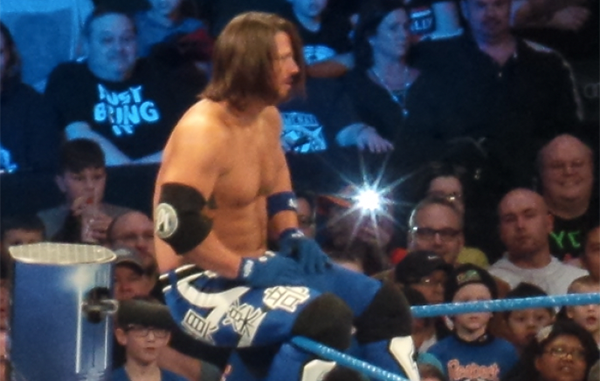 ---
SPOTLIGHTED PODCAST ALERT (YOUR ARTICLE BEGINS A FEW INCHES DOWN)...
---
Buried deep within a very underwhelming and extremely confusing week in WWE, there were also some stand out performances that are worth recognizing. Lets take a closer look at who hit the mark and who missed badly.
RAW ALL STAR: ROMAN REIGNS
Was the segment featuring Roman Reigns and Shawn Michaels intended to turn Roman heel? It is still unclear, but with rumors already flying about WWE building around Reigns leading into Wrestlemania 34 it seems almost certain we will never see the full turn. Monday, however, gave us a glimpse of just how good he could be as a villain. As per usual with Wrestlemania season, the WWE called upon Shawn Michaels to warn a current superstar of the dangers in facing someone from the past. Reigns held his ground, did not back down, and challenged HBK on everything he had to say confidently and condescendingly. This was one of Roman's best in ring promos and he was able to hold up his end of the bargain against one of the best talkers in the company's history. This drew great parallels to the reaction our President has been getting in his recent rallies. Most of everything that Roman said endeared himself even further to his core group of supporters while riling up his detractors more and more. It is clear that WWE has given up on trying to get the 18-54 year old male demographic to buy in and will position Reigns as the new John Cena that "gets a reaction everywhere he goes". Reigns has made his intentions clear and most certainly added more fuel to he fire leading into his match with Undertaker at Wrestlemania. Well done.
RAW NOTABLE ALL STAR: DANA BROOKE
While there were others on Raw worthy of an All Star title this week, I thought that Dana Brooke's performance was worth noting. Dana has been in a very tough spot since being paired with Charlotte, and even though she has been getting ample TV time she has largely been ordered around or humiliated during segments she's been featured in. This week she finally took a stand and showed the Dana Brooke character that was built up so well in NXT. She was finally the powerful, independent woman that we knew her to be and got a massive reaction from a crowd that has produced nothing but crickets for her prior to Monday. The reason I see this as such a big accomplishment and a tribute to how she performed on Raw is that we have to look no further than Smackdown for a very similar situation that played out much differently. Carmella was a lower-mid card wrestler upon her main roster debut and could not illicit any reaction from the live crowds. She, like Dana, viciously attacked the top woman on her show (Nikki Bella) which produced nothing different from the fans. Much of that can be attributed to how she attacked Nikki and the way she sold it to the audience. Dana laid every punch in like it was the most important thing she has ever done and exploded in a built up rage that really resonated both in the arena and on TV. A fresh start for Dana is exactly what she needs and this was a fantastic start.
RAW UNDER PERFORMER: GALLOWS & ANDERSON
Much to my chagrin these two have shown up on my Under Performers list many more times that I would like, but WWE continues to do Gallows & Anderson no favors. Understanding that this duo has not been in WWE for a long time, they should still know by now that when a match that decides who will be next in line for a championship opportunity ends in a no contest, it almost always guarantees that ALL participants in said match then gets the championship opportunity. The former Bullet Club members planned an attack meant to set up a situation where they don't have to defend their titles at Wrestlemania. In what world would that ever work? Further, they looked beyond foolish when trying to explain their point to Mick Foley, an authority figure who has been made out to be a buffoon as of late, who then put them in their place and in a match in which they are very likely to lose. A bad look, terrible execution, and another chapter in the books of an incredibly unsuccessful title run for the Good Brothers.
SMACKDOWN ALL STAR: A.J. STYLES
While most ardent fans would much rather A.J. Styles have a different dance partner at Wrestlemania, it is almost inevitable that his opponent will be Shane McMahon. That being said, these two did an absolutely tremendous job laying the groundwork for their match and rivalry on Tuesday with a vicious backstage attack. To begin the show, AJ spoke openly about how he has been treated on Smackdown Live and made a case for why he should be in the main event at Wrestlemania as most fans nodded along in agreement. While I don't think it was feasible for Styles to stand by a garage door for almost an hour with no one aside from Renee Young approaching him about the potential attack he was planning, the beatdown was executed to perfection with AJ really laying in his offense. Sure, the officials tending to an injured Shane could have shown a little more urgency in getting Styles away from the situation, but Shane sold everything incredibly well and the small addition of blood was a nice touch. The bottom line is, whether you are a fan of the match or not, Styles' performance Tuesday solidified that his impending bout against Shane is much more of a priority than the WWE Championship and will be Smackdown's showcase matchup. I will leave the back seat camera angle out of this. That was certainly not AJ's fault.
SMACKDOWN UNDER PERFORMER: RANDY ORTON
After a long layoff from the main event scene, Randy Orton has finally gotten an opportunity to work a world championship program and truly show a different side of himself after burning down the Wyatt compound. What we got Tuesday, however, was the exact same methodical, scripted, deliberate Randy that we have seen for years. Further, Randy has made this feud all about destroying Bray Wyatt rather than winning the WWE Championship at Wrestlemania. Sure, Orton still gets a pop every time he walks through the curtain because of his history and star power, but his performance on Smackdown was yet another reminder that Randy will always be a guy that plays it safe and goes through the motions. Whether that is truly the case or not, it does not make for compelling television and does nothing to elevate himself, Bray, or the WWE Championship. With only two episodes of Smackdown left and Bray taking most of the chances here (whether they have worked or not is left up for debate), Randy needs to step outside of his comfort zone and match the intensity and intrigue of Bray so this match is not lost in the shuffle much like Ziggler vs. Ambrose was at Summerslam.
---
NOW CHECK OUT LAST WEEK'S ARTICLE: ALL-STARS & UNDERPERFORMERS: Jericho, Strowman, Stephanie, The Miz, Alexa Bliss, Mickie James